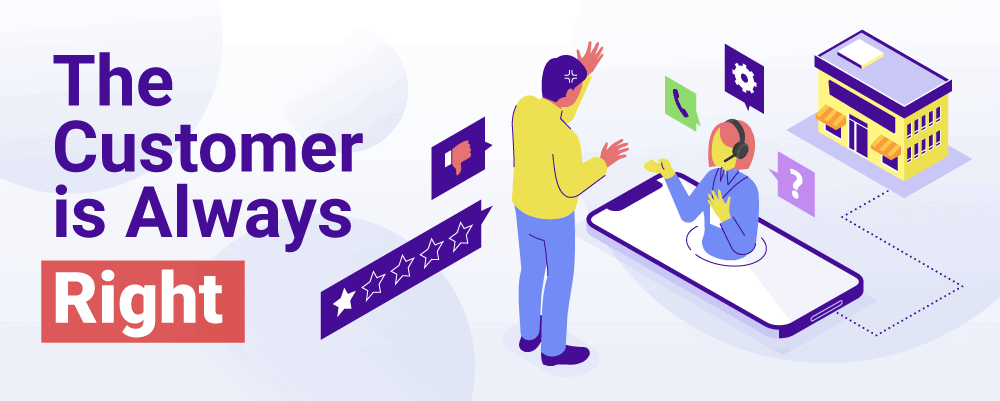 It has never been easier to shop with someone else.
Bricks and mortar companies moved online en masse when shop doors closed in 2020. In just eight weeks of lockdown, business vaulted to digital at a rate that should have taken another five years, according to McKinsey. Meanwhile, Facebook and Instagram have swivelled to become online department stores with occasional social content. And Google results for a product or service provide an instant price comparison.
At the same time, it's been a difficult period to deliver excellent customer service. Emotions have been high. Employee attendance has been low. Supply chains have been strained. Cut off from interaction IRL, customers have suffered Kafkaesque nightmares just to satisfy their basic consumer rights.
Tl;dr: with so many alternatives at their fingertips, the only reason a customer has to choose a particular business is that they like them.
Thoughtful, personal customer service is the best advantage a small business has. To help you consider what you're up against, BusinessFinancing.co.uk has identified the UK brands that have struggled to deliver the winning touch in recent months. Our data analysts have identified the proportion of poor and bad customer service ratings for over 200 of the biggest brands in the UK, and the effect these have on the brands' respective industries.
Sony UK Has Worst Customer Service Feedback on Trustpilot
Consumers expect their tech to work like clockwork – and their tech providers to do likewise. In most cases, tech companies do just that (see next section). However, Sony UK appears to buck the trend. Stories of photos of faulty goods emailed back and forth between customers and multiple Sony reps dominate the reviews. Some struggle to get their warranty honoured, and those who do report long waits to get their electronics back from warranty repair.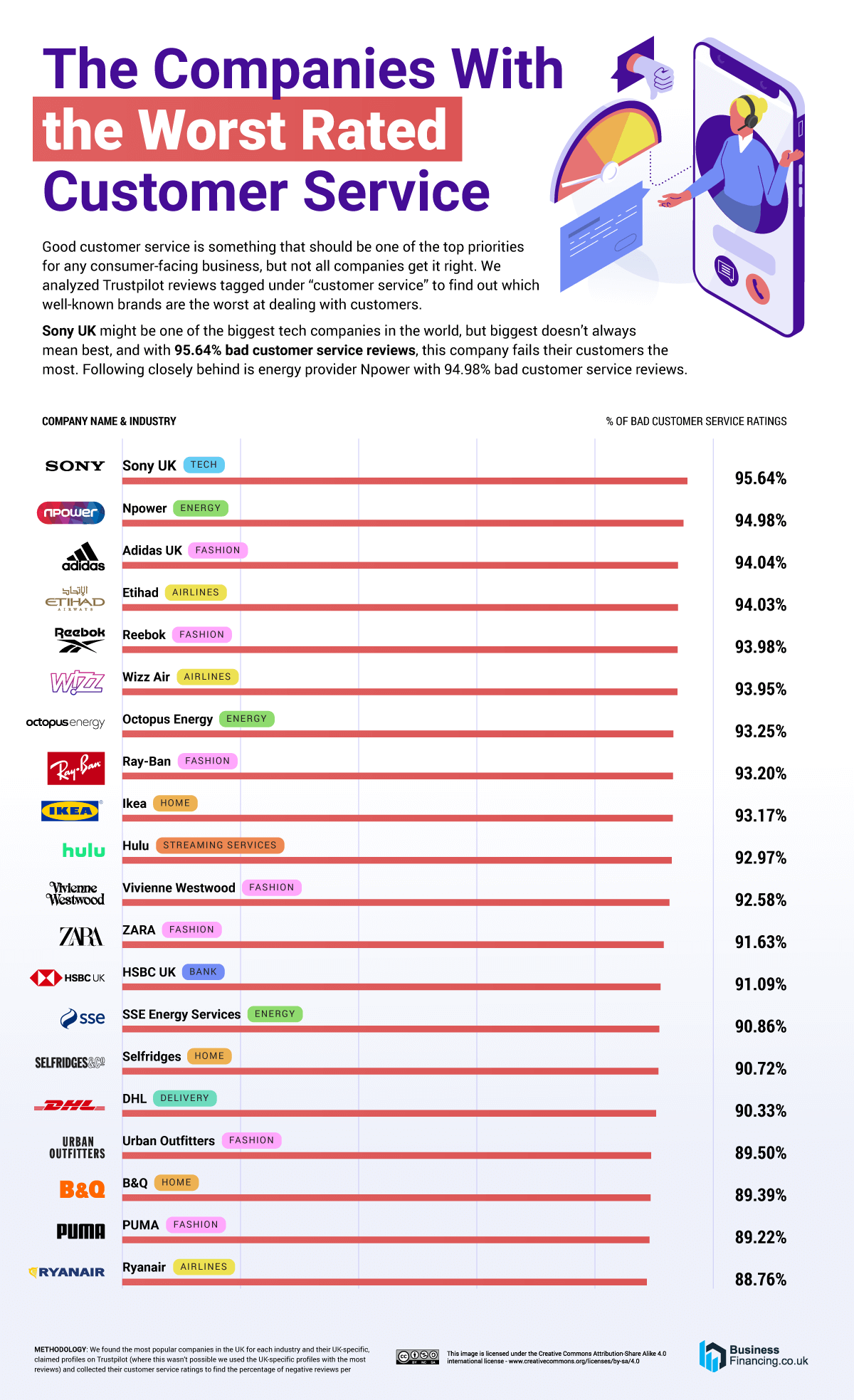 Click here to see this image in full size
Energy supply is a real issue in the UK and elsewhere right now. With the cost of living soaring, bill mishaps are a sore spot. In particular, a lot of reviewers mention that Npower has passed their debts onto a third-party debt collection agency who is making inaccurate demands for bills that have, in some cases, apparently been paid. Still, other customers complain of missed metre installation appointments.
Tech Industry is Best at Customer Service; Hotels Are Worst
Despite Sony UK's position as the worst customer service offender in the UK, tech brands are, as a whole, the best at customer service. Just 51.84% of monthly Trustpilot reviews for top tech companies evidence signs of poor or bad customer service. Tech businesses that have always been online face a distinct advantage as digital newbies from other industries find their way – but digital-only brands must still find ways to compensate for the lack of face-to-face contact.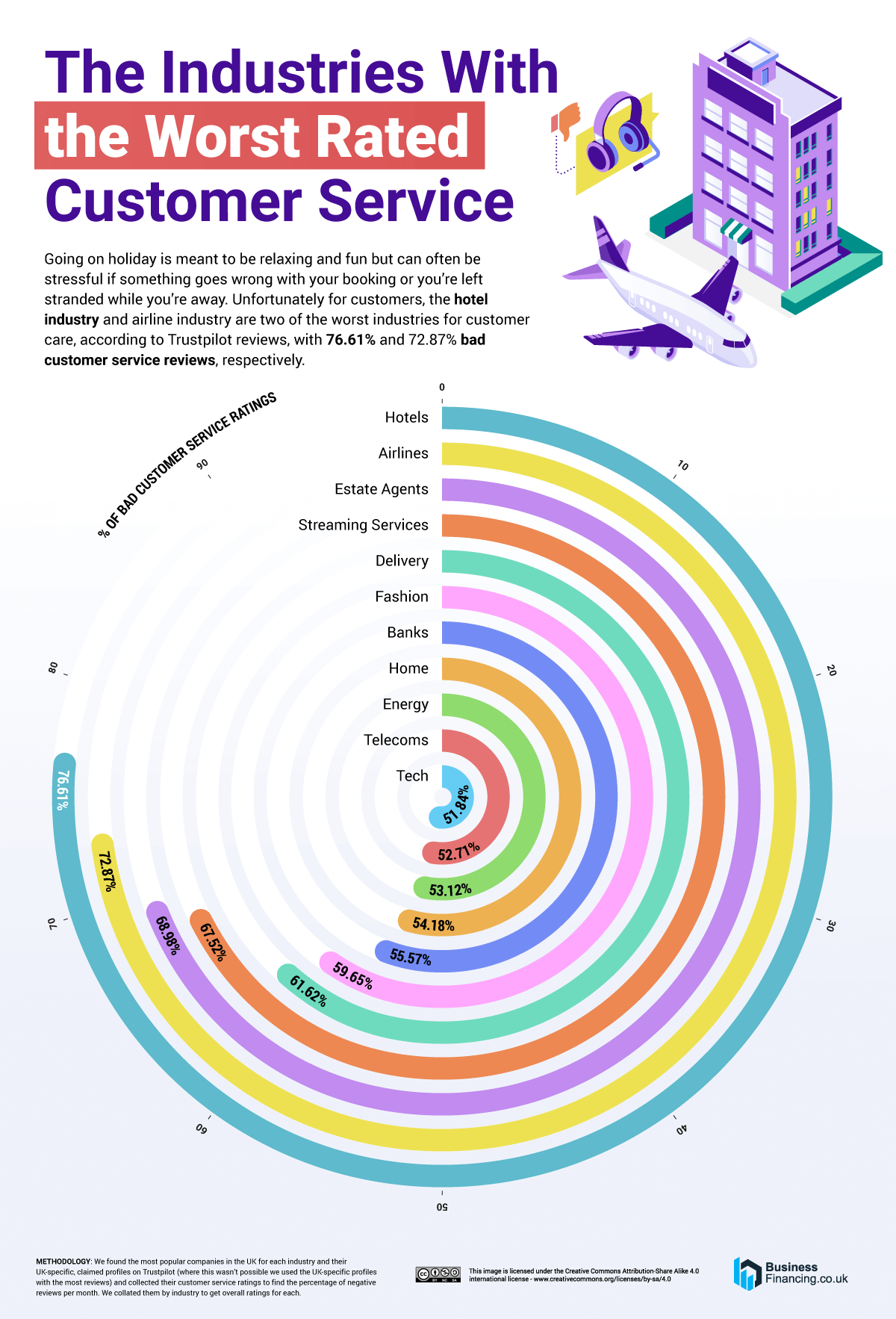 Click here to see this image in full size
The energy sector, too, has low overall dissatisfaction levels with customer service – despite three energy brands featuring in the top 20 worst offenders. The two industries with the worst customer service ratings are both travel-related: hotels (76.61% negative reviews) and airlines (72.87%). But no hotel brands feature in the top 20, suggesting there is an industry-wide issue of generally poor service rather than a couple of awful brands dragging down the score.
As an example, unnecessary complications when adjusting bookings plague Premier Inn's reviews. "The people at the 'guest relations' call centre don't appear to have received training or provided the necessary information to deal with customers," adds one reviewer.
Dream Customer Service That's a Nightmare for the Competition
A recent HBR think-piece suggested that businesses ask themselves, "What could your competitor do that would be your worst nightmare?" And the article admitted that even when a business answers this question, it will probably fail to implement the resulting strategy because companies move slowly, and customer service is usually thought of as a solution rather than an embedded feature.
How to embed customer service as a feature of your brand? HBR suggests implementing one customer service project at a time as you revamp the way your business connects with consumers. Ensure that every department is on board with your strategy and that customer service is not just a concern for the customer service dept.
We've gathered all our data in the table above to help you identify the companies in each industry that have got it wrong lately. Find your industry competitors and firms with a similar profile to yours, and work out what you would do if you were them. And don't sit on this knowledge – because your customers will go elsewhere while you do.
METHODOLOGY AND SOURCES
The first step was to find whether a company from the seed list had a profile on Trustpilot. Preference was given to UK-specific, claimed profiles. When unavailable, to the UK-specific profile with the highest number of reviews. In some cases, a single profile was available.
The reviews for each company were collected in two stages. First, the reviews were filtered by "customer service" keyword button and "poor" + "bad" ratings for negative reviews. Second, by "customer service" and "average" + "great" + "excellent" ratings for positive customer feedback. When such a keyword button was not there, the phrase "customer service" with quotes was input into the "Search reviews" bar instead.
After data was collected, verified and checked for duplicate entries, the reviews for each company were categorised by month. To find the average percentage of poor/bad customer service reviews per month, the negative reviews were divided by the total number of reviews per month for each company.
Similarly, the average percentage of poor/bad reviews per industry was calculated by dividing the total monthly poor and bad reviews across all companies in the industry by the total monthly reviews for that industry.
Only the companies with at least 100 reviews in total were included in the Static Chart – Top 20.
The data was collected in March 2022.