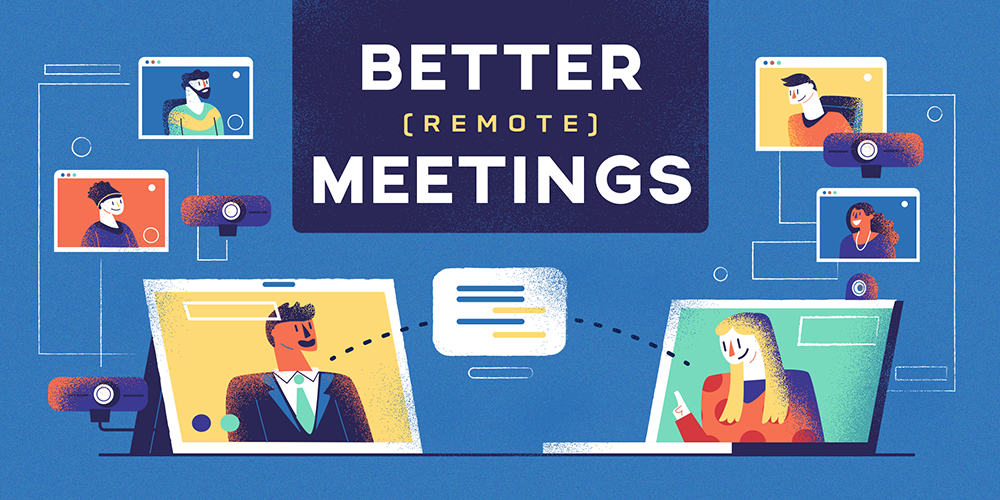 A few decades ago, the 'videophone' was a sci-fi dream of the future. Video meetings seemed about as likely as human miniaturization and robot housekeepers. But over the past few months, Zooming and Skyping have become painful necessities: slow, awkward, tough to schedule. So how can you take the pain out of virtual business meetings and make them creative and engaging again?
There are lots of good reasons to invest time and effort in your virtual meeting strategy:
Virtual meetings can be

cheaper and quicker

– especially when you take travel into account.
Holding meetings online can

boost productivity

and make some colleagues feel more confident about making their point.
Video conferencing is

here to stay

, so you may as well start doing it right.
BusinessFinancing.co.uk decided that it's time to get everyone on the same page. We've created a comprehensive guide to making virtual meetings work for your small business. The full infographic is below, but first let's look at a couple of the core issues involved in making online meetings better.
How to Choose the Best Platform for Your Virtual Meetings
In the months after the coronavirus pandemic hit, Zoom's user numbers grew twenty times to around 200 million, and Skype began to sound distinctly old-fashioned. But Zoom isn't for everyone, and there are small but essential differences between each of the major video conferencing platforms. Run through our new flowchart to get an idea of what might work for you: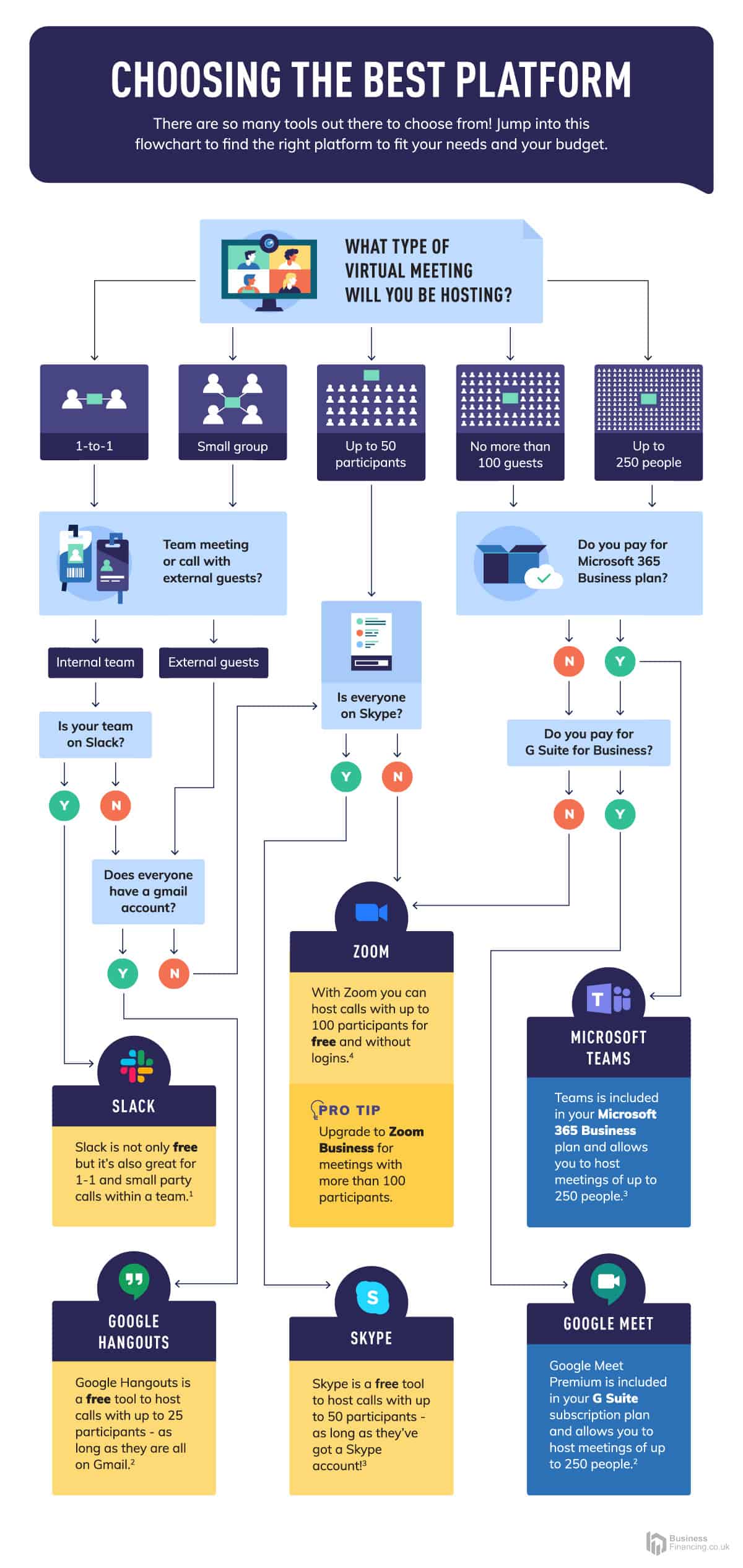 Slack is great for one-to-one meetings, especially if your business already uses it to ping ideas and information back and forth during the day. But if your team all have Gmail accounts, Google Hangouts is a convenient way to integrate conferencing into your existing set-up (as long as your meetings involve no more than 25 people).
If Google Hangouts doesn't quite pack the punch you need, upgrading to G Suite gives you access to Google Meet Premium. The cost is similar to Microsoft 365 Business, so it depends precisely what you're looking for and which online tools your business already uses.
Anatomy of an Effective Virtual Meeting Agenda
Virtual meetings lack some of the visual and social cues of regular office meetings. Leaders can replace these cues by laying out an effective virtual meeting agenda, tightening up the protocol of how your company meetings unfold. For example, delineate precise moments for each attendee to respond to relevant agenda items. This ensures that nobody misses the chance to have their say – especially if there are microphone-shy employees in the virtual room.
Here's an annotated version of how your ideal online meeting agenda might look:

One crucial point about online meetings is that the conversation tends to drift without a dedicated facilitator. Your resident introverts will struggle to contribute, and it becomes hard to consolidate clear action points.
If your employees are used to a more 'democratic' meeting culture, they can take it in turns to be facilitator from one virtual meeting to the next. A democracy requires everybody to have a voice – this rarely happens in a business meeting that lacks a chairperson.
The Future of Meetings, the Future of Business
Ultimately, the issues that make virtual meetings seem a lot less sparkly than they did in The Jetsons come down to two things:
A business-wide meetings culture that was long overdue a major update.

Teething problems while everyone rushes to learn the new tools and etiquette.
Today, we know a lot more about business, people, and technology than when video meetings were the stuff of science-fiction. The power to avoid the potential absurdities of a poorlyorchestrated Zoom conference is now in the hands of small business leaders like you.

Share this image on your site:
Sources
Most Popular Guides