Starling Bank offers an online business current account and overdraft. Users can manage their money in real-time in the app 24/7, as well as sync to popular business and accounting tools. Accounts are available to limited companies and sole traders who already have a Starling Bank personal account.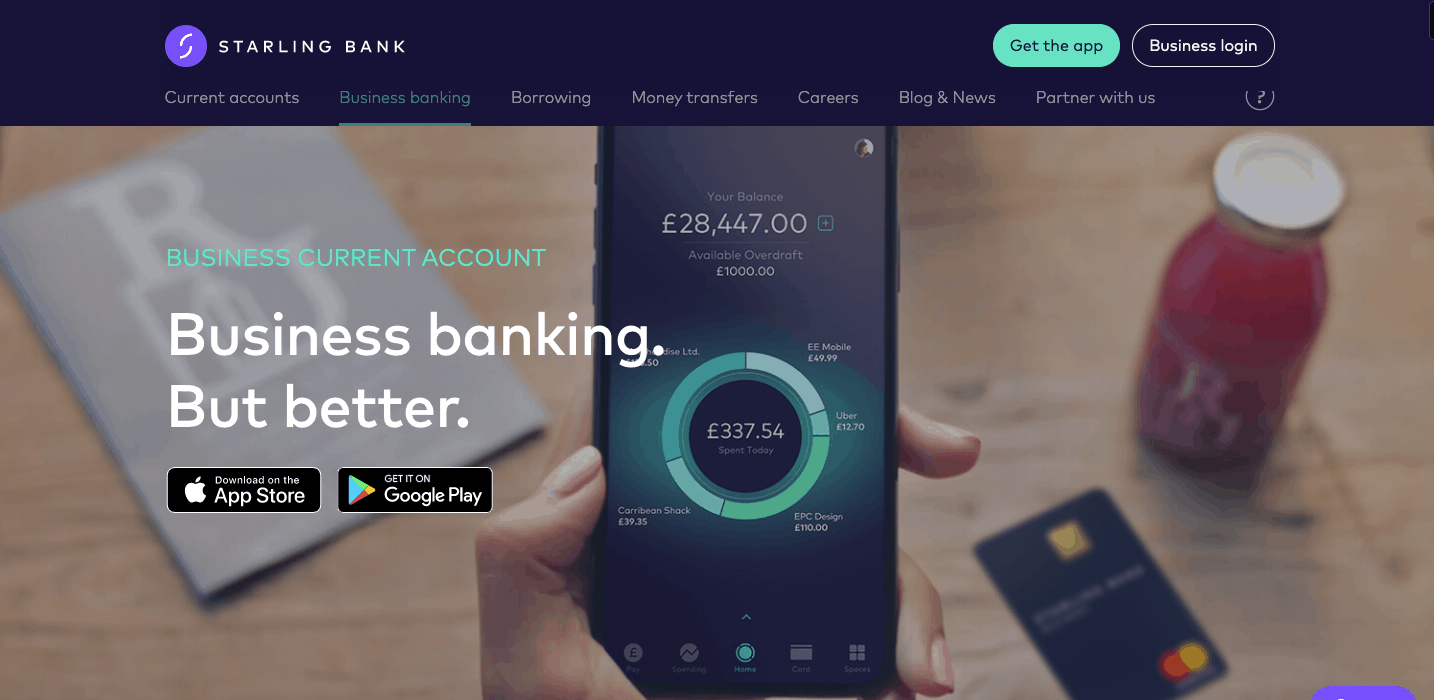 Starling Bank Business Banking Services
Current Accounts
The Starling current account can be managed on desktop and on mobile, wherever you are, 24 hours a day. You can review and track payments and incoming cash in real-time, pay physical cash into your account through the Post Office (costs £3 each time), and categorise expenses to keep them organised.
If you already have a personal Starling account, you can easily switch between business and individual banking.
There's no monthly fee and very few charges, other than for paying in and withdrawing through the Post Office.
Savings account
An individual savings account isn't available, but you can use your Starling current account to create savings goals and keep money in separate 'pots'.
Overdrafts
Business overdrafts are available for up to £50,000. You can manage the limit directly from the app. Interest is charged from 5% EAR depending on your circumstances, which accrues on a daily basis. There is a 1.75% arrangement fee at acceptance for the overdraft which is charged annually.
Business finance and loans
Find out more about Starling Bank business loans here.
Starling Bank Reviews and Ratings
There are a large number of reviews across Trustpilot and Smart Money People which are very positive, with the large majority of customers rating Starling 5/5. They like the simple banking features, speed of service, and accessible customer service. There are a few criticisms, mainly focusing on customer service and differences compared to high street banks. Some customers clearly feel more reassured by the big banking names, which Starling can struggle to compete with.
Reviews.co.uk features a small number of reviews – some found them difficult to deal with. Starling Bank is the highest rated Which?'s recommended banks, scoring a customer rating of 88%. They received 5/5 scores for customer service, application process, communication, transparency of charges, handling complaints and mobile app.
Starling Bank launched desktop online banking for businesses and sole traders in September 2019. Starling also launched its first TV advert in October 2019.
Starling won Best British Bank, Best Current Account Provider & Best Business Banking Provider at the British Bank Awards 2019.
Trustpilot –  4.3/5 (based on 24,319 reviews)
Reviews.co.uk – 3.22/5 (based on 9 reviews)
Smart Money People – 4.95/5 (based on 17,470 reviews)
Which? – 83% Which? Customer Score
Pros
No monthly fees and very few transaction fees (this account is one of the cheapest available!).
Includes smart accounting features.
Excellent ratings and comments across the review sites.
Cons
Desktop version is still new so could be glitchy.
Overdraft interest rate higher than some mainstream banks.
Website: Starling Bank Business Banking