Find out what actual customers of Workday Payroll payroll software think about it.
Or better yet leave your own review.
We also go over how much Workday Payroll costs, what features it offers and what other reviewers think about it.
Workday Payroll User Reviews
Workday Payroll Review Summary
0.0 out of 5 stars (based on 0 reviews)
Recent Workday Payroll Reviews
There are no reviews yet. Be the first one to write one.
Submit A Review For Workday Payroll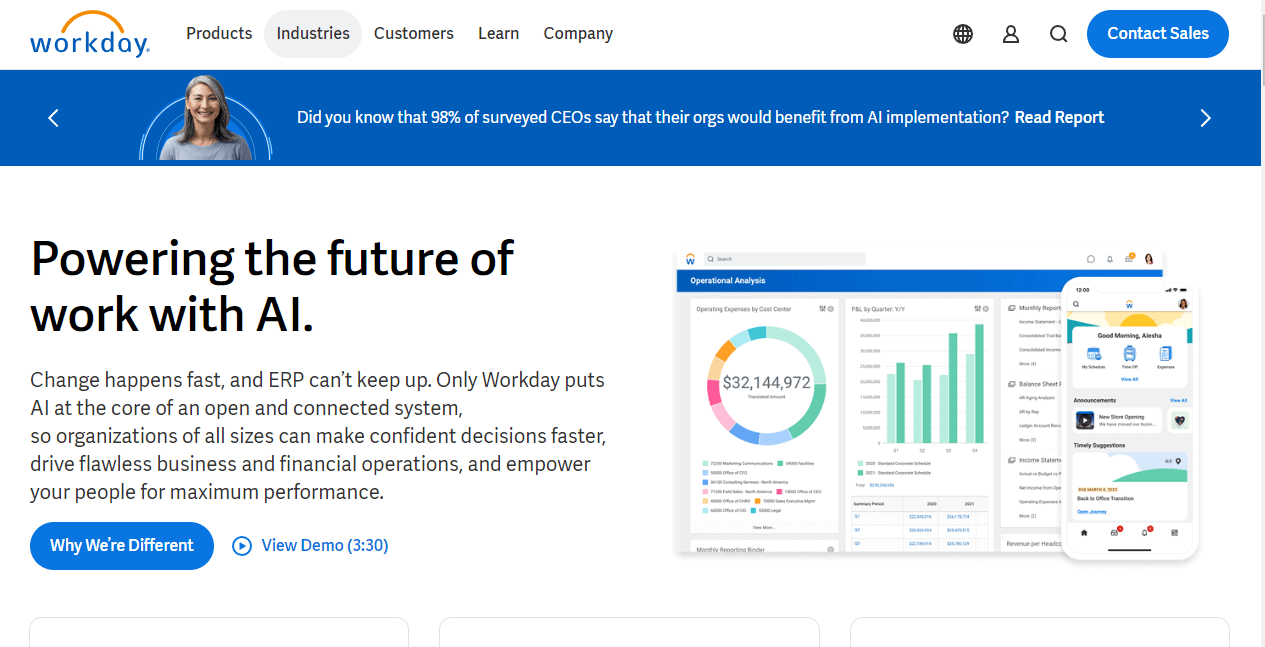 Key Workday Payroll Information
Software Name: Workday Payroll
Company Name: Workday UK Ltd
Listed On HMRC Website: Yes
Listed As Free By HMRC: No
Business Size: Enterprise
Sector Focus: None
Click to visit the Workday Payroll website
Workday Payroll Reviews From Other Websites
Workday Payroll Prices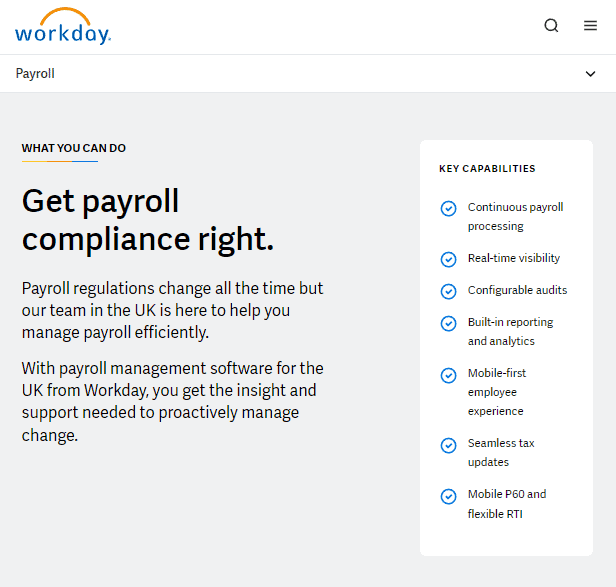 How much does Workday Payroll cost? Here is what they publish on their website:
Workday Payroll Free Plan / Free Trial
Offers A Free Plan? No
Offers A Free Trial? No
How Long Does The Free Trial Last? Not Applicable
Paid Plan Costs
Here are the names for for the various plans Workday Payroll offers and how much they cost per month:
Standard: NA
NA: NA
NA: NA
Workday Payroll Features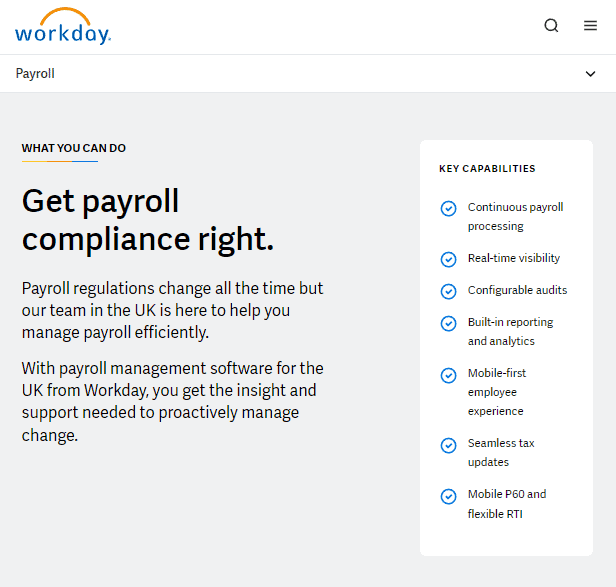 Standard Features
Continuous payroll processing
Real-time visibility
Configurable audits
Built-in reporting and analytics
Mobile-first employee experience
Seamless tax updates
Mobile P60 and flexible RTI
NA Features
NA
NA Features
NA
Other Software Integrations
Accu-Time Systems, Inc.
Accurate Background
Achievers
Ad Astra
CDP Group
CloudPay
Datacom
Excelity Global
Popular Features List:
Run Unlimited Payrolls: No
Automatic Tax Filing & Payments: No
Live Customer Support: No
Ability To Manage Employee Benefits: Yes
Employee Access to Platform: Yes
Direct Deposits: Yes
Expense Reimbursements: Yes
Time Off Tracking: NA
Handle Deductions From Pay: No
Debt Repayment From Pay: Workday UK Ltd
Background Checks: Yes
Offers An API: Yes
Create Payslips: No
Create P45: No
Create P60: Yes
Bonus Incentive Pay: No
Pension Filing: No
Statutory Payments (E.g. Sick Pay, Maternity Pay, etc.): No
Direct HMRC Submissions: Yes
RTI Compliant: Yes
Pros & Cons
The following pros and cons come from Trustpilot and other third-party review sites from around the web.
Pros
The Organisation Chart feature which is incredibly user friendly. Our integration was well handled and communicated.
One of the best things for me while using this system as an administrator was being able to have a track on where all the employees time was being spend during the day and having the ability to work with time off request in a fast and easy way. Adjusting time for a big team can be a pain for just one person, but you can have different people assigned to different teams and have each team supervisor work with all related to their team.
As an employee, I can easily request time off, see the company org, check my holidays calendar, add goals or see my compensation plan.
I love how easy it is to use. Anyone could use it.
Its clear nd easy to use : we can plan and request our days off, submit our request, and our manager receives a notification for approval. We can also correct absences when needed. The process is really simple and convenient.
Cons
The ease of being able to quickly see how much leave you have remaining could be improved upon. At present, we are having to find this out as a year end balance which doesn't quite add up in total.
The scheduling part of this can be a bit friendly user. I had a bit of trouble setting up schedule for each employee.
It can do so much that sometimes can feel overwhelming.
There's nothing that I don't like. I've been using it for years it's great.
Sometimes system correction doesn't work perfectly : the manager doesn't receive the notification. This is very rare and was apparently an issue with our internal set ups.It only happened once so overall very happy with my experience with Workday Absence management.
Other Payroll Software Topics