Find out what actual customers of Papaya Global payroll software think about it.
Or better yet leave your own review.
We also go over how much Papaya Global costs, what features it offers and what other reviewers think about it.
Papaya Global User Reviews
Papaya Global Review Summary
0.0 out of 5 stars (based on 0 reviews)
Recent Papaya Global Reviews
There are no reviews yet. Be the first one to write one.
Submit A Review For Papaya Global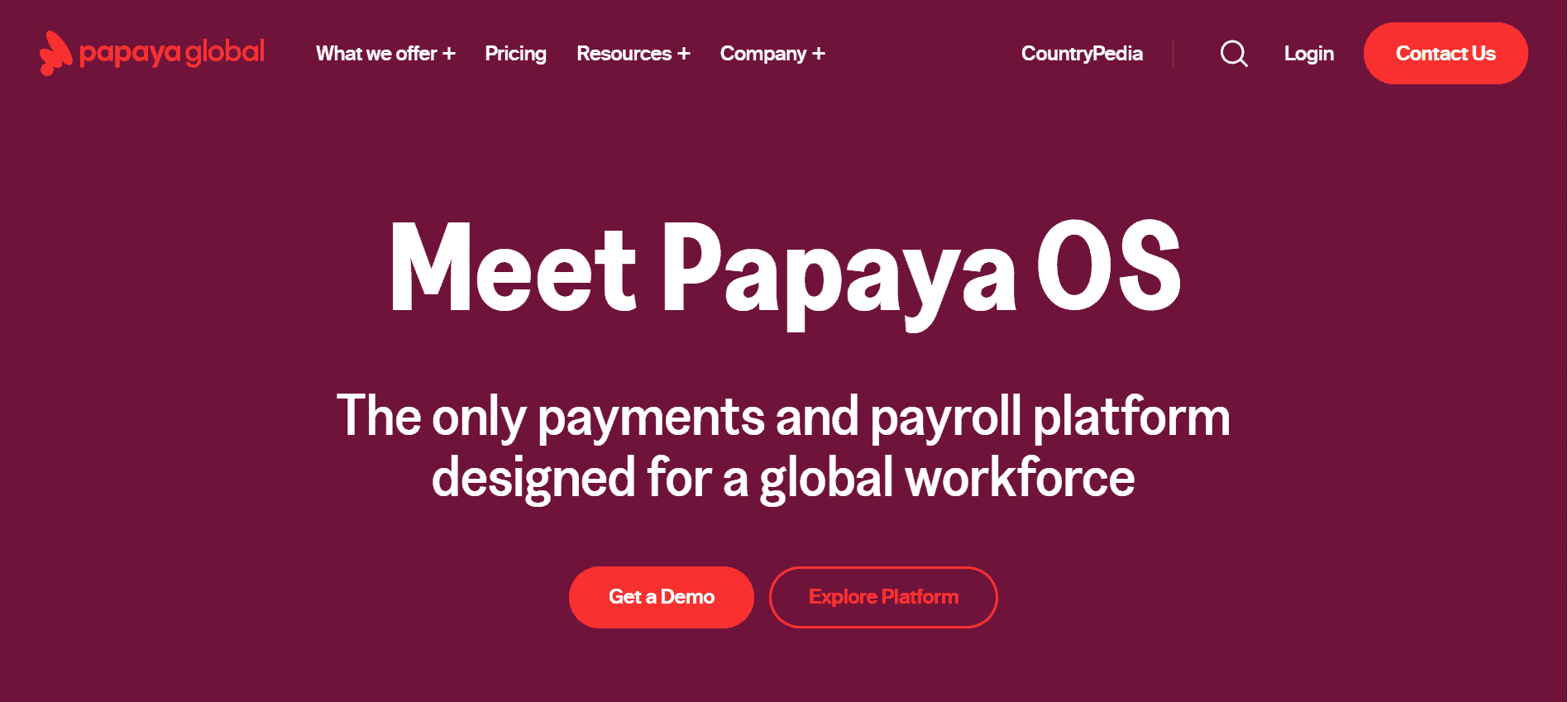 Key Papaya Global Information
Software Name: Papaya Global
Company Name: papayaglobal
Listed On HMRC Website: No
Listed As Free By HMRC: No
Business Size: Enterprise
Sector Focus: None
Click to visit the Papaya Global website
Papaya Global Reviews From Other Websites
Papaya Global Prices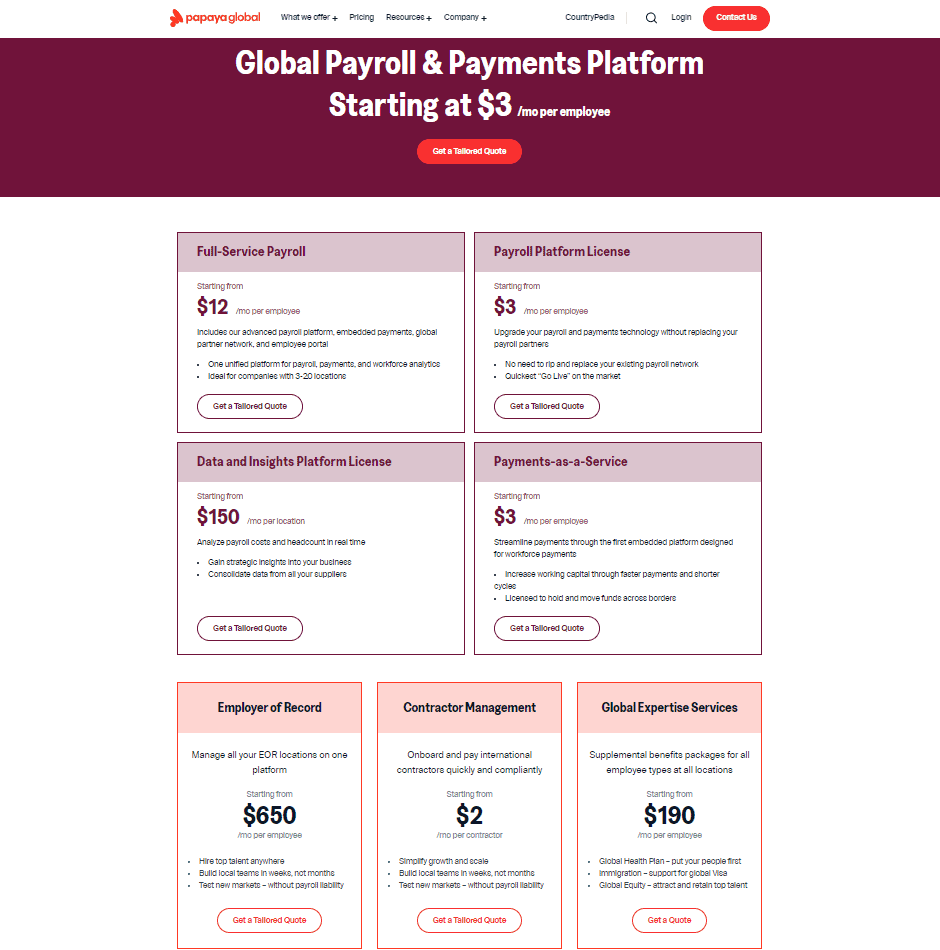 How much does Papaya Global cost? Here is what they publish on their website:
Papaya Global Free Plan / Free Trial
Offers A Free Plan? No
Offers A Free Trial? No
How Long Does The Free Trial Last? Not Applicable
Paid Plan Costs
Here are the names for for the various plans Papaya Global offers and how much they cost per month:
Payroll Platform License: $150
Data and Insights Platform License: $150
Employer of Record: $650
Papaya Global Features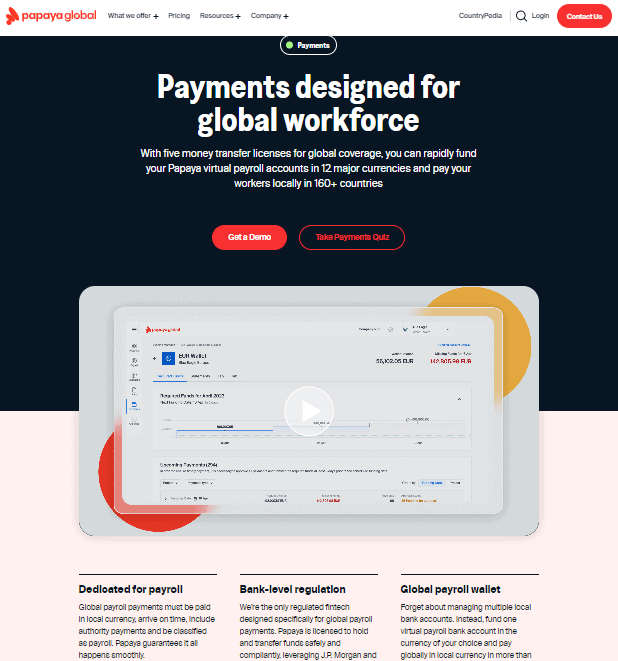 Payroll Platform License Features
Upgrade your payroll and payments technology without replacing your payroll partners
No need to rip and replace your existing payroll network
Quickest "Go Live" on the market
Data and Insights Platform License Features
Analyze payroll costs and headcount in real time
Gain strategic insights into your business
Consolidate data from all your suppliers
Employer of Record Features
Hire top talent anywhere
Build local teams in weeks, not months
Test new markets – without payroll liability
Other Software Integrations
Expensify
BambooHR
Namely
HiBob
SAP
Oracle
Popular Features List:
Run Unlimited Payrolls: No
Automatic Tax Filing & Payments: Yes
Live Customer Support: No
Ability To Manage Employee Benefits: Yes
Employee Access to Platform: Yes
Direct Deposits: Yes
Expense Reimbursements: Yes
Time Off Tracking: $650
Handle Deductions From Pay: No
Debt Repayment From Pay: papayaglobal
Background Checks: No
Offers An API: Yes
Create Payslips: No
Create P45: No
Create P60: No
Bonus Incentive Pay: No
Pension Filing: No
Statutory Payments (E.g. Sick Pay, Maternity Pay, etc.): No
Direct HMRC Submissions: No
RTI Compliant: No
Pros & Cons
The following pros and cons come from Trustpilot and other third-party review sites from around the web.
Pros
We found Papaya from this article: [sensitive content hidden] they are a good EOR. Customer service is responsive.
My onboarding manager was amazing! She was very responsive and knowledgeable.
Whenever we email something (a query or anything), there's always somebody who will handle the query.The reply or outcome is all always timely.Our Payroll Outsourcing would have been a headache had we not engaged with Papaya. Thanks to Papaya!
The product is easy and agile to use in sequence
A great company with a very useful and efficient solution, especially for those who employ in a variety of countries. Support many countries. A friendly and easy-to-implement platform.The customer success team is always very nice, available, gets back quickly and tries to help as much as possible with what is needed.
Cons
Price is too high, would like it to be a bit cheaper.
There are some hidden fees. Not a fan of this. Also I can't see pto balances
The hiccups in coordinating with other party to the contract. i know this is not Papaya's fault, but to the other party. But we can feel Papaya is doing their best to still coordinate properly to resolve issues.Thanks for that.
The software input delay could improve a little more
It would be nice if the mediation between the local 3rd party companies was faster on the one hand, on the other hand since it is mediation it is always more difficult so I'm not sure there are any culprits here
Other Payroll Software Topics