Find out what actual customers of Onfolk HR and Payroll payroll software think about it.
Or better yet leave your own review.
We also go over how much Onfolk HR and Payroll costs, what features it offers and what other reviewers think about it.
Onfolk HR and Payroll User Reviews
Onfolk HR and Payroll Review Summary
0.0 out of 5 stars (based on 0 reviews)
Recent Onfolk HR and Payroll Reviews
There are no reviews yet. Be the first one to write one.
Submit A Review For Onfolk HR and Payroll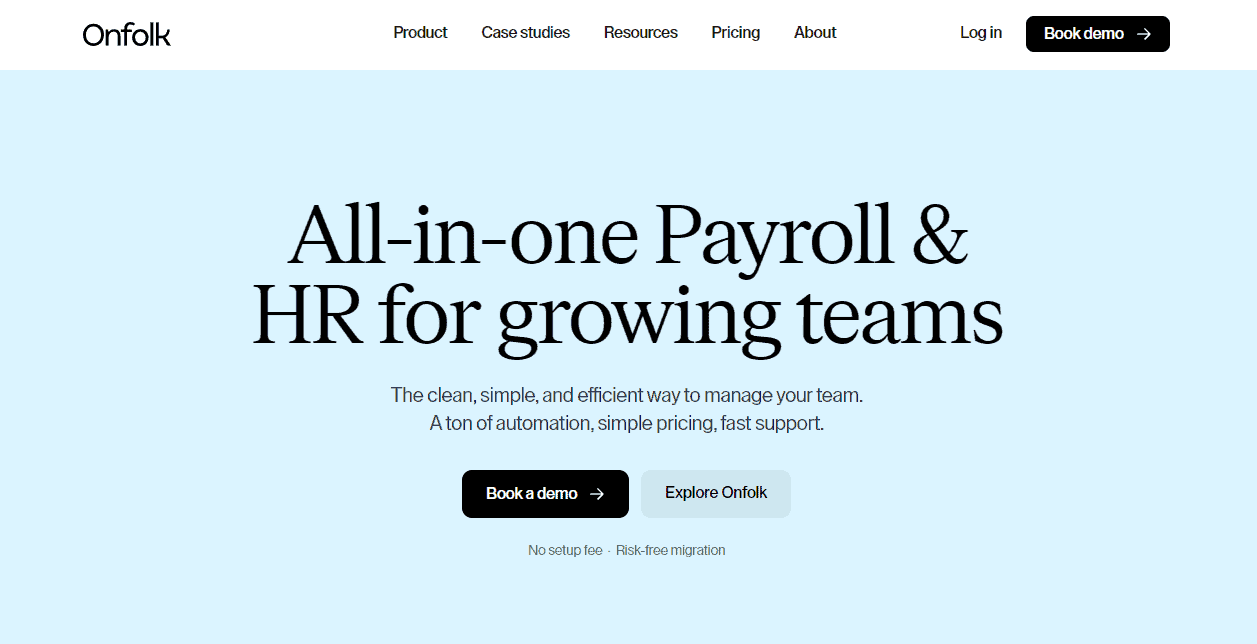 Key Onfolk HR and Payroll Information
Software Name: Onfolk HR and Payroll
Company Name: Onfolk
Listed On HMRC Website: Yes
Listed As Free By HMRC: No
Business Size: Medium
Sector Focus: None
Click to visit the Onfolk HR and Payroll website
Onfolk HR and Payroll Reviews From Other Websites
Onfolk HR and Payroll Prices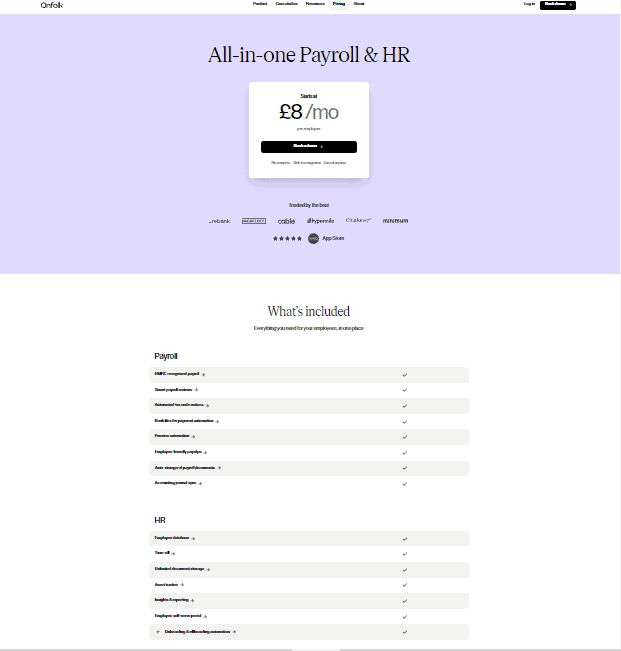 How much does Onfolk HR and Payroll cost? Here is what they publish on their website:
Onfolk HR and Payroll Free Plan / Free Trial
Offers A Free Plan? No
Offers A Free Trial? No
How Long Does The Free Trial Last? Not Applicable
Paid Plan Costs
Here are the names for for the various plans Onfolk HR and Payroll offers and how much they cost per month:
All-in-one Payroll & HR: NA
NA: NA
NA: NA
Onfolk HR and Payroll Features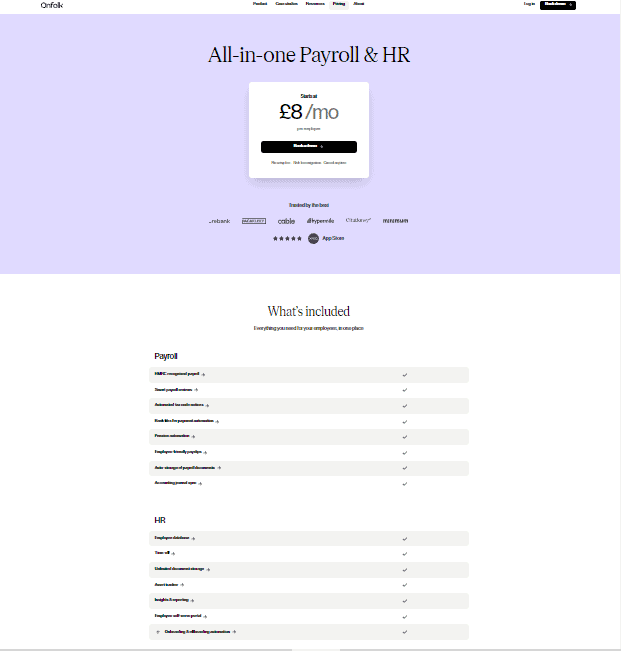 All-in-one Payroll & HR Features
HMRC recognised payroll
Smart payroll reviews
Automated tax code notices
Bank files for payment automation
Pension automation
Employee-friendly payslips
Auto-storage of payroll documents
Accounting journal sync
Employee database
Time-off
Unlimited document storage
Asset tracker
Insights & reporting
Employee self-serve portal
Onboarding & offboarding automation
NA Features
NA
NA Features
NA
Other Software Integrations
Xero
Nest
Slack
Smart
Quickbooks
The People's Pension
Now
Aviva
L&G
Popular Features List:
Run Unlimited Payrolls: No
Automatic Tax Filing & Payments: Yes
Live Customer Support: No
Ability To Manage Employee Benefits: No
Employee Access to Platform: Yes
Direct Deposits: No
Expense Reimbursements: No
Time Off Tracking: NA
Handle Deductions From Pay: No
Debt Repayment From Pay: Onfolk
Background Checks: No
Offers An API: No
Create Payslips: Yes
Create P45: Yes
Create P60: No
Bonus Incentive Pay: No
Pension Filing: Yes
Statutory Payments (E.g. Sick Pay, Maternity Pay, etc.): No
Direct HMRC Submissions: Yes
RTI Compliant: No
Pros & Cons
The following pros and cons come from Trustpilot and other third-party review sites from around the web.
Pros
Onfolk has saved us time and money compared to our previous accountant-based payroll process. It's automated our payroll and also has the benefits of an HRIS, like holiday booking. The team finds it easy to use, and customer support is excellent.
Easy to use. Run's payroll seamlessly and integrated with other services Slack, Google Cal, HMRC, Xero to make it all effortless. Customer support is amazing.
I love how easy it is to access your payslips and time off etc.
effortlessly combines all aspects of HR admin, from tracking time off, different policies, document storage, personal details and a super slick payroll. The best part is the team is always on hand to help if you encounter any strange requirements and they are always improving.
Easy to use and set up Onfolk allows us to automate various levels of payroll so the process of running payroll isn't time consuming and frees up time to focus on more important areas of the business.
Cons
It doesn't yet have some of the features I would like but I have faith that they're building the most important ones.
I can't hire people outside of the UK using it.
No online app to use – that would be handy to have on your phone.
nothing really, any time a suggestion for improvement is made, within days or even less, the function appears as if by magic. The team are incredible.
Slower making bulk changes to payroll (adding multiple lines of commission)
Other Payroll Software Topics