Find out what actual customers of MyPAYE Online Payroll payroll software think about it.
Or better yet leave your own review.
We also go over how much MyPAYE Online Payroll costs, what features it offers and what other reviewers think about it.
MyPAYE Online Payroll User Reviews
MyPAYE Online Payroll Review Summary
0.0 out of 5 stars (based on 0 reviews)
Recent MyPAYE Online Payroll Reviews
There are no reviews yet. Be the first one to write one.
Submit A Review For MyPAYE Online Payroll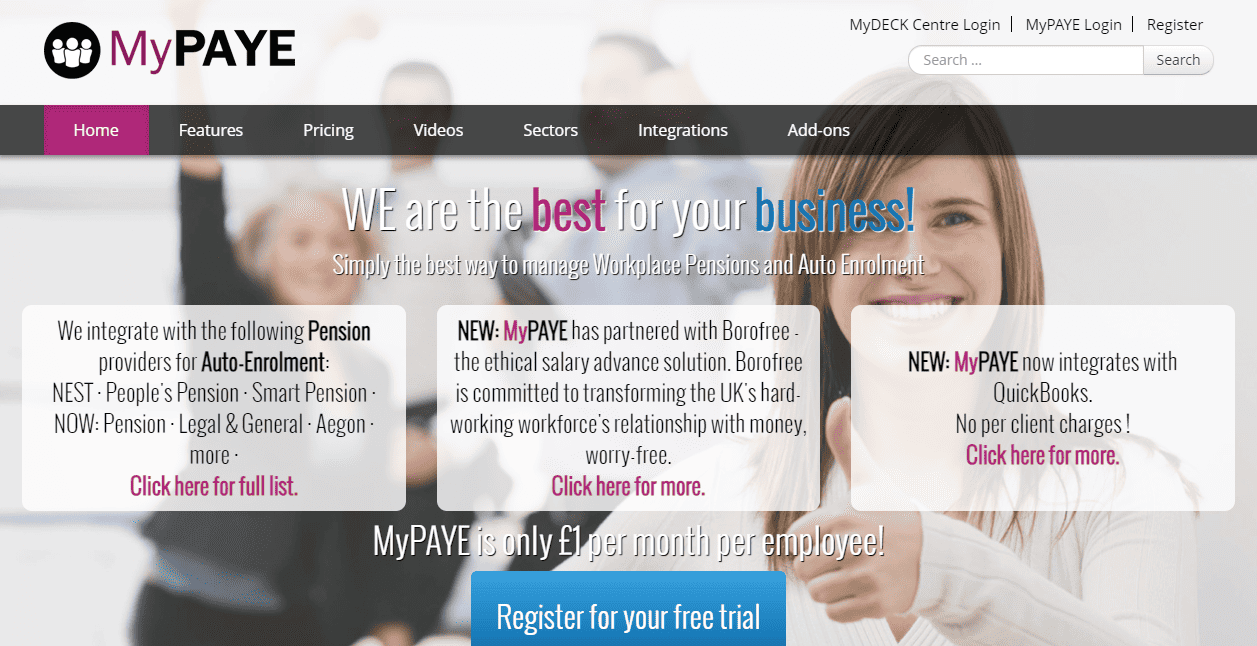 Key MyPAYE Online Payroll Information
Software Name: MyPAYE Online Payroll
Company Name: My PAYE Ltd
Listed On HMRC Website: Yes
Listed As Free By HMRC: No
Business Size: Medium
Sector Focus: None
Click to visit the MyPAYE Online Payroll website
MyPAYE Online Payroll Reviews From Other Websites
MyPAYE Online Payroll Prices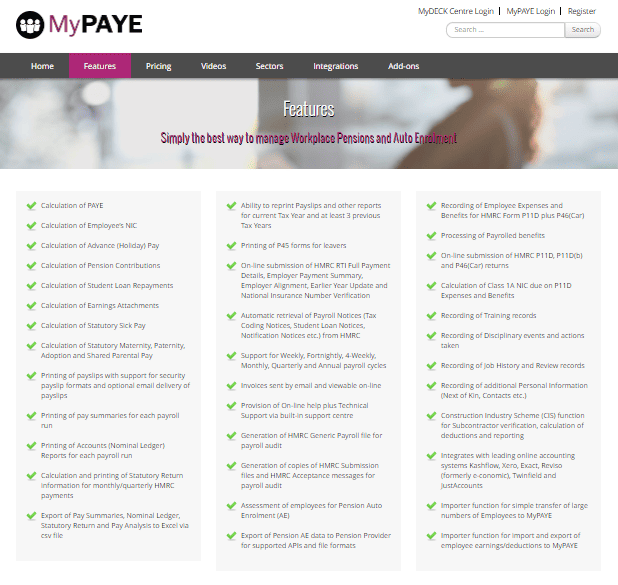 How much does MyPAYE Online Payroll cost? Here is what they publish on their website:
MyPAYE Online Payroll Free Plan / Free Trial
Offers A Free Plan? No
Offers A Free Trial? Yes
How Long Does The Free Trial Last? 30 days
Paid Plan Costs
Here are the names for for the various plans MyPAYE Online Payroll offers and how much they cost per month:
Standard: NA
NA: NA
NA: NA
MyPAYE Online Payroll Features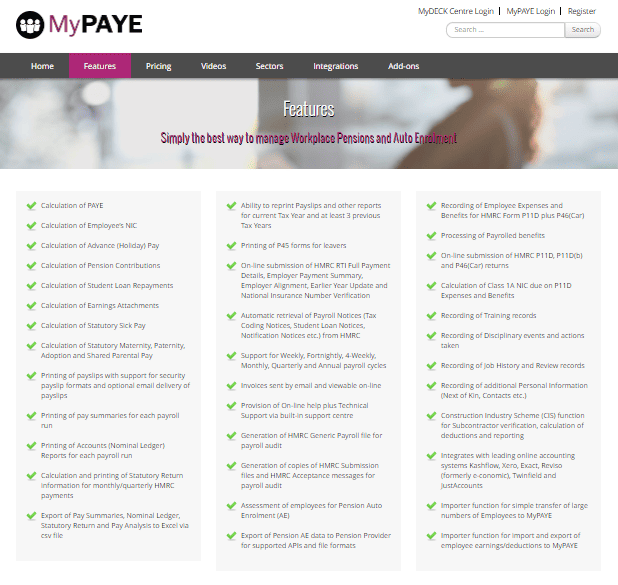 Standard Features
Calculation of PAYE
Calculation of Employee's NIC
Calculation of Advance (Holiday) Pay
Calculation of Pension Contributions
Calculation of Student Loan Repayments
Calculation of Earnings Attachments
Calculation of Statutory Sick Pay
Calculation of Statutory Maternity, Paternity, Adoption and Shared Parental Pay
Printing of payslips with support for security payslip formats and optional email delivery of payslips
Printing of pay summaries for each payroll run
Printing of Accounts (Nominal Ledger) Reports for each payroll run
Calculation and printing of Statutory Return information for monthly/quarterly HMRC payments
Export of Pay Summaries, Nominal Ledger, Statutory Return and Pay Analysis to Excel via csv file
Ability to reprint Payslips and other reports for current Tax Year and at least 3 previous Tax Years
Printing of P45 forms for leavers
On-line submission of HMRC RTI Full Payment Details, Employer Payment Summary, Employer Alignment, Earlier Year Update and National Insurance Number Verification
Automatic retrieval of Payroll Notices (Tax Coding Notices, Student Loan Notices, Notification Notices etc.) from HMRC
Support for Weekly, Fortnightly, 4-Weekly, Monthly, Quarterly and Annual payroll cycles
Invoices sent by email and viewable on-line
Provision of On-line help plus Technical Support via built-in support centre
Generation of HMRC Generic Payroll file for payroll audit
Generation of copies of HMRC Submission files and HMRC Acceptance messages for payroll audit
NA Features
NA
NA Features
NA
Other Software Integrations
Exact
Just Accounts
Quickbooks
Reviso
Twinfield
Xero
Popular Features List:
Run Unlimited Payrolls: No
Automatic Tax Filing & Payments: No
Live Customer Support: No
Ability To Manage Employee Benefits: Yes
Employee Access to Platform: No
Direct Deposits: No
Expense Reimbursements: Yes
Time Off Tracking: NA
Handle Deductions From Pay: Yes
Debt Repayment From Pay: My PAYE Ltd
Background Checks: No
Offers An API: Yes
Create Payslips: Yes
Create P45: Yes
Create P60: No
Bonus Incentive Pay: No
Pension Filing: Yes
Statutory Payments (E.g. Sick Pay, Maternity Pay, etc.): Yes
Direct HMRC Submissions: Yes
RTI Compliant: Yes
Pros & Cons
The following pros and cons come from Trustpilot and other third-party review sites from around the web.
Pros
Cons
no pricing on website
no app
low review score
low rating score
Other Payroll Software Topics