Find out what actual customers of Deel payroll software think about it.
Or better yet leave your own review.
We also go over how much Deel costs, what features it offers and what other reviewers think about it.
Deel User Reviews
Deel Review Summary
0.0 out of 5 stars (based on 0 reviews)
Recent Deel Reviews
There are no reviews yet. Be the first one to write one.
Submit A Review For Deel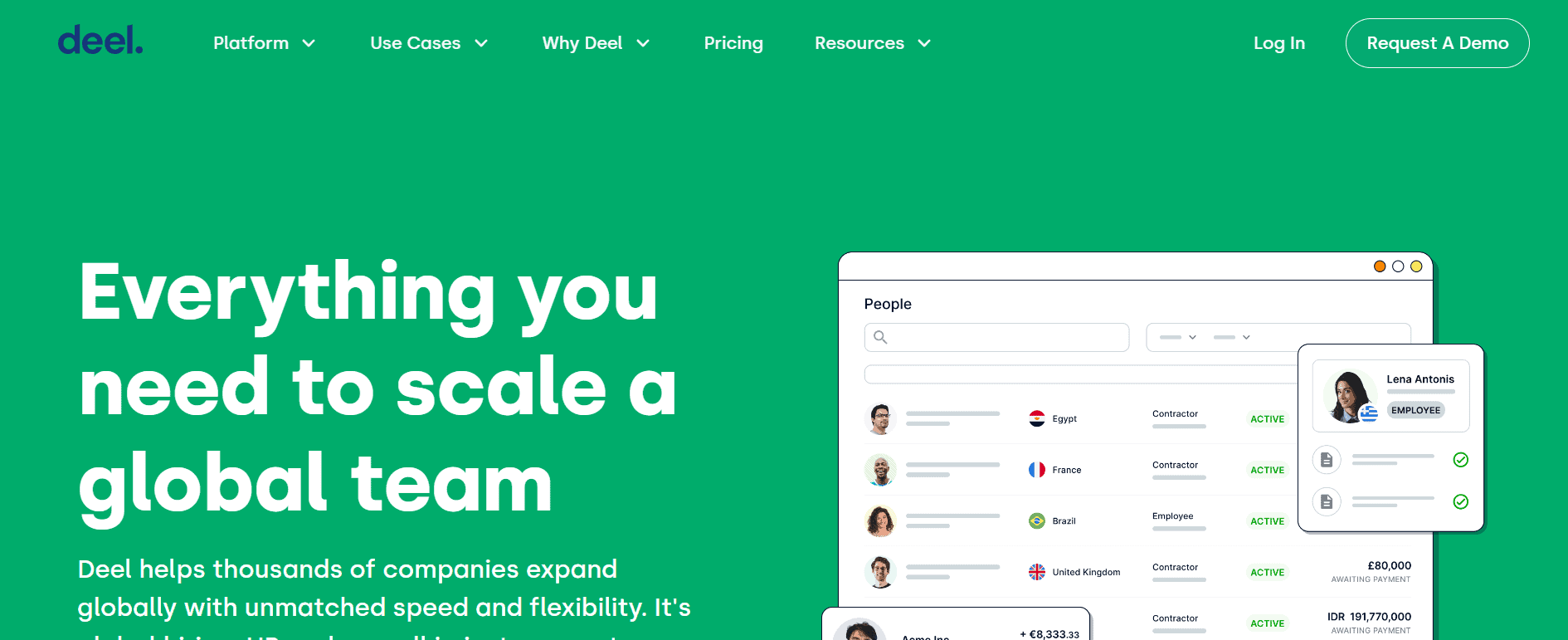 Key Deel Information
Software Name: Deel
Company Name: Deel
Listed On HMRC Website: No
Listed As Free By HMRC: No
Business Size: Small – Enterprise
Sector Focus: None
Click to visit the Deel website
Deel Reviews From Other Websites
Deel Prices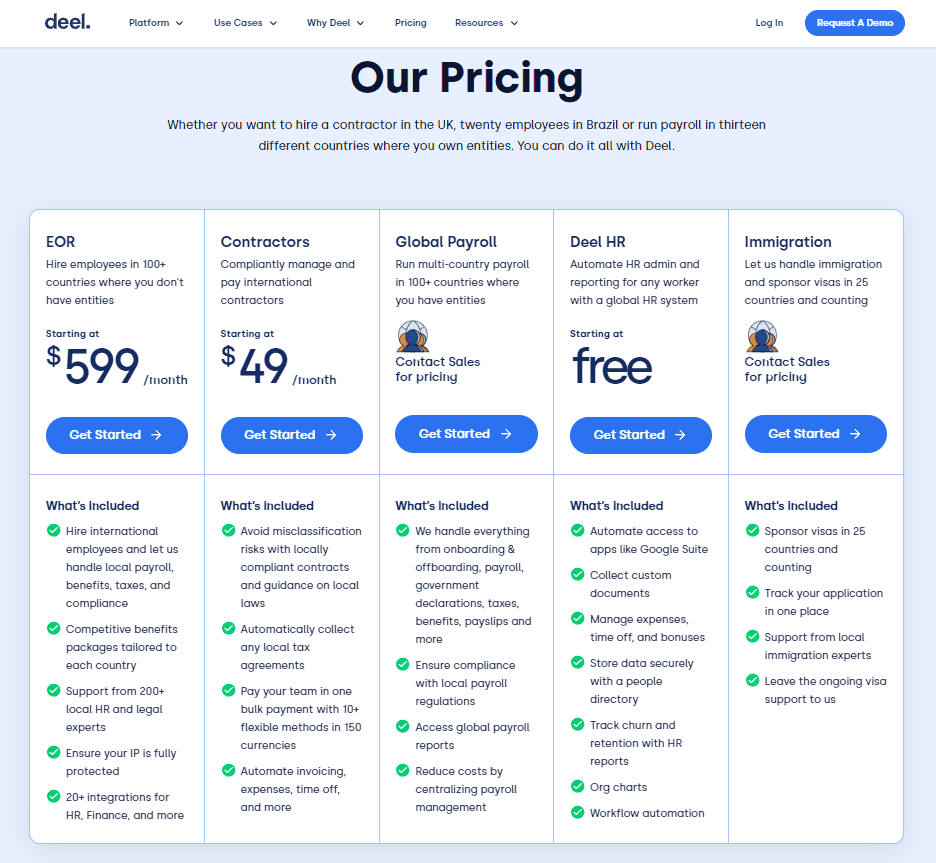 How much does Deel cost? Here is what they publish on their website:
Deel Free Plan / Free Trial
Offers A Free Plan? No
Offers A Free Trial? No
How Long Does The Free Trial Last? Not Applicable
Paid Plan Costs
Here are the names for for the various plans Deel offers and how much they cost per month:
Contractors: NA
NA: NA
EOR: $599
Deel Features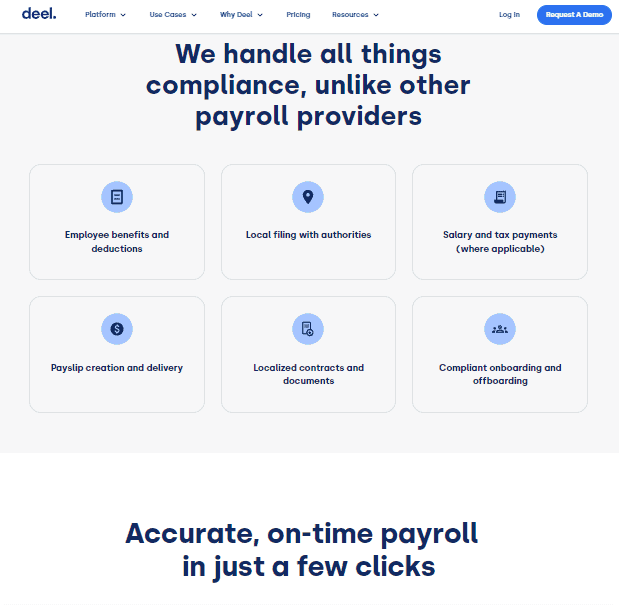 Contractors Features
Avoid misclassification risks with locally compliant contracts and guidance on local laws
Automatically collect any local tax agreements
Pay your team in one bulk payment with 10+ flexible methods in 150 currencies
Automate invoicing, expenses, time off, and more
NA Features
NA
EOR Features
Hire international employees and let us handle local payroll, benefits, taxes, and compliance
Competitive benefits packages tailored to each country
Support from 200+ local HR and legal experts
Ensure your IP is fully protected
20+ integrations for HR, Finance, and more
Other Software Integrations
Quickbooks
Xero
BambooHR
Ashby
Greenhouse
Popular Features List:
Run Unlimited Payrolls: No
Automatic Tax Filing & Payments: No
Live Customer Support: No
Ability To Manage Employee Benefits: Yes
Employee Access to Platform: Yes
Direct Deposits: Yes
Expense Reimbursements: Yes
Time Off Tracking: $599
Handle Deductions From Pay: Yes
Debt Repayment From Pay: Deel
Background Checks: No
Offers An API: Yes
Create Payslips: Yes
Create P45: No
Create P60: No
Bonus Incentive Pay: Yes
Pension Filing: No
Statutory Payments (E.g. Sick Pay, Maternity Pay, etc.): No
Direct HMRC Submissions: No
RTI Compliant: No
Pros & Cons
The following pros and cons come from Trustpilot and other third-party review sites from around the web.
Pros
Deel's global reach and support for numerous countries and currencies make it a valuable tool for businesses with international teams.
Deal was incredibly easy to get started, create new contractors and also manage hours/rates along with on/offboarding. At our stage we didn't use many of the features but they're so relevant to scaling businesses. The support was awesome!
Easy to use and payment are very quick and on time
Easy to setup and use , it has all you need and more
The elegance and efficiency of Deel's platform are undeniable. As someone who has grappled with cross-border payments and contracts for years, Deel has proven to be a game-changer. It not only simplifies and accelerates the entire payment process, but its intuitive user interface and comprehensive features ensure that all your global payment needs are addressed in one place. Moreover, the way Deel has resolved all contract grievances against other companies swiftly has enhanced its credibility. Their proactive approach to conflict resolution reflects a company that truly values its reputation and clients.
Cons
Integrations? It took some time to become fully comfortable with the system and its intricacies.
There were some initial confusions around pricing and billing that could be made simpler. It would be nice to see some form of LMS within the platform.
Not found anything that I need adding at the moment.
Nothing at all everything has been well thought through
It's tough to find significant faults in a platform as robust and user-friendly as Deel. However, there is always room for improvement. I'd appreciate more granular analytics and reporting features. While the existing tools offer a clear overview, having more in-depth insights into payment trends and detailed contract histories could enhance the platform. I also think the user experience for people with multiple currencies could use a tonne of work as this has caused confusion in the past. I also have had a negative experience with rolling contracts being paid out improperly. I think you should be able to just set a contract and simply request an amount to pay out without keeping it organised on a per deel invoice generated basis. E.g. in my last contract I was dealing with a customer who only approved units of work that I submitted, but sometimes I would submit them late, which caused a lot of confusion on the system when I tried to do back-payments on my end. There just needs to be better options for this, in theory we should do these things perfectly but in reality, no.
Deel Comparisons
Deel vs QuickBooks Payroll
Deel vs Sage 50 Payroll
Deel vs Sage Business Cloud Payroll
Deel vs FreeAgent
Deel vs Xero Payroll
Other Payroll Software Topics