Find out what actual customers of Codapay payroll software think about it.
Or better yet leave your own review.
We also go over how much Codapay costs, what features it offers and what other reviewers think about it.
Codapay User Reviews
Codapay Review Summary
0.0 out of 5 stars (based on 0 reviews)
Recent Codapay Reviews
There are no reviews yet. Be the first one to write one.
Submit A Review For Codapay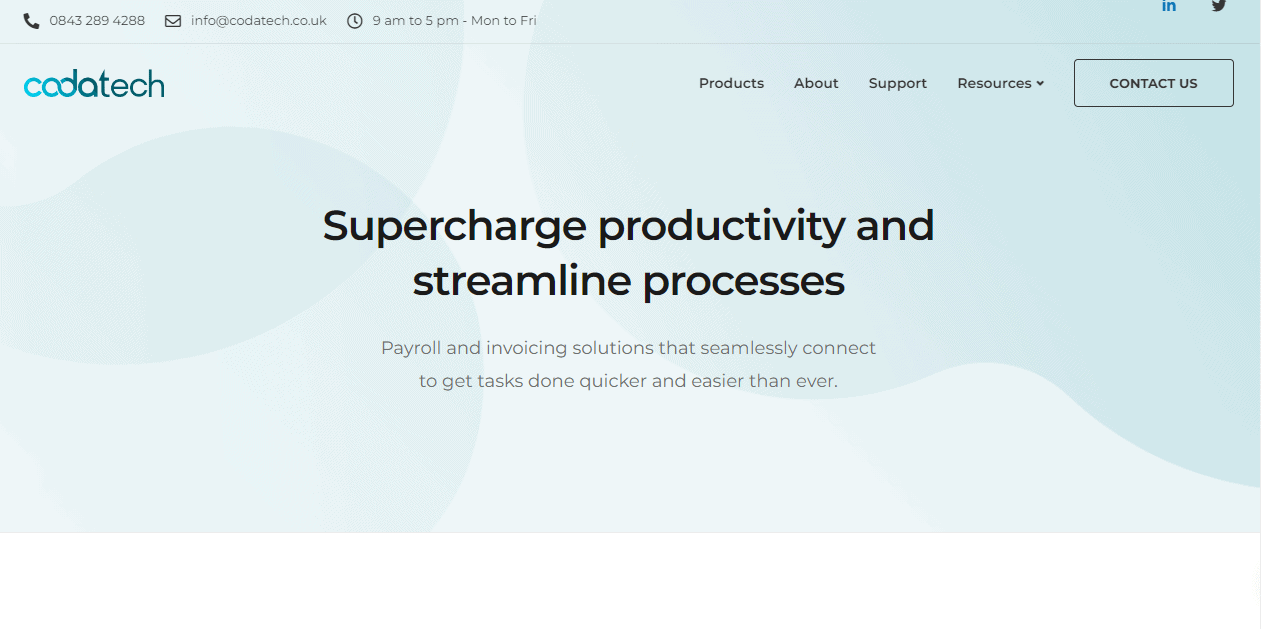 Key Codapay Information
Software Name: Codapay
Company Name: Codatech
Listed On HMRC Website: Yes
Listed As Free By HMRC: No
Business Size: Medium
Sector Focus: None
Click to visit the Codapay website
Codapay Reviews From Other Websites
Codapay Prices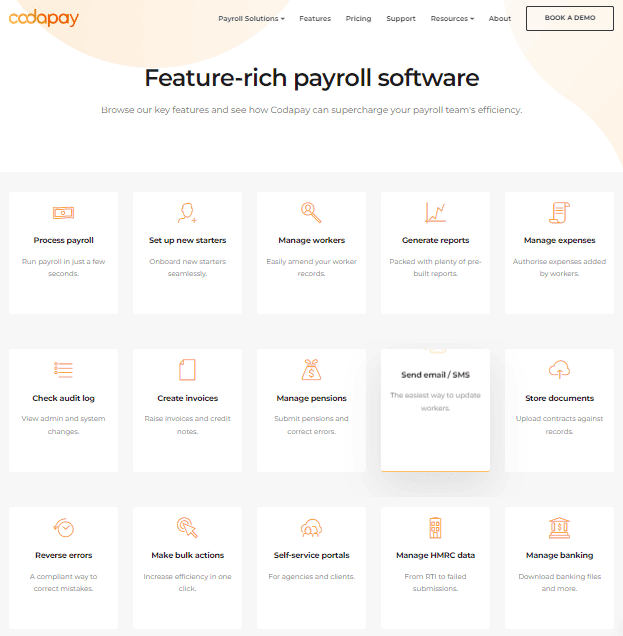 How much does Codapay cost? Here is what they publish on their website:
Codapay Free Plan / Free Trial
Offers A Free Plan? No
Offers A Free Trial? No
How Long Does The Free Trial Last? Not Applicable
Paid Plan Costs
Here are the names for for the various plans Codapay offers and how much they cost per month:
Standard: NA
NA: NA
NA: NA
Codapay Features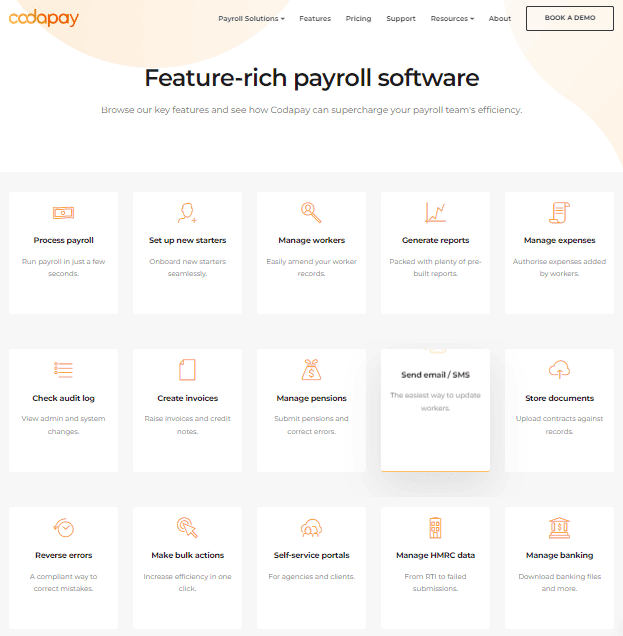 Standard Features
Process payroll
Onboard new starters
Manage workers
Generate reports
Manage expenses
Check audit logs
Create invoices
Manage pensions
Send email / SMS
Store documents
Reverse errors
Make bulk actions
Self-service portals
Manage HMRC data
Manage banking
NA Features
NA
NA Features
NA
Other Software Integrations
Popular Features List:
Run Unlimited Payrolls: No
Automatic Tax Filing & Payments: No
Live Customer Support: No
Ability To Manage Employee Benefits: No
Employee Access to Platform: Yes
Direct Deposits: No
Expense Reimbursements: Yes
Time Off Tracking: NA
Handle Deductions From Pay: No
Debt Repayment From Pay: Codatech
Background Checks: No
Offers An API: No
Create Payslips: No
Create P45: No
Create P60: No
Bonus Incentive Pay: No
Pension Filing: Yes
Statutory Payments (E.g. Sick Pay, Maternity Pay, etc.): No
Direct HMRC Submissions: Yes
RTI Compliant: Yes
Pros & Cons
The following pros and cons come from Trustpilot and other third-party review sites from around the web.
Pros
Processes are quick, straight forward and it is very user friendly. Importing of hours and new starters is really easy. Opportunity to run multiple companies through it effortlessly, as well as pay methods. Also nice to look at. Worker portal is useful and the reports by and large are really helpful.
Using this software, you can clearly see that it has been developed by people that understand the needs of high-volume payroll operators. Hours & new starters are easy to import, and there are plenty of validation points where the software will tell you if information is missing or incorrect. Processing payroll is nice and simple, and again will highlight any unusual results. The interface is clean and easy to navigate, although it sometimes feels like a few too many clicks to get to some places. The reporting is a great feature of the software, with numerous reports to use when analysing your data. The Service Desk is great, very responsive, and really helps to monitor the issues you have raised and the progress of them in their system.
Easy access friendly to use. Quick payrun processes run payroll in minutes
Very ease to use and navigate the system, while being easy on the eye. Very good import and reporting functions. Useful updates on a regular basis.
CodaPay is a great modern system that is clearly designed with the user in mind. Fresh looking, easy to use, maintain and process, it's all about enhancing processes and efficiencies to get the job done. CodaPay is constantly being upgraded with a support team on hand should there be any queries, issues or guidance required.
Cons
The core error issue when processing payroll can hold things up for us. Also initial training on how to use the system I feel could be a slightly better. Initial set up of having to transfer all worker data over ourselves troublesome.
Some parts do feel a bit too 'technical' for the average user. Some wording could be changed to layman's terms to make it clearer what you should do at certain points, especially when trying to correct errors on the automatic submissions. However, once you know what to do, its easily managed. As mentioned previously, you sometimes have to move through a number of screens to get to where you need to be – specifically the new Banking Module, although I understand this is a new feature, and may be improved in future.
Can sometimes be buggy however the dev team I speak with help immediately
Hard to think of any that jump out. Perhaps a little more flexibility with custom requests. However, I have found this to be an issue with software suppliers across the board.
Whilst the system is great, there are times when a system change, bespoke solution or custom feature is required. Unless it is already part of the core functionality, there will be a cost to develop and implement those changes which can prove costly.
Other Payroll Software Topics