Find out what actual customers of Accu-Man Payroll payroll software think about it.
Or better yet leave your own review.
We also go over how much Accu-Man Payroll costs, what features it offers and what other reviewers think about it.
Accu-Man Payroll User Reviews
Accu-Man Payroll Review Summary
0.0 out of 5 stars (based on 0 reviews)
Recent Accu-Man Payroll Reviews
There are no reviews yet. Be the first one to write one.
Submit A Review For Accu-Man Payroll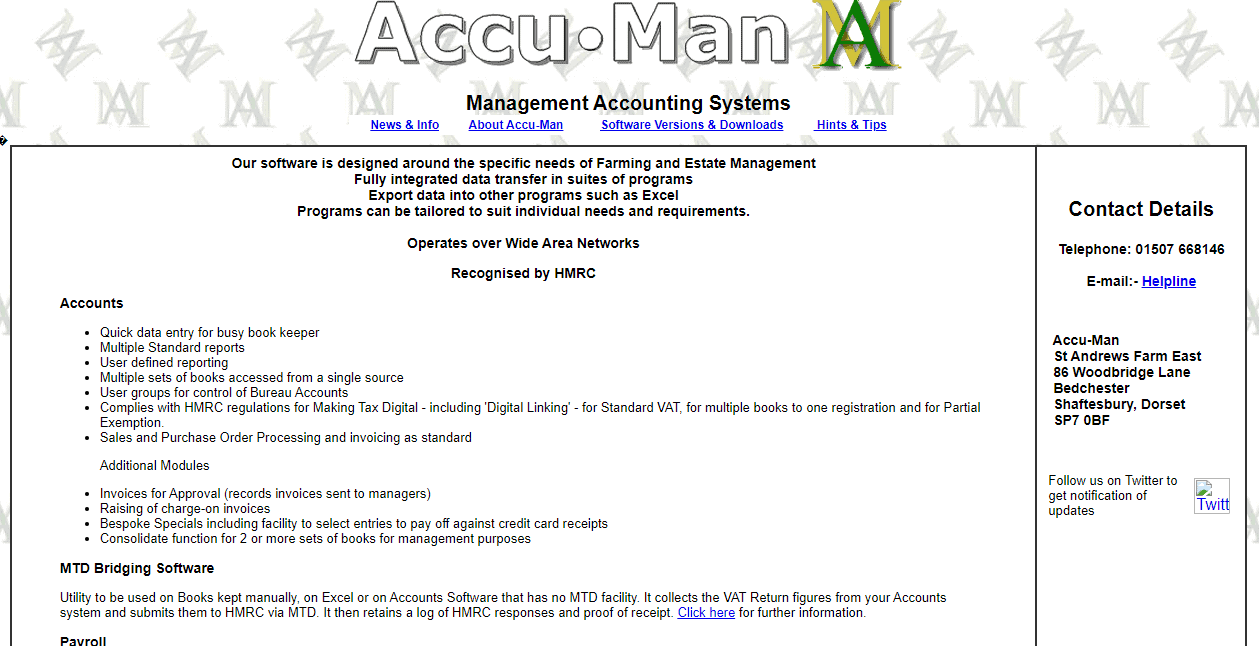 Key Accu-Man Payroll Information
Software Name: Accu-Man Payroll
Company Name: Accu-Man
Listed On HMRC Website: Yes
Listed As Free By HMRC: No
Business Size: Small
Sector Focus: None
Click to visit the Accu-Man Payroll website
Accu-Man Payroll Reviews From Other Websites
Accu-Man Payroll Prices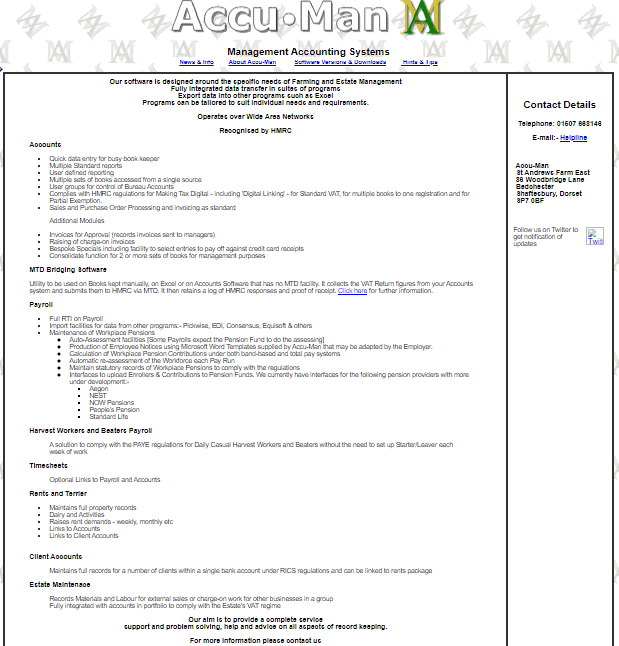 How much does Accu-Man Payroll cost? Here is what they publish on their website:
Accu-Man Payroll Free Plan / Free Trial
Offers A Free Plan? No
Offers A Free Trial? No
How Long Does The Free Trial Last? Not Applicable
Paid Plan Costs
Here are the names for for the various plans Accu-Man Payroll offers and how much they cost per month:
Standard: NA
NA: NA
NA: NA
Accu-Man Payroll Features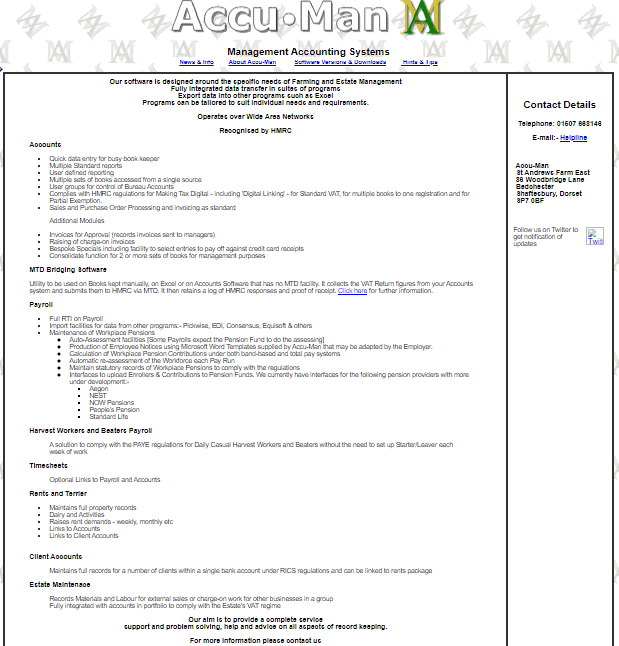 Standard Features
Full RTI on Payroll
Import facilities for data from other programs:- Pickwise, EDI, Consensus, Equisoft & others
Maintenance of Workplace Pensions
Auto-Assessment facilities [Some Payrolls expect the Pension Fund to do the assessing]
Production of Employee Notices using Microsoft Word Templates supplied by Accu-Man that may be adapted by the Employer
Calculation of Workplace Pension Contributions under both band-based and total pay systems
Automatic re-assessment of the Workforce each Pay Run
Maintain statutory records of Workplace Pensions to comply with the regulations
Interfaces to upload Enrollers & Contributions to Pension Funds
NA Features
NA
NA Features
NA
Other Software Integrations
Aegon
NEST
NOW
People's Pension
Standard Life
Popular Features List:
Run Unlimited Payrolls: No
Automatic Tax Filing & Payments: Yes
Live Customer Support: No
Ability To Manage Employee Benefits: No
Employee Access to Platform: No
Direct Deposits: No
Expense Reimbursements: No
Time Off Tracking: NA
Handle Deductions From Pay: No
Debt Repayment From Pay: Accu-Man
Background Checks: No
Offers An API: No
Create Payslips: No
Create P45: No
Create P60: No
Bonus Incentive Pay: No
Pension Filing: Yes
Statutory Payments (E.g. Sick Pay, Maternity Pay, etc.): Yes
Direct HMRC Submissions: Yes
RTI Compliant: Yes
Pros & Cons
The following pros and cons come from Trustpilot and other third-party review sites from around the web.
Pros
Full RTI on Payroll
Maintenance of Workplace Pensions
Cons
no pricing on website
lack of reviews
no app
Other Payroll Software Topics