Find out what actual customers of Access Payroll payroll software think about it.
Or better yet leave your own review.
We also go over how much Access Payroll costs, what features it offers and what other reviewers think about it.
Access Payroll User Reviews
Access Payroll Review Summary
0.0 out of 5 stars (based on 0 reviews)
Recent Access Payroll Reviews
There are no reviews yet. Be the first one to write one.
Submit A Review For Access Payroll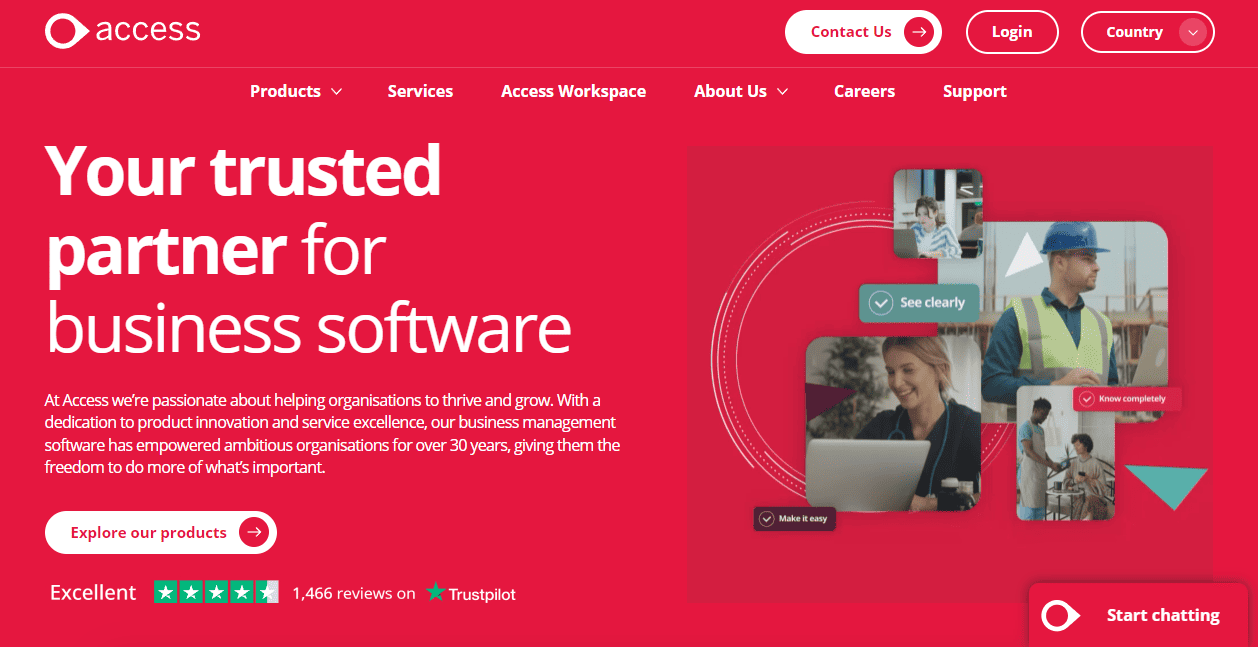 Key Access Payroll Information
Software Name: Access Payroll
Company Name: The Access Group UK
Listed On HMRC Website: Yes
Listed As Free By HMRC: No
Business Size: Medium
Sector Focus: None
Click to visit the Access Payroll website
Access Payroll Reviews From Other Websites
Access Payroll Prices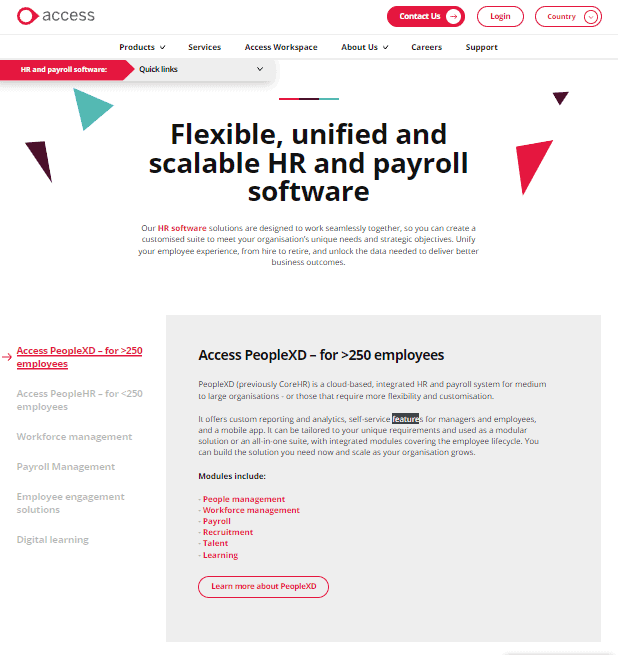 How much does Access Payroll cost? Here is what they publish on their website:
Access Payroll Free Plan / Free Trial
Offers A Free Plan? No
Offers A Free Trial? No
How Long Does The Free Trial Last? Not Applicable
Paid Plan Costs
Here are the names for for the various plans Access Payroll offers and how much they cost per month:
Standard: NA
NA: NA
NA: NA
Access Payroll Features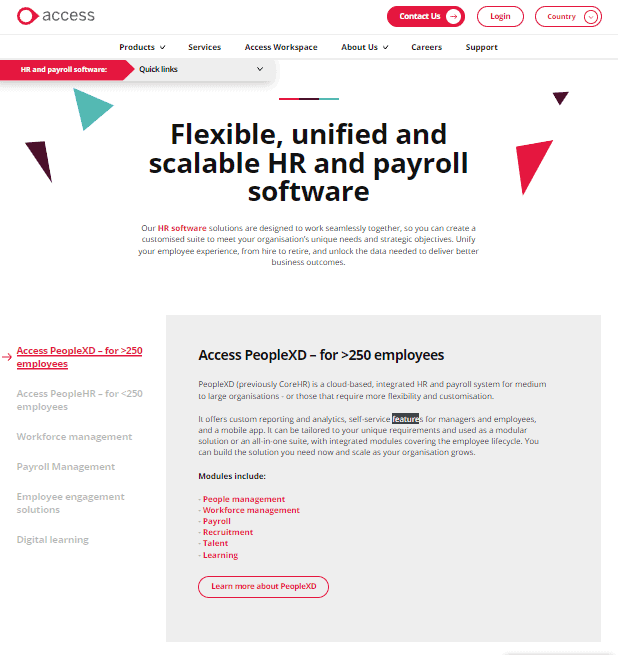 Standard Features
People management
Workforce management
Payroll
Recruitment
Talent
Learning
NA Features
NA
NA Features
NA
Other Software Integrations
Microsoft
Making Tax Digital
Experian
Popular Features List:
Run Unlimited Payrolls: No
Automatic Tax Filing & Payments: No
Live Customer Support: No
Ability To Manage Employee Benefits: Yes
Employee Access to Platform: Yes
Direct Deposits: No
Expense Reimbursements: No
Time Off Tracking: NA
Handle Deductions From Pay: Yes
Debt Repayment From Pay: The Access Group UK
Background Checks: No
Offers An API: No
Create Payslips: Yes
Create P45: Yes
Create P60: No
Bonus Incentive Pay: Yes
Pension Filing: No
Statutory Payments (E.g. Sick Pay, Maternity Pay, etc.): No
Direct HMRC Submissions: No
RTI Compliant: No
Pros & Cons
The following pros and cons come from Trustpilot and other third-party review sites from around the web.
Pros
The training we received from People HR on site was really informative and engaging. It has streamlined Management admin- previously manual timesheets were being completed by all Managers across the business. I love the fact that People HR are constantly updating the system for the better- at no additional cost! The 'Thanks' section of the system has proved very popular and it is great to see not just Management but other employees thanking each other, which in turn has increased our recognition score on our employee engagement survey.
PeopleHR offers so many more features than most comparable software. I've been really impressed by the applicant tracking system, we've made many new hires through it and it has saved us a lot of money. Everything is in one place and it's user-friendly.
Easy to use, easy to set up. Fine for a company which wants unbridled access for all staff, but serious concerns around internal company privacy and security with some of the new features. Good for small, single office companies where everything is open.
The customer service is outstanding. We are a small company so implementing a system like this is a big deal for us- we were looking at simplifying operations as we currently use different systems for holiday booking, employee praise and expenses. I therefore had hundreds of questions to ensure that we were making the right decisions. The chat feature is extremely useful as you get a quick response to questions and do not have to leave the system to ask. Special thanks to customer service agent who has been very helpful even when I have been asking multiple questions on a daily basis! The system is easy to use and has lots of great features which are really good value for money. I have looked at many other systems and this one definitely came out top for value for money, features and customer support.
I have been using Access PeopleHR for some time now, and I am very impressed with the system's usability and advanced features.
Cons
It would have been ideal to have a rota system built into People HR as we are a retailing industry, but we had to purchase a separate system software for this.
There are a couple of bits that need refining, e.g. you can award someone half a day of TOIL but they can't enter it into the system on the same day as half a day of holiday. The performance management is good but it would be better if it were a little more customisable in format, Managers are required to enter something in every box in order to close the review, which can be a menial task if they have no comment on that particular question.
The product was looking good and then they released an app which allows the entire company to join a group chat. As a company with very careful data handling controls and locked down teams we were absolutely shocked they would roll this out. This means self service has to be disabled and renders the product almost useless. Very unsettling that a company would just role these features out without thinking through the consequences. With the planner individuals can see their managers planner and all their team mates – which may be great for a small office but a bit of a privacy breach for many people and companies. Very surprised we can't turn off planner access for their team / department colleagues. Customer service is generally intercom, intercom chat bot and links to articles so a bit hit and miss.
Some of the settings are complicated to find and change- would be better if they were all in a centralized location- however once all set up this is a minor inconvenience. The pulse surveys are a great addition- however it would be good if you could access this from the desktop site and also could have the option of making these anonymous. The expenses section- we use Expensify currently- would be useful if you could scan receipts for information so the form auto fills as this is how it worked in Expensify but just a minor con. Finally, we allow our employees to Swap their normal working days- would be good if there was a specific capability for this rather than adding as an event as this allows you to swap out and not guarantee that the employee has swapped out also.
Access PeopleHR is an excellent system, the performance module could use some improvements. It's not as customizable as other areas of the system, and the manager's sections cannot be reworded.
Other Payroll Software Topics