OakNorth Bank provides savings and loans for small and medium businesses in the UK. The bank was established and received regulatory approval in 2015, and set up a London headquarters. There are no branches, all account management is done online. They also don't offer a business current account.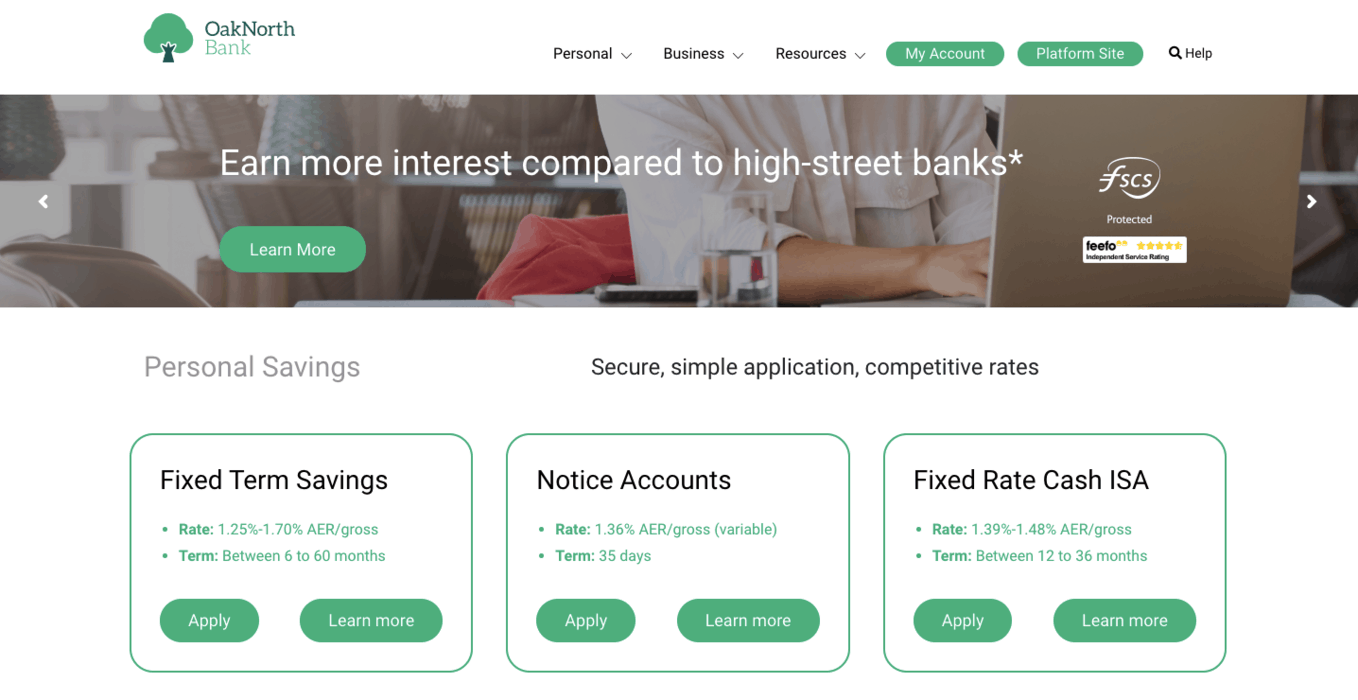 OakNorth Bank Business Banking Services
Current Accounts
Not available.
Savings account
There are three types of savings accounts available to UK Limited Companies and UK Limited Liability Partnerships.
Fixed-term savings
Save your money for 6 or 12 months and earn 0.30% to 0.45% AER. The minimum balance is £10,000, and you can save no more than £1,000,000. The interest rate is fixed until the end of the term.
Notice account
Withdraw from your account with 35, 60, 95, or 120 days' notice, and earn 0.20% to 0.40% AER. There's no limit on withdrawals as long as you stick with the agreed notice period. You can open an account with £10,000 and save up to £1,000,000.
Easy access account
Get instant access to your cash and earn 0.10% AER. You can open an account with £10,000 and save up to £1,000,000.
Overdrafts
Not available.
Business finance and loans
Business loans are available from £500,000 to £45 million. OakNorth Bank say every loan is tailored to the business and their specific needs and circumstances – there's no 'one-size-fits-all' business loan. Flexible and fixed credit facilities are available. Information online is limited, so businesses should enquire for more specific details.
Property finance
They offer property finance that provides loans of £500,000 to £45 million that is available to property developers and investors. They provide funding to individuals and businesses to invest in or develop property including residential, commercial, office, industrial, retail, student accommodation, co-living and more.
OakNorth Bank Reviews and Ratings
Trustpilot reviews are negative, while Feefo reviews are very positive overall. On Trustpilot, customers are critical of unclear or changing interest rates on savings and poor customer service. Feefo reviewers are really impressed though, commenting on friendly service and competitive interest rates.
There are no live reviews on Reviews.co.uk or Smart Money People. OakNorth Bank isn't included in the Which? list of 'Best & Worst Banks'.
OakNorth bank completed various high profile loans in 2019. In October alone, OakNorth lent £4.6 million to Literacy Capital, a closed-end investment company, £17.8 million to a Chelmsford-based housing development, and £9 million to hotel management company Nine Group.
FinTech Magazine recently profiled OakNorth Bank, naming them "Europe's most valuable fintech". The bank is valued at $2.8 billion and reported profits of £33.9 million in 2018.
OakNorth Bank is reportedly planning to expand into the Asia Pacific region, with a base in Australia, by partnering with international banks.
Trustpilot – 2.8/5 (based on 27 reviews)
Feefo – 4.5/5 (based on 450 reviews)
Reviews.co.uk – not available
Smart Money People – not available
Which? – not included
Pros
Choice of savings accounts with reasonably competitive interest rates.
An individually tailored approach to business finance.
Manage everything online 24/7.
Cons
Most reviews are very good, but some are critical.
Better interest rates can be found elsewhere.
Website: OakNorth Bank Business Banking