Note: N26 is no longer operating in the UK. Here's the statement from their website:
With the UK having left the EU at the end of January, we will in due course no longer be able to operate in the UK with our European banking licence. As such we can no longer open new N26 accounts and will be closing existing accounts on 15 April 2020. We have prepared a list of FAQs which you can find below in order to answer any questions you might have. We are sorry to be leaving and we understand this will be disappointing for our customers.
We've left the following review for information purposes but you will probably want to check out: best business bank accounts or free business bank accounts.
N26 is an online business current account for freelancers and the self-employed. Account holders can manage their accounts online and on the app 24/7. The online bank was founded in 2013 and now has over 3.5 million customers across 26 countries. It's available in a range of European countries, and recently launched in the UK in October 2019.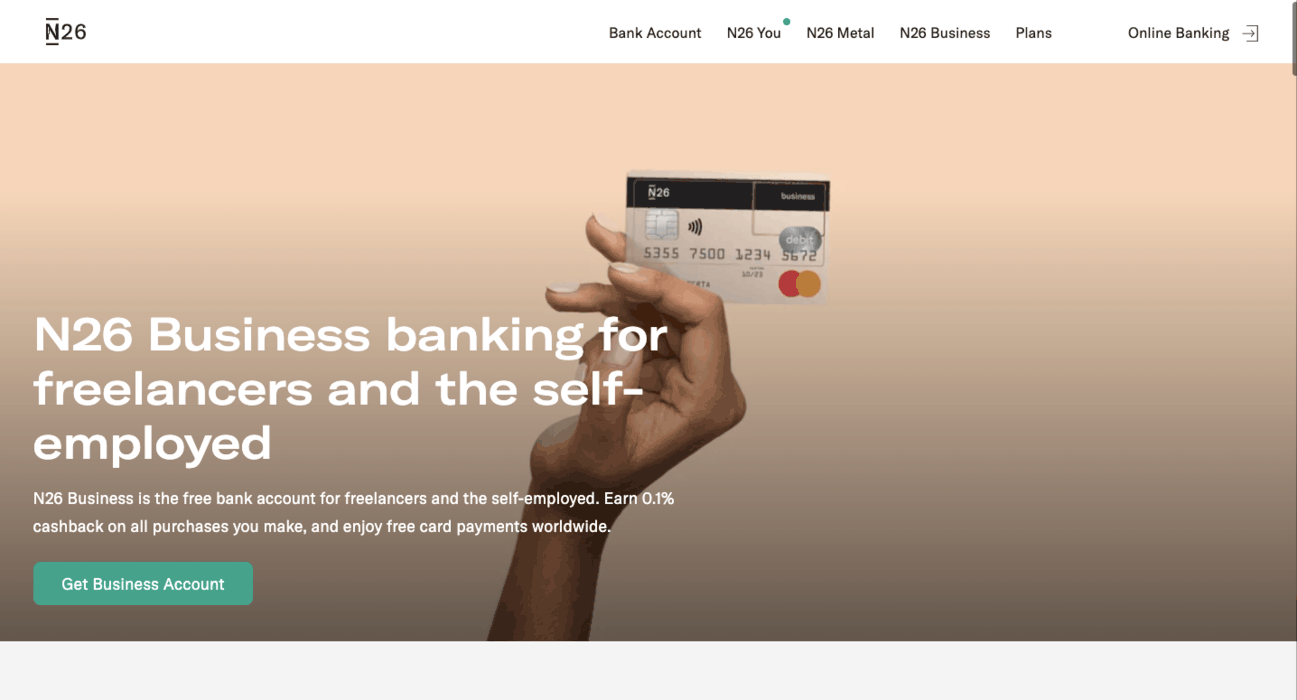 N26 Business Banking Services
Current Accounts
The N26 account includes a smart, intuitive app and desktop site, and a contactless Mastercard, which offers free foreign purchases and the best exchange rates. Account holders will earn 0.1% interest on their balance. You'll receive notifications every time cash is paid into your account, and can monitor expenses simply on the app.
You can store your money in separate sub-accounts so they're kept separate from your main funds. Customer support is available on the app 24/7 and in English, French, German, Spanish and Italian. Account set up is easy too and takes just 8 minutes.
An N26 account is free to open with no account management fees. You can also upgrade to the Plus account for €9.90 per month, which includes an Allianz insurance package and no ATM fees in every currency. 
Savings account
Not available.
Overdrafts
Not available.
Business finance and loans
Not available.
N26 Reviews and Ratings
Trustpilot and Smart Money People reviews are really positive. Trustpilot reviewers think N26 is the easiest account they've ever used, and it's a low cost alternative to conventional current accounts. Plenty of reviewers on Smart Money People think N26 is trustworthy and reliable.
There are a few critical comments though, with a few customers saying customer service is automated and difficult to use.
There are only a couple of reviews on Reviews.co.uk and they're both critical. Both customers claim they were locked out of their accounts for extended periods of time.
N26 isn't included in the Which? list of 'Best & Worst Banks'.
N26 is popular throughout Europe. It's now bigger than HSBC in France, with 1 million users. The challenger bank was also valued at $3.5 billion in July 2019.
Trustpilot – 3.9/5 (based on 7,170 reviews)
Reviews.co.uk – 1/5 (based on 2 reviews)
Smart Money People – 4.67/5 (based on 24 reviews)
Which? – 86% customer score
Pros
Convenient, fast, and modern. It's easier to manage your business' cash and accounting.
Reviews are excellent across the board.
Cons
No overdraft, savings, or business finance available.
Some customers report having their account blocked or suspended without much warning.
Website: N26 Business Banking