Monese is a mobile current account for personal customers and small businesses. More than 1.8 million people have signed up to the platform so far.
The mobile bank was created in 2015, making it possible for people all over Europe to open a UK account in minutes. Monese is proud to accept pretty much any customer that applies to them, even if they're new to the country or don't have an established credit history. UK-registered businesses can set up an account in minutes and receive customer support in 10 languages.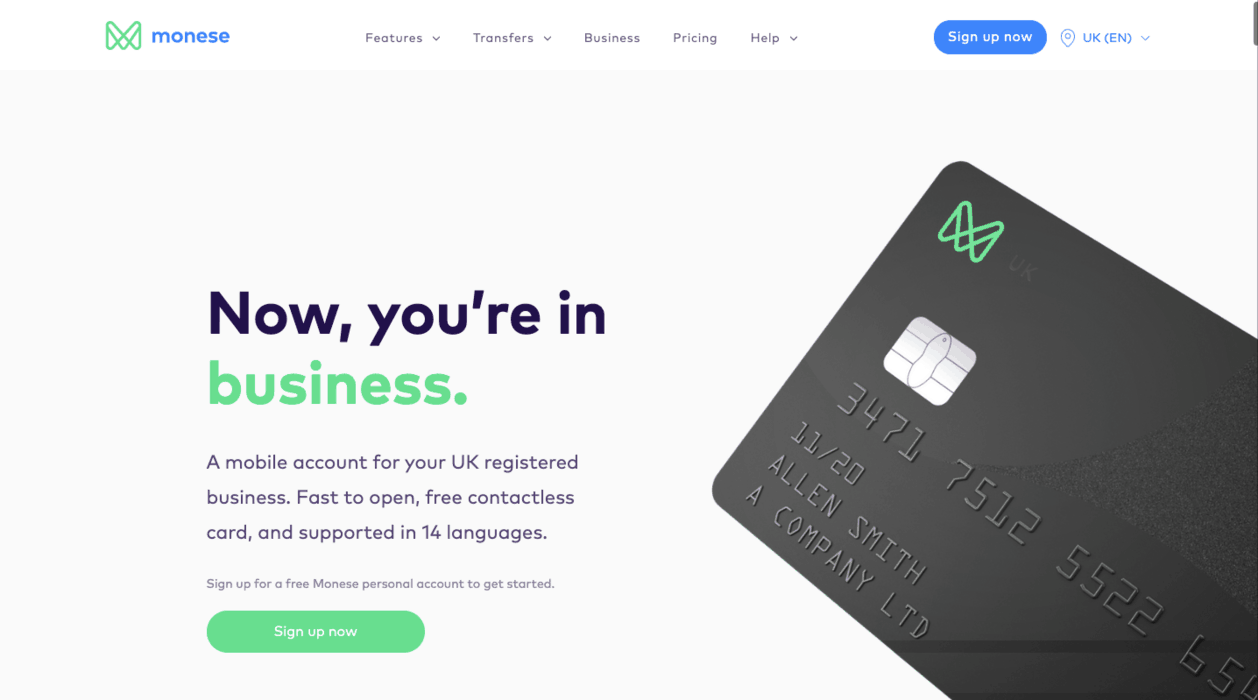 Monese Business Banking Services
Current Accounts
A Monese account is entirely mobile, meaning you can manage it 24/7 on the app. When you apply, you'll get your account number and sort code in a few minutes, and full access in hours. If you have any problems with your account at any time, you can get customer support from real people in 10 different languages.
You'll see all your transactions in one place so expenses and payments are easy to manage. Paying into other UK-based accounts is free and international transfers are low cost. You'll also get a contactless Mastercard debit card with your account, so you can spend normally. Account holders can also pay cash into your account at 40,000 locations around the UK.
A Monese account costs £9.95 a month, which includes a business account and a personal account with full access to all the features.
Savings account
Not available.
Overdrafts
Not available.
Business finance and loans
Currently not available.
Monese Reviews and Ratings
Trustpilot reviews are excellent and there are loads of them too. 67% of reviewing customers rate Monese 5/5, commenting on fast, convenient features and good value. A few people are unhappy because their accounts have taken a while to open or transactions have been blocked, or accounts have been closed and they have been unable to access their money and customer service has been poor.
Reviews on Smart Money People are very positive on the whole. Reviews.co.uk are negative with only 19% recommending Monese with similar negative comments as Trustpilot.
Monese isn't included in the Which? list of 'Best & Worst Banks'.
Monese founder Norris Koppel won the Rising Star award at Ernst & Young's Entrepreneur of the Year Ceremony in November 2019.
According to Capgemini's World Retail Banking Report 2019, half of us will be using challenger banks like Monese in 3 years' time. Conventional banks are apparently 'lagging behind' and new banks are attracting new customers with their fast, intuitive features.
You can sync your Monese account with PayPal. All your PayPal transactions will be visible on your Monese app and you can use your Monese balance to pay through PayPal too.
Trustpilot –  3.5/5 (based on 21,024 reviews)
Reviews.co.uk – 1.75/5 (based on 53 reviews)
Smart Money People – 4.78/5 (based on 5,325 reviews)
Which? – not included
Pros
Transparent charges. The monthly fee includes everything.
Smart, intuitive features that are easy to manage 24/7.
Cons
Still a fairly new service, which could put traditionalists off.
Many critical reviews mention blocked transactions and accounts.
Website: Monese Business Banking