Mettle is a mobile business bank account that can be managed on the app 24/7. Designed for sole traders and small businesses, Mettle is part of NatWest and free to open and manage. The online bank has been featured on Reuters, the Financial Times, and Forbes.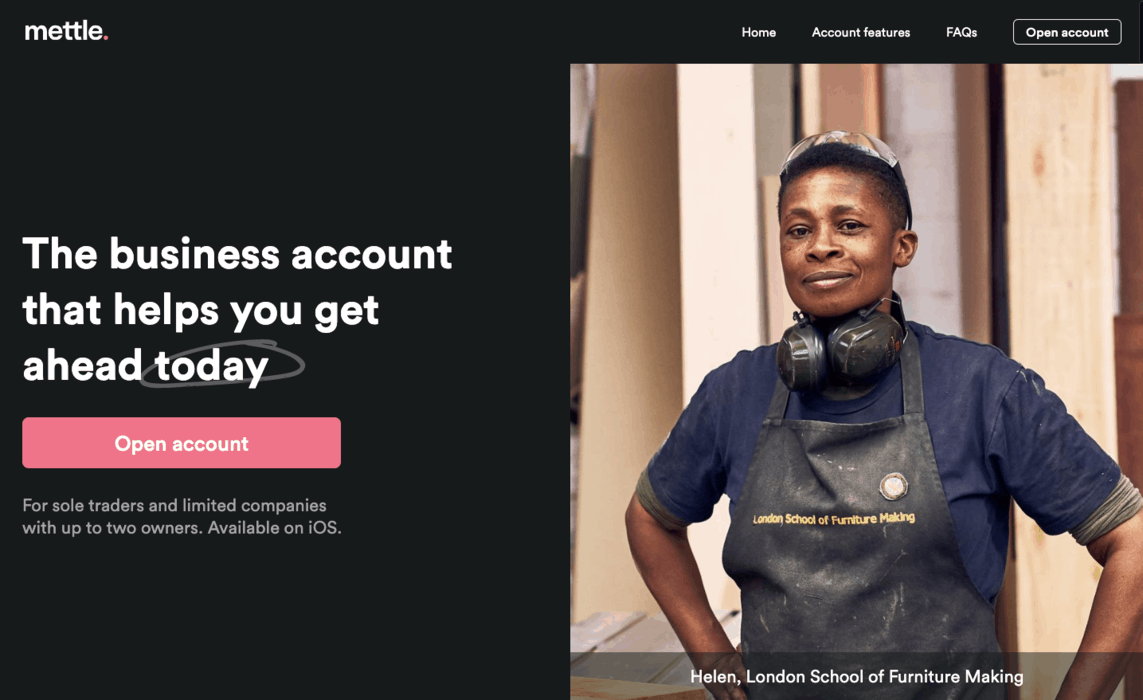 Mettle Business Banking Services
Current Accounts
Mettle has both banking and bookkeeping features. You can create and send invoices, track them until they're paid, and match them to the transaction in your bank account. When the cash arrives in your account, you'll also get a handy notification on your phone. Your account includes a debit MasterCard, and there are no charges for usage at home or abroad.
The app also includes expense management, which is as easy as taking a photo of your receipts. Mettle's features are designed to make business accounting and cash flow management easier. The app will tell you how your outgoings affect your income so you can make smart business decisions.
A Mettle account is free with no extra charges. According to the website, they'll let you know if and when that changes.
Savings account
Mettle offers Money Pots which allows you to put aside money from your main account so that allocate money for tax or new equipment which you can manage through their app. Money Pots are instant access and they do not offer savings rates.
Overdrafts
Not available.
Business finance and loans
Not available.
Mettle Reviews and Ratings
Trustpilot has a high level of positive customer reviews with 76% of reviews scoring them as 5/5 and only 10% giving them a negative rating. Customer comments include that the app is quick and easy to use, has good customer service, that it helps with accounting and sorting out expenses. Some reviewers have had difficulties linking to some accounts and that they would like to access it through a computer rather than the app.
Smart Money People reviews are likewise very positive and in addition, love the fact it is free and ideal for small or new businesses. One reviewer was struggling however to get their account set up.
There are no reviews on Reviews.co.uk. Mettle isn't included in the Which? list of 'Best & Worst Banks'.
NatWest (which is part of the Royal Bank of Scotland Group) reportedly launched Mettle as a trial product in October 2018, and will now be a standalone business banking offering.
Trustpilot –  4.5/5 (based on 844 reviews)
Reviews.co.uk – no reviews
Smart Money People – 4.71/5 (based on 52 reviews)
Which? – not included
Pros
It's free and includes some essential features.
Smart, intuitive app that's easy to manage 24/7.
Backed by a big bank, which is an important trust signal for some businesses.
Cons
Mettle is really new and it sounds like it could be difficult for some businesses to get approval for an account.
Features are limited compared to some online banks.
Website: Mettle Business Banking