Just Cashflow is a business finance provider specialising in short, medium and long term credit facilities from £10,000 to £1 million. Their finance products are pitched as an alternative to an overdraft or conventional loan. Just Cashflow is based in London and was founded in 2013. The lender is a founder member of the Association of Alternative Business Finance.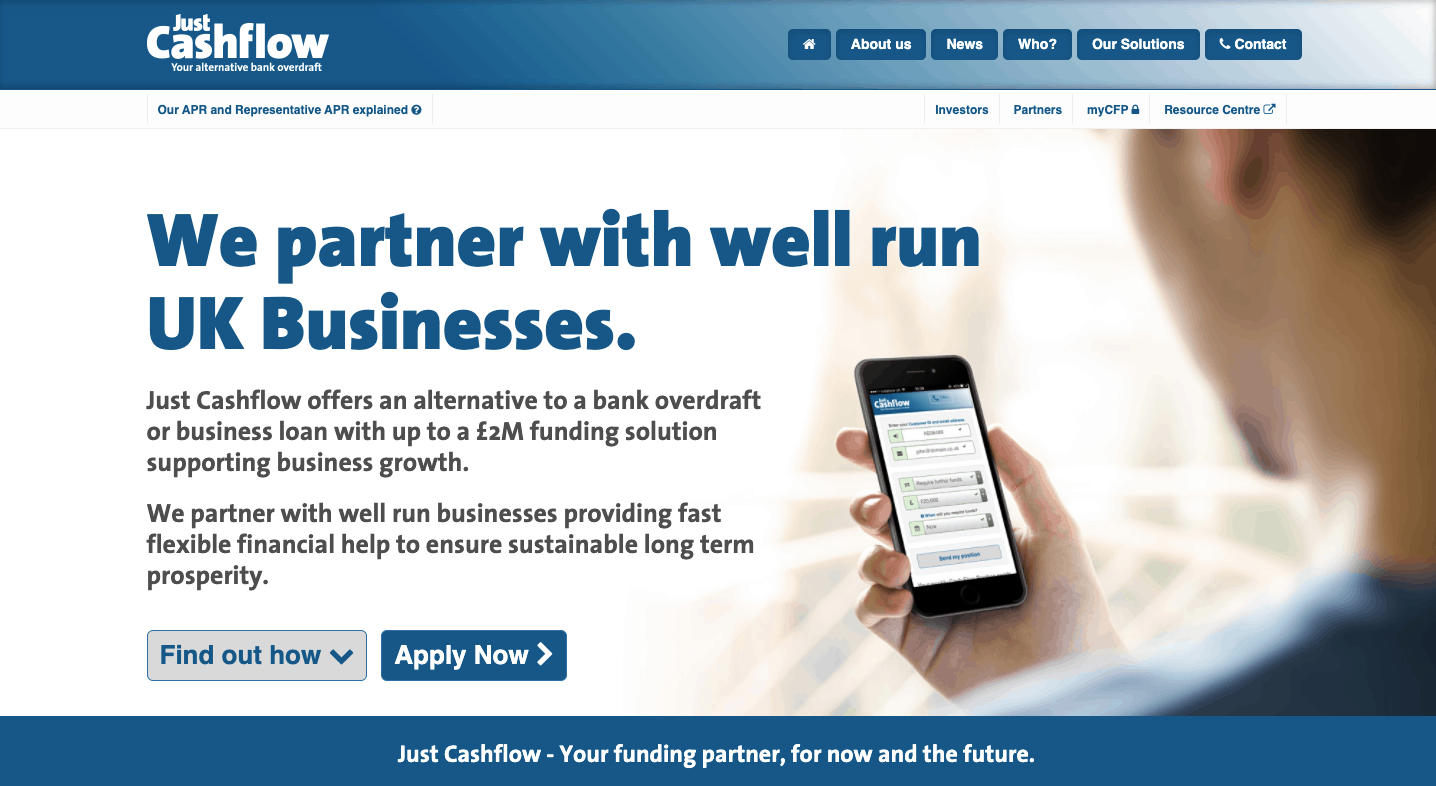 Just Cashflow Business Finance
Revolving Credit Facility
A short term credit facility solution that works a lot like an overdraft. Small businesses and sole traders can access facilities from £10,000 up to £1 million. Interest is calculated daily at 0.05% on the amount used and how long for. The quicker it's paid off, the less interest your business will pay. Security may be needed in the form of an invoice, debtor ledger, commercial premises, or fixed assets.
BusinessAccelerator Loan
£10,000 to £1 million is available to more established businesses over a maximum initial term of 12 months. This can be used for improving cash flow, purchasing stock and equipment, and more. The finance agreement can be extended on request.
BusinessBuilder Loan
£10,000 to £1 million for small businesses and sole traders. Interest is charged monthly for up to 12 months. Security may be needed in the form of commercial premises or fixed assets.
Just Cashflow Reviews and Ratings
Online reviews are a very mixed bag. 89% of Trustpilot reviewers are very happy and say that Just Cashflow are professional and helpful. However, Google and Smart Money People reviewers are more critical on the whole. The main complaints revolve around aggressive debt recovery processes and lack of communication.
In February 2020, Just Cashflow announced it was using Artificial Intelligence to identify which newly registered businesses on Companies House would benefit from funding. The Executive Chairman said this would help Just Cashflow attract business from small businesses that are usually overlooked by lenders.
Trustpilot – 4.7/5 (288 reviews)
Google Reviews – 3.2/5 (based on 37 reviews)
Reviews.co.uk – no reviews
Smart Money People – 3.83/5 (based on 12 reviews)

Pros
Flexible credit facilities
Suitable for new and more established businesses
Positive Trustpilot reviews
Cons
Some critics say Just Cashflow are difficult to deal with when the going gets tough.
Website: Just Cashflow Business Finance