ICICI Bank UK is the UK-based subsidiary of Indian multinational ICICI Bank Ltd, established in the UK and Europe in 2003. The UK bank specialises in corporate finance, including invoice and working capital financing and currency loans. ICICI Bank UK has seven branches, most of them in and around London, as well as Birmingham and Manchester. ICICI Bank UK is also authorised to conduct government related business in India.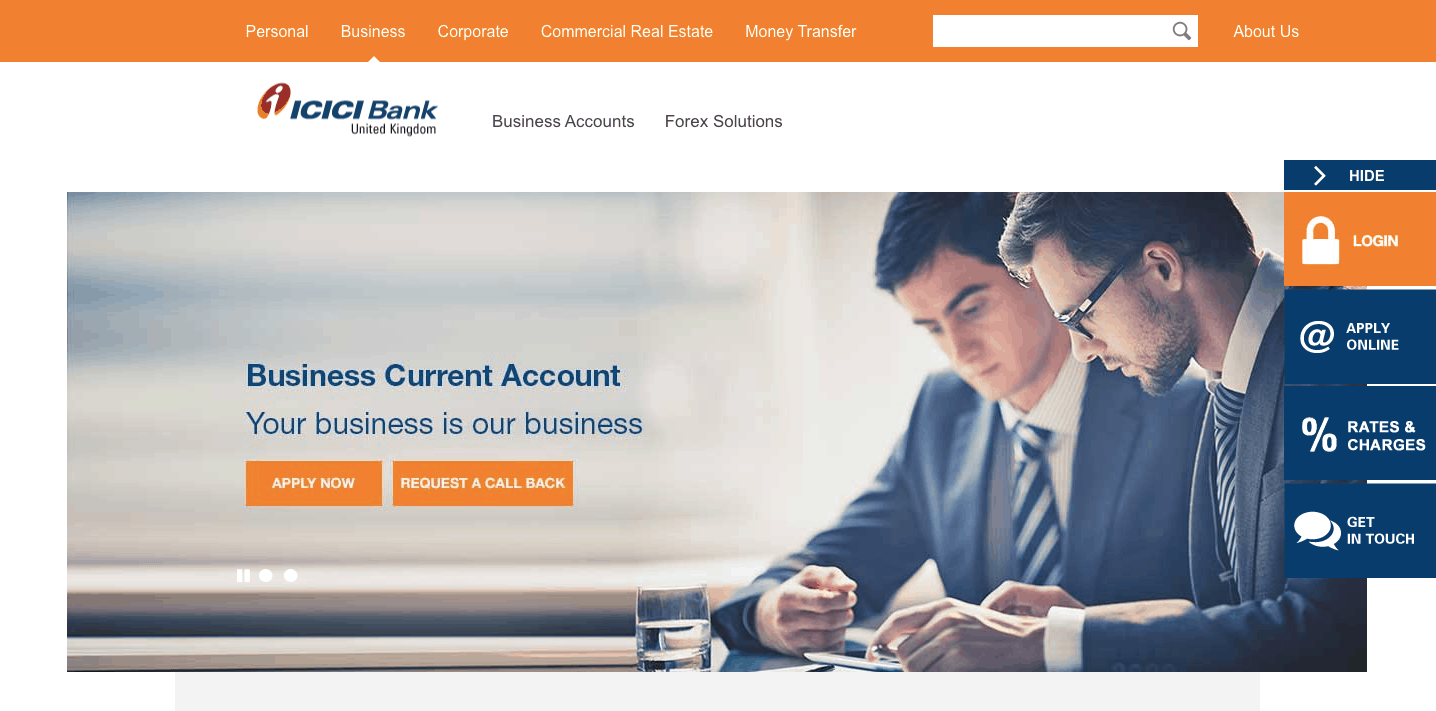 ICICI Bank UK Business Banking
Business current account
This current account is particularly beneficial for businesses banking both locally and internationally, particularly in India. Business customers can manage their current account online 24/7, plus fast international money transfers at favourable rates which can be stored in a currency account. There's a monthly maintenance fee of £5. There are also some extra charges for other transactions but many common transfers and transactions are free.
Business savings account
Earn 0.30% AER (variable) on your business' savings. This is an easy access savings account with no charges for withdrawals – it can be managed in branch or over the phone. Businesses can open an account with a balance of just £1 and will earn interest daily, which will be paid into the savings account on the last business day of the month. You'll need a business current account with ICICI Bank UK to be able to withdraw.
Business fixed deposit account
A savings account you can deposit in either sterling or dollars. Earn up to 0.40% AER-GBP and 0.35% AER-USD. You can save with a fixed interest rate for a period of 6 months, 1 year, 2 years, 3 years or 5 years. There's no minimum deposit and your business can save up to £1 million or $1 million. This account can be accessed through your relationship manager or in branch.
ICICI Bank UK Business Finance
Invoice finance
Your business can receive a percentage of funds from an invoice immediately through ICICI Bank UK either before or after delivery. When the invoice is paid by the customer or client, the remaining value will be paid to you minus ICICI's fee.
Currency loans
ICICI can provide local currency loans through its global branches. This product is suitable for businesses operating abroad as well as in the UK.
Working capital finance
ICICI Bank UK provides a variety of products to improve working capital in your business. This includes overdrafts, short term loans, guarantee facilities, buyers credit, and other multi-purpose loans.
ICICI Bank UK Reviews and Ratings
Many online reviews are posted by global customers of ICICI Bank as well as UK-based customers. They're also commenting on a range of personal and business products.
Trustpilot reviews are mainly critical – 93% of reviewers give them 1 star. Many customers have issues with customer service and delays in general account management. They're unhappy on the whole. There's also a Trustpilot page for ICICI Bank UK but there are only 13 reviews and they echo similar complaints.
Trustpilot – 1.2/5 (based on 475 reviews)
Google Reviews – no reviews
Reviews.co.uk – no reviews
Smart Money People – 5/5 (based on 3 reviews)

Pros
Range of finance products
Flexible solutions for businesses trading in India and internationally
Cons
Very negative online reviews
Website: ICICI Bank UK Business Finance