Note Holvi no longer operates in the UK. The review below is being kept for historic reasons.
Holvi is a relatively new digital bank account for small businesses. It's 100% online and can be managed 24/7 on your desktop or phone. The platform launched in Finland in 2011, is available throughout Europe, and is headquartered in Helsinki, Berlin and Madrid. Holvi has is authorised by the Finnish Financial Supervisory Authority (FIN-FSA) to operate within the European Economic Area (EEA). The platform recently announced it had 150,000 businesses on board across Europe.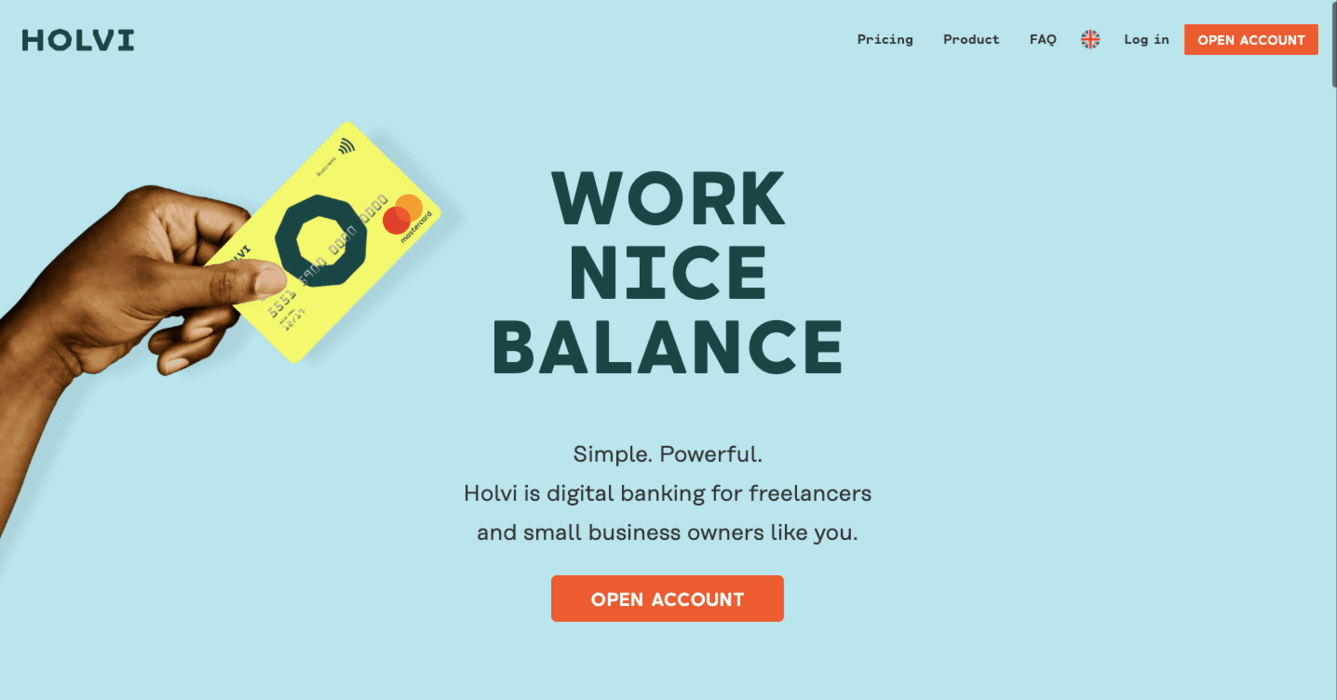 Holvi Business Banking Services
Current Accounts
Like many other digital bank accounts, Holvi includes helpful bookkeeping and accounting tools as well as the usual banking features you'd expect, like payments and bank transfers. So a solid choice for new businesses.
Everything will be calculated for you. This includes tracking all your payments and expenses from your phone or laptop, as well as automated VAT calculations, and easy invoices you can send to your customers and clients. You'll also get a free MasterCard debit card.
They offer two levels of bank account which are Holvi Lite at €6 per month and Holvi Pro at €12 per month. The Pro account in addition includes invoicing functionality, payment matching and preparation for tax filing.
Savings account
Not available.
Overdrafts
Not available.
Business finance and loans
Not available.
Holvi Reviews and Ratings
There are a few Trustpilot reviews and they're mainly very positive. 75% of reviewers rate Holvi 5/5. Customers think it's fast, modern, efficient, and convenient. There are some recent negative reviews about language issues, the loss of the free account and increased pricing. There's just one review on Smart Money People, which is fairly average and 2 years old. The customer thinks there are a few hidden fees and caveats in the small print, but some of these issues could have been ironed out in the meantime.
There are no live reviews on Reviews.co.uk. Holvi isn't included in the Which? list of 'Best & Worst Banks'.
Holvi was called Finland's hottest startup by Wired and "bought by Spanish bank BBVA" in 2016. The startup had 150,000 customers as of summer 2019.
Originally, Holvi was available in Germany, Austria and Finland, experiencing 60% growth from 2017 to 2018. Holvi announced launches in Ireland, Italy, Belgium, France and the Netherlands in summer 2019.
Trustpilot –  4.1/5 (based on 1,208 reviews)
Reviews.co.uk – no reviews
Smart Money People – 3/5 (based on 1 review)
Which? – not included
Pros
Offers a choice of account levels with invoicing functionality.
Smart, intuitive features that are easy to manage 24/7.
Great reviews from customers.
Cons
Still very new to the UK, so could be some teething problems for account holders.
Website: Holvi Business Banking