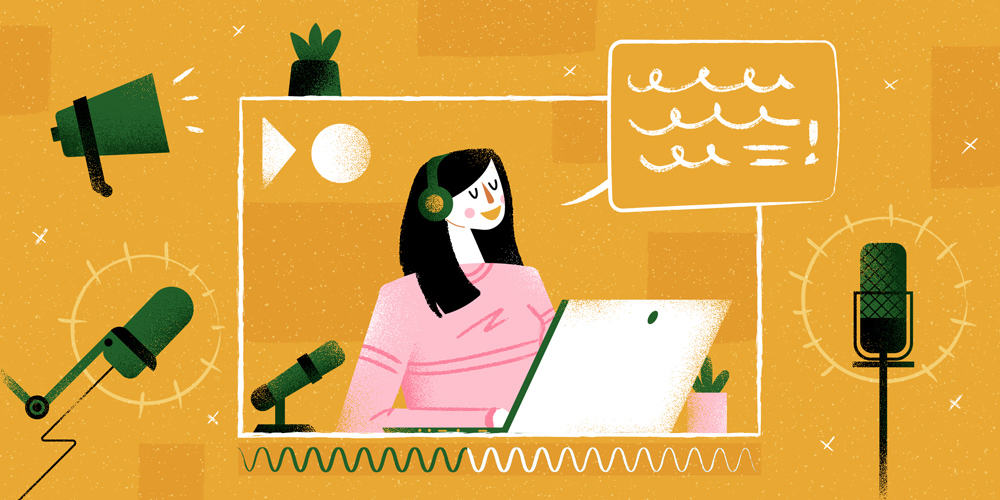 Podcasts are the little radio shows that got big. For those who've never listened to a podcast, it might seem like these episodic broadcasts are a just minor internet-age phenomenon. But consider that:
More than half (

55%

) of Americans have listened to a podcast.
Nearly a quarter (24%) of consumers listened to a podcast last week.
Four out of five (

82.4%

) podcast listeners consume more than 7 hours of podcasts per week.
It's clear that not only is your potential audience very wide, but also very dedicated. What is more, one survey found that nearly two-thirds (63%) of listeners bought something after hearing a podcast host talking about it.
Create a regular streaming or downloadable podcast for your small business, and you can boost sales, brand presence, and customer engagement.
That's why we have produced a thorough guide to help you conquer the challenges of producing a podcast for your small business. We cover ideas, format, technology, and promotion. The more work you put into the podcast, the stronger it will be – but the beauty of the podcast is that simple is better. And once you're over the hurdle of producing your first episode, the structure and technique is in place to produce countless more episodes as you build your audience.
A podcast is an excellent way to develop customer awareness and make sales for your business. And who knows – you might even enjoy it!

Create a regular streaming or downloadable podcast for your small business, and you can boost sales, brand presence, and customer engagement.
Podcasts are an affordable, effective, non-pushy form of marketing your small business. So, what's stopping you?
Coming Up with Podcast Ideas
Producing a podcast is a great way to make the most of your business's 'natural resources.' That could be your own expertise as an entrepreneur or aficionado of your chosen trade (be it vintage homeware, audio cables, or graphic design). It could be your network of potential interviewees, or a charismatic employee who is raring to spend one day a week presenting your branded show. Something that makes your offering unique.
Whatever your strengths, it is essential to balance your ideas with the needs of your audience. Ask yourself who they are, what they need, and why they'll stream your podcast. Keep your idea simple – can you express the format in a single sentence? And keep a recognizable structure from episode to episode, changing only the content and the guests.
The most successful podcasts release a new episode every week. That's a lot of content, and a lot of ideas. Try to have a few episodes sketched out before you start (you can always adapt them as you go along). That way, you won't seize up and stop recording after your first episode. Try some of these methods to come up with podcast episode ideas:
Ask your social media followers what they would like to hear.
Brainstorm lots of ideas and then filter them for quality, instead of waiting for the perfect idea.
Connect and collaborate with others in your industry.
Identify a single book, song, object, tool or whatever as a leaping point for each episode.
Now all that's left is to record it!
Conquer Your Fear of Podcast Technology
Everybody grew more familiar with virtual communication in 2020. Podcast technology is a step further but it's within your reach.
The main elements you'll need to gather and figure out are:
Microphone. Your computer mic won't cut it, but affordable 'prosumer' microphones are easy to find.
Editing software. Free programs such as Audacity or GarageBand are designed for ease of use.
Hosting. Decide whether to deliver your podcast via your own server or through a third-party tool like BuzzSprout.
The best way to learn these tools is to start using them. Good luck!
INFOGRAPHIC SOURCES