If you've seen the headline above and you're reading in the hope that the answer is 'no' – then you know the feeling.
Another meeting. Time lost. Workflow disrupted. Professional smile forced to breaking point. Is it really necessary?
If you're the business owner, you'll also have an eye on the cost. "You cannot imagine a single line item costing this much that receives almost no attention," says Professor Steven Rogelberg, author of The Surprising Science Of Meetings. "We have folks spending upwards of half their time in meetings, which represents a tremendous amount in personnel costs." And yet, as Rogelberg discovered, the meeting leader is often the only participant to think the meeting was a success.
Of course, in the age of WFH, virtual and phone meetings are a lot more common. Some are valuable opportunities to check in. But other interactions that might have lasted 30 seconds in the office are now meetings that take a lot longer to schedule, connect, and conclude. It takes over 20 minutes to get back in the zone after such a distraction, and chances are somebody wasn't paying attention anyway.
So, unnecessary meetings cost time and money – and, worst of all, energy. As part of our mission to help you make the most of your resources, BusinessFinancing.co.uk now presents a thorough guide to maximizing the modern meeting: a flowchart for deciding whether it needs to be a meeting at all and essential dos and don'ts for when a meeting can't be avoided. But first up, here's the stats on meetings in 2022.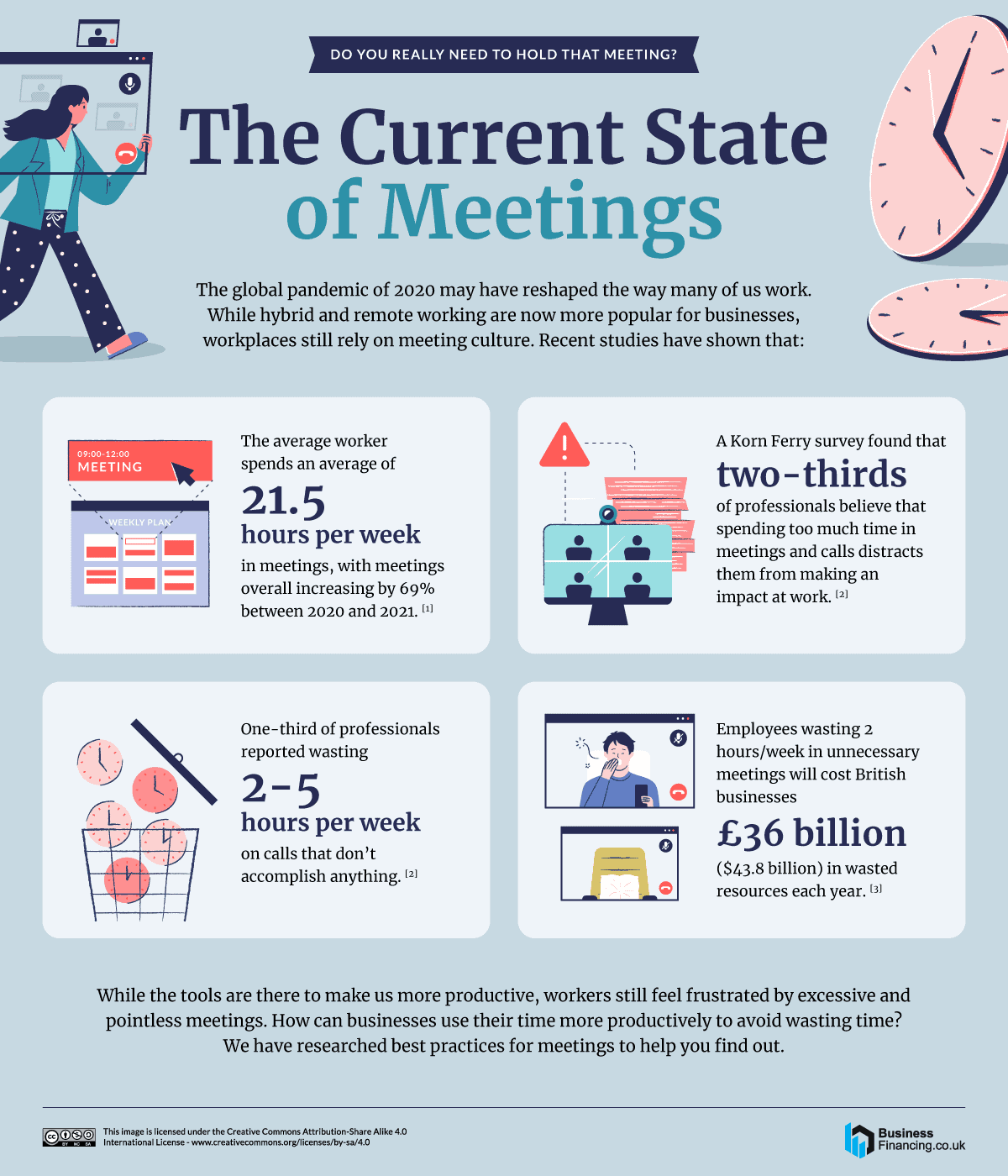 ​​Click here to see the image in full size
That's where we are. But where might we go next? Read on to find out whether you really need to hold that meeting – and, if so, the best way to do so.
How to Eliminate Unnecessary Meetings
The modern workplace is a highly sophisticated place – even if it's distributed among the home offices of a disparate workforce. Incredible networked tools are available to communicate different needs, and most contemporary professionals can adjust to them with little fuss.
For example, if changes within the company apply to your staff, but they won't be part of the decision process, a new FAQ document or video message can easily cover the vital information. Notion is a simple tool for constructing a work 'wiki,' and you can embed video from YouTube or elsewhere to get your point across verbally.
Alert the team to the new document/video by email or Slack. Mark it 'Important' but not 'Urgent.' Team members can check it out at an appropriate moment – instead of breaking out from their current task to attend a needless meeting. That way, their work is not impaired, and they'll probably pay more attention to the new information, too.

Click here to see the image in full size
As it happens, meetings are the best option only in very particular circumstances. Updates, announcements, and scheduling rarely need one. If the situation doesn't call for live, verbal group dialogue, you can probably handle the matter via email, a fixed shared document, or a project management tool.
How to Hold the Best Meetings
With the normalization of video conferencing, Covid-19 introduced the idea that it's okay to attend a meeting without your trousers. (Pro tip: always dress appropriately). In fact, from being a shiny novelty, remote meetings have soon become a perhaps overly casual way of doing business. But on some levels, they require greater formality than ever.
Minds wander on Zoom. Employees have pets, kettles, and home deliveries to distract them. And ironically, the effort of concentrating on the screen can detract from a participant's ability to contribute. "Visual focus is a huge component of cognitive focus," according to Dr. Melanie Brucks, assistant professor of marketing at Columbia University. "When you're focused on the screen and filtering out the rest of the environment, that spills over into how you approach the task. It's uniquely bad for creativity because it's inhibiting broader exploration."
The solution? Minimize. Plan your meeting and invite only who you need, when you need them. Set out to achieve a limited number of clearly identified goals. And structure your session to actively engage every participant.

Click here to see the image in full size
But there's one area of informality that remote meeting leaders shouldn't minimize out altogether: small talk. It is tempting to shave off precious minutes by cutting straight to the chase, but companies who do so miss a valuable opportunity to develop team culture, raise morale, and create a sense of mutual care. Schedule guided ice-breaker sessions into the agenda or leave the webcams running at the end for optional 'water cooler' time. Just be sure to solicit feedback on your approach.
Towards Meaningful Meetings
Virtual one-on-one meetings rose by 1,230% in 2020, and larger online meetings rose by 613%. For some companies, it was the only way for some face time between colleagues. So, yes, that's more meetings than anybody needs to hold – but businesses are about the people. Getting them together when they happen to be in the office, and promoting real, meaningful dialogue online, may just be what keeps the company together as the world of work transitions to a new era.
If you'd like to share our infographic in full feel free to use the version below:

Click here to see the image in full size
SOURCES
Most Popular Guides