Lloyds Bank Commercial Mortgage User Reviews
Review Summary
0.0 out of 5 stars (based on 0 reviews)
Recent Reviews
There are no reviews yet. Be the first one to write one.
Submit a Review
Lloyds Bank has roots that make it one of the UK's longest established banks with over 250 years of history and it is known as one of the 'Big Four' banks. They offer a variety of personal and business banking and financial services across the UK. Their business products include bank accounts, overdrafts, loans, credit cards, invoice finance, asset finance and mortgages.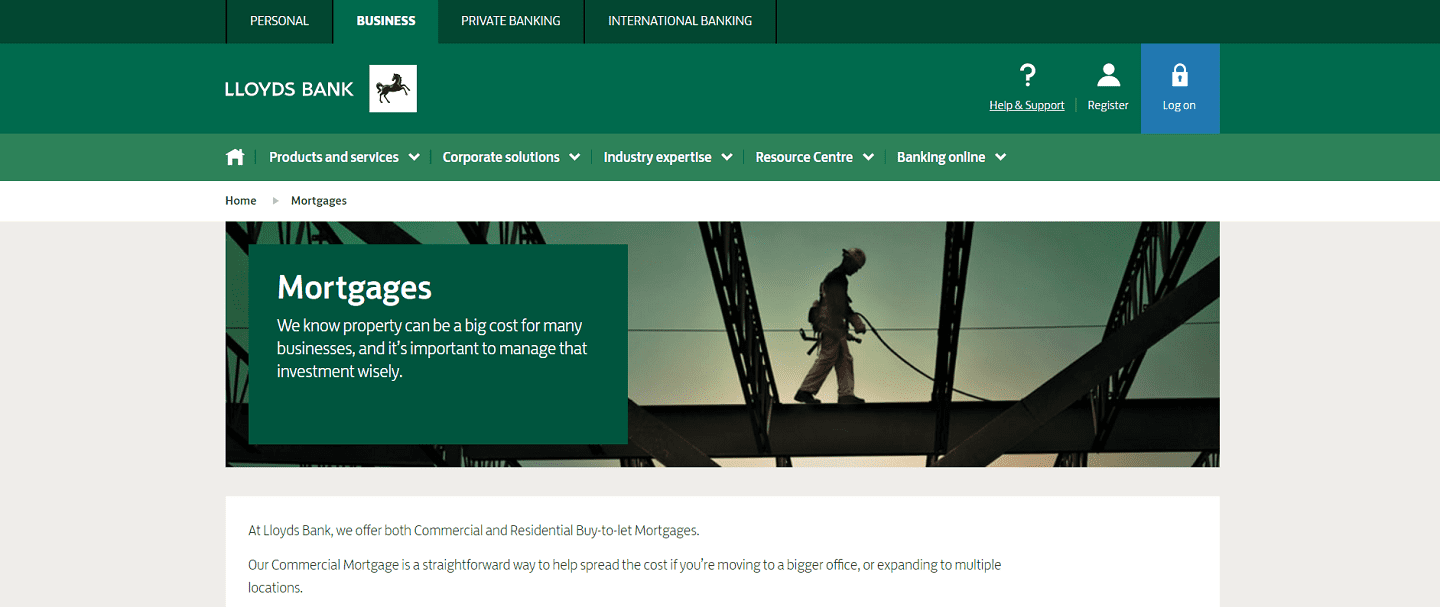 Lloyds Bank Commercial Mortgage Options
Lloyds Bank offers commercial mortgages suitable for offices and multiple locations, and residential buy to let mortgages which include residential occupation, multiple occupations and student lets. Their mortgages include:
Loans from £25,001
Terms from 3 to 25 years
Access up to 70% of the property value
Choice of fixed or variable rate
Capital repayment holidays are available
An arrangement fee will be applied
Security and valuation fees may apply
A first legal charge will be placed on the property
Lloyds Bank Commercial Mortgage Eligibility
Lloyds Bank offers its commercial and buy to let mortgages to sole traders, partners and directors that have the authority to borrow on behalf of the business and are aged over 18.
Lloyds Bank Commercial Mortgage Rates
Lloyds Bank doesn't detail their mortgage rates or what their arrangement, security or valuation fees are.
Lloyds Bank Commercial Mortgage Calculator
Lloyds Bank doesn't have a commercial mortgage calculator.
Lloyds Bank Commercial Mortgage Reviews
Lloyds Bank features on most of the leading customer reviews site, however, the reviews often reflect the personal banking customers more and insurance than the business customers. Overall, the reviews for Lloyds Bank are fairly negative with low scores.
Trustpilot has the largest number of reviews and 76% of the reviewers rated them as bad. Reviewers' comments included poor response from or long waiting times on telephone banking, issues with internet banking being down or with the authorisation process, problems getting a debit card, and poor levels of customer service.
44% of Reviews.co.uk reviewers would recommend Lloyds Bank and they have an average overall rating. Positive comments include excellent service, always helpful, well priced/competitive, easy to set up and good customer service. Negative comments are similar to those above on Trustpilot. Smart Money People reviews are also average rated and have similar feedback on the reviews.
Review Centre reviews are from business customers only and there are only 3 reviews that are poor and relate to difficulties around opening a business bank account.
In a Which? customer survey Lloyds Bank received a customer score of 66% and they received scores out 5 for aspects of their service. They received 4 out of 5 for customer service, communication, transparency of charges, telephone banking, online banking and benefits. They received 3 out of 5 for handling complaints, service in-branch and mobile app.
Trustpilot – 1.7/5 (based on 2,393 reviews)
Google Reviews – no reviews
Reviews.co.uk – 2.77/5 (based on 874 reviews)
Review Centre – 1.0/5 (based on 3 reviews business only)
Smart Money People – 2.42/5 (based on 106 reviews)
Which? – 66% Which? customer score
How To Apply For A Lloyds Bank Commercial Mortgage?
To enquire about a mortgage from Lloyds Bank you can call them on 0345 072 5555 if your turnover is below £3 million or 0800 022 4378 if your turnover is between £3 and £25 million.
Pros
Offers straightforward commercial mortgages
Suitable for buy to let properties including multiple occupancies and student lets
Offers a variety of options to tailor the mortgage to your needs
Capital repayment holidays can be offered
Cons
No rates are available
Customer reviews are fairly poor
Website: Lloyds Bank Commercial Mortgages