Barclays Commercial Mortgage Reviews User Reviews
Review Summary
0.0 out of 5 stars (based on 0 reviews)
Recent Reviews
There are no reviews yet. Be the first one to write one.
Submit a Review
Barclays is a well-known high-street bank in the UK that still has a strong branch network presence with 1,600 branches. Barclays offers a broad range of banking and financial products to businesses and individuals. Their business product range includes bank accounts, savings accounts, credit cards, loans, commercial mortgages, invoice finance and asset finance.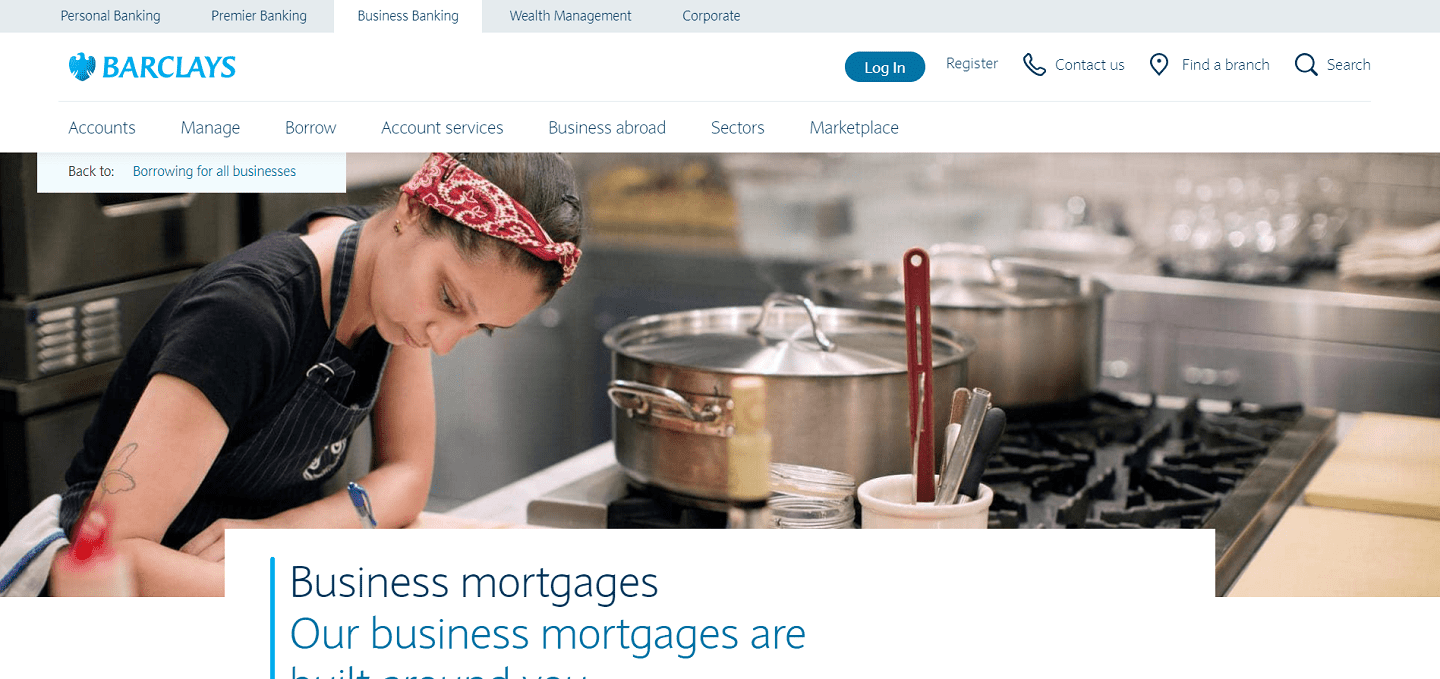 Barclays Commercial Mortgage Options
Barclays offers a range of business mortgages that are backed with specialist industry knowledge. Their business mortgage range includes:
Commercial Mortgages
Barclays' commercial mortgages are available to buy property, develop property, fund refurbishments or release equity from a property. Their mortgages provide:
Borrowing over £25,000
Terms from 1 to 25 years
Choice of fixed or variable rates
Fixed-rate mortgages available for up to 10 years
Offers capital repayment holiday
Prepayment fees may apply
Agricultural mortgage
Barclays' agricultural mortgages are a flexible mortgage designed to help buy farmland, buildings or release equity to improve the farm infrastructure or activities. The agricultural mortgage offers:
Borrowing over £25,000
Terms from 1 to 25 years
Fixed or variable rates
1-10 years on fixed rates
Capital repayment holidays are available
Support from a dedicated Agriculture Relationship Manager
Buy to Let Mortgages
Barclays offers 2 buy to let mortgage products, one for limited companies and one for businesses.
Buy to let mortgage for limited companies is suitable for limited companies only who have up to 3 residential properties. The mortgage can be used for the purchase or remortgage of residential properties that are leased or will be within a month of completion. The mortgage offers:
Borrowing up to £1 million for up to 3 properties
Loan to value up to 70% on repayment or 65% on interest-only
Terms of 1-25 or up to 15 years on interest-only
Fixed or variable rates
Fixed-rate mortgages for up to 10 years
Choice of repayment or interest-only
Dedicated support from the Real Estate team
Buy to let mortgages for businesses are designed for those with 4 or more properties and can be used to expand your portfolio or remortgage an existing property. The mortgage offers:
Borrowing for 4 or more properties
Terms from 1 to 25 years
Loan to value up to 60%
An interest-only option is available for terms up to 15 years
Choice of fixed or variable rates
Dedicated support from the Real Estate team
Barclays Commercial Mortgage Eligibility
There is no eligibility criteria available on Barclays' website. To find out of you are eligible you need to provide them with 3 years of audited or certified accounts, 2-6 months' bank statements and an asset and liabilities statement.
Barclay's buy to let mortgage for limited companies requires a majority shareholder to have a minimum personal income of £25,000 p.a. and needs to be either a limited company or a limited liability partnership.
Barclays Commercial Mortgage Rates
Barclays doesn't disclose their mortgage rates on their website but states that prepayment fees, lending fees and associated borrowing costs may be applied.
Barclays Commercial Mortgage Calculator
Barclays doesn't have any mortgage calculators.
Barclays Commercial Mortgage Reviews
Barclays features on the majority of the review sites in relatively high numbers and it is quite poorly rated across them all. Like with many of the banks their reviews will reflect all of their products including personal products so it may not reflect the service provided to business mortgage customers.
Trustpilot reviews are predominantly negative with 85% of reviewers scoring them as bad. Comments about Barclays included issues with internet banking, long waiting times on calls, queues and poor staffing levels in branches. Business customers, in particular, have had issues with account setup and loan approval times. Some of these comments occurred during the Covid pandemic and the banks will have been dealing with high volumes, however, some customers had this issue prior to this.
Reviews.co.uk and Review Centre have similar ratings and comments as Trustpilot. Smart Money People is more mixed with a more neutral overall score.
In the Which? customer poll Barclays scored 65% overall and received 4/5 for online banking, telephone banking and mobile app. They received 3/5 for customer service, communication, handling complaints, transparency of charges and benefits, and 2/5 for service in-branch.
Trustpilot – 1.5/5 (based on 6,065 reviews)
Google Reviews – no reviews
Reviews.co.uk – 1.42/5 (based on 466 reviews)
Review Centre – 1.3/5 (based on 353 reviews)
Smart Money People – 3.57/5 (based on 171 reviews)
Which? – 65% Which? Customer Score
How To Apply For A Barclays Commercial Mortgage?
Existing Barclays customers can apply for a mortgage by calling them on 0333 202 7431. New customers can contact them on 0800 515 462.
Pros
Provides specialist mortgages and support to agricultural and buy to let
Has an established branch network
Available to existing and new customers
Cons
No rates or fees are disclosed
Poorly rated in customer reviews
Website: Barclays Commercial Mortgage