Aldermore Commercial Mortgage User Reviews
Review Summary
0.0 out of 5 stars (based on 0 reviews)
Recent Reviews
There are no reviews yet. Be the first one to write one.
Submit a Review
Aldermore is a bank and finance product provider offering products to businesses, homeowners and landlords. They offer a variety of business products which includes savings accounts, mortgages, asset finance, invoice finance and property development finance. They are based in Peterborough and they cater for small businesses and SMEs across the UK.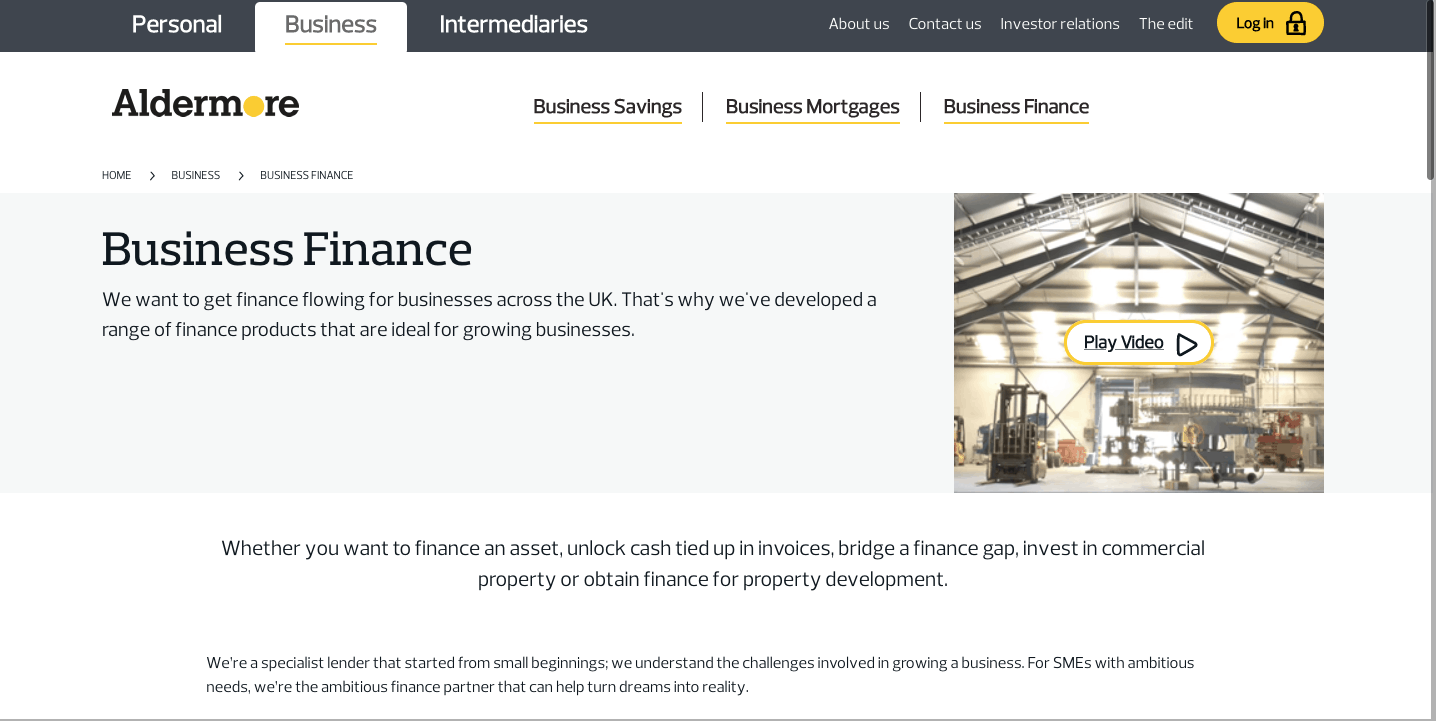 Aldermore Commercial Mortgage Options
Aldermore offers a small range of commercial property finance products that comprise of commercial mortgages, commercial residential investment mortgages, buy to let mortgages and property development finance.
Commercial Mortgages
Aldermore offers commercial mortgages for properties that are commercial, semi-commercial, commercial owner-occupied, mixed-use schemes and larger residential investments. Their commercial mortgages offer:
Borrowing up to £25 million
Variable or fixed rates (fixed for 3, 5 or 7 years)
Repayment terms up to 20 years
Offers up to 75% loan to value
Choice of interest only, capital repayment or a mixture of both
Bespoke pricing for mortgages over £1 million
Suitable for offices, warehouses, industrial, student accommodation, mixed-use portfolios, retail units, large residential portfolios, HMOs and multi-unit blocks.
Commercial Residential Investment Mortgages
Their commercial residential investment mortgages provide the same offering as the commercial mortgages above for those wanting to purchase or remortgage larger residential portfolios including HMOs and multi-unit blocks.
Buy to Let Mortgages
Aldermore offers buy to let mortgages for purchasing investment properties, remortgaging an existing property or raising capital to expand the portfolio. Their buy to let mortgages offer:
Available to all landlords
Suitable for single properties and portfolios
Borrow up to £5 million per portfolio
Up to 30 properties per account
Choice of 2 and 5 year fixed rate mortgage products
Assistance with legal fees
Free valuation
Allows overpayments of up to 10% of the mortgage balance each year without penalties
Property Development Finance
Aldermore offers property development finance to experienced property developers and housebuilders. Their property development finance offers:
Suitable for new builds, conversions and refurbishments
Funding from £1 million to £25 million
Borrow up to 85% loan to cost or up to 60% of gross development value
Fast turnaround on drawdown requests
Terms up to 30 months
Fixed interest rates
Bespoke and competitive rates
Aldermore Commercial Mortgage Eligibility
Aldermore's commercial mortgage products are subject to status and affordability but there is no eligibility criteria published on their website.
Property development finance is available to experienced developers which include individuals, sole traders, partnerships, LLPs, limited companies and PLCs.
Aldermore Commercial Mortgage Rates
Aldermore's commercial mortgage and property development finance rates are not published on their website.
Aldermore Commercial Mortgage Calculator
There are no commercial mortgage calculators available on Aldermore's website.
Aldermore Commercial Mortgage Reviews
There is a fairly substantial number of reviews available across a range of review sites for Aldermore which overall are largely positive, however, the reviews include a variety of personal banking as well as business banking. Trustpilot has the largest collection of reviews with 81% rating them as excellent. Reviewers' comments include efficient processes, personal service, easy to use, offers good rates and excellent customer service.
Reviews.co.uk reviews are less positive with some having bad experiences setting up or during their product term including commercial mortgages and savings accounts, issues with timescales and speed of response, and poor customer service. Review Centre had similar comments to Reviews.co.uk.
Smart Money People reviews are mixed with most reviews being for personal products rather than business products.
Trustpilot – 4.7/5 (based on 1,942 reviews)
Google Reviews – no reviews
Reviews.co.uk – 1.3/5 (based on 43 reviews)
Review Centre – 2/5 (based on 70 reviews)
Smart Money People – 3.91/5 (based on 11 reviews)
How To Apply For A Aldermore Commercial Mortgage?
To apply for commercial property finance from Aldermore you can either call them on 0333 920 4939 or you can request a call back through their website.
Buy to let mortgages are only available through a broker.
Pros
Offers a range of commercial property finance products
Specialise in supporting small businesses and SMEs
Overall highly rated in most customer reviews
Cons
Very little information available about rates and eligibility
Some customer review sites have low ratings and poor feedback
Some products are only available through a broker
Website: Aldermore Commercial Mortgage