Please note Coconut no longer offers business banking service.
Coconut is a digital business bank account with in-built accounting and tax solutions. Freelancers and small business owners (plus their accountants!) can manage their business' money, track expenses, and send professional invoices in one place. You can open a Coconut account online in minutes, and manage it on the app 24/7.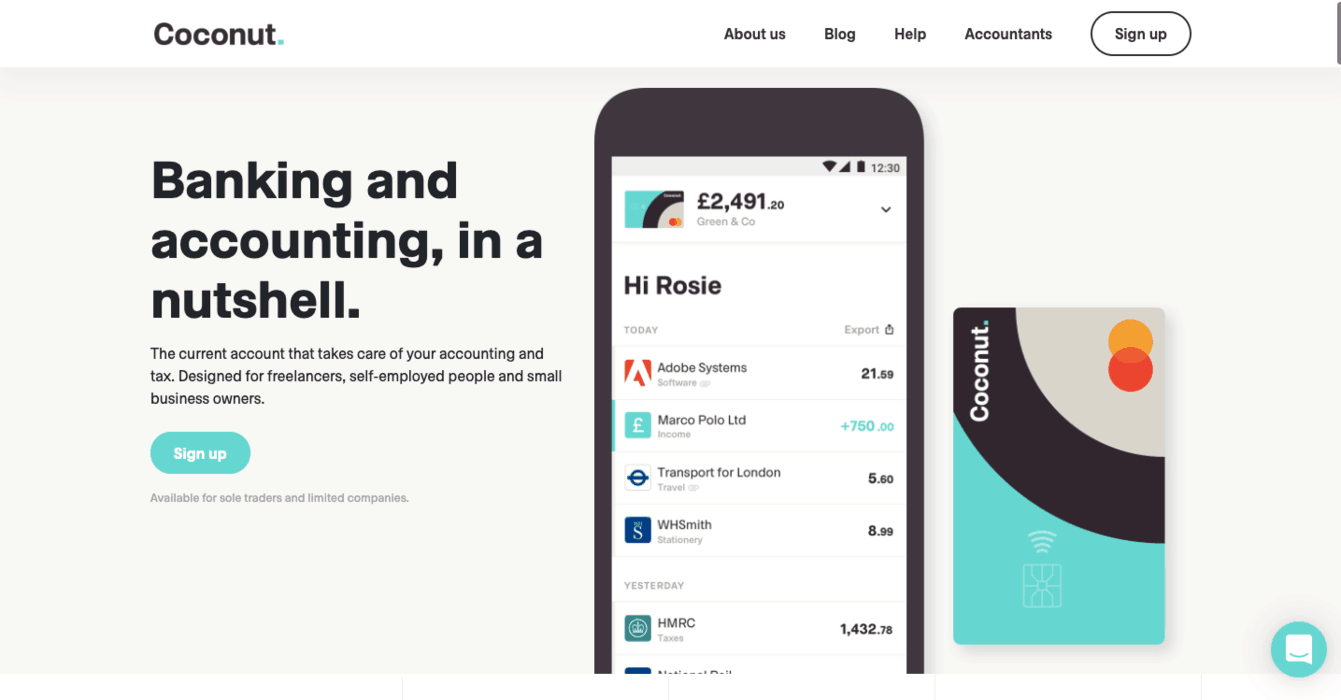 Coconut Business Banking Services
Current Accounts
Coconut accounts are managed exclusively online through the app. As well as doing all the expected stuff, like processing payments and paying bills, the Coconut current account will organise your payments and expenses too. It performs basic accounting functions, like dividing up allowable expenses, notifying you when you get paid, and calculating tax estimates. Human support is available over the phone.
They offer a choice of two levels of accounts which are a basic account at £3.60 per month and an enhanced account with unlimited categorised transactions and invoices per month at £12 per month. There are also a few extra charges for replacement cards and Post Office deposits.
Coconut customers will be automatically enrolled for Making Tax Digital VAT registration. They also allow you to connect with other bank accounts. The Coconut roadmap is publicly available on Trello, so you can see what they're working on next and make suggestions.
Savings account
Not available.
Overdrafts
Not available.
Business finance and loans
Not available.
Coconut Reviews and Ratings
Trustpilot reviews are very positive, with 83% of customers rating Coconut 5/5. Overall, users are impressed with the simple, intuitive technology, human support team, and smart accounting features. Many customers say the app is ideal for freelancing and self-employment, which could suggest it's a bit too basic for some small businesses.
Reviews on Smart Money People are also overwhelmingly positive, mainly citing the easy tax calculations and innovative product. Some reviewers wish there was a desktop version though.
Reassuringly, many of the features users suggest in their reviews have become a real part of the Coconut service in a matter of months. This suggests they listen to their users and work fast!
There are no reviews on Reviews.co.uk. Coconut isn't included in the Which? list of 'Best & Worst Banks'.
Coconut was ranked as one of 'the hottest fintech startups and companies in the world' by Business Insider India in October 2019.
Trustpilot –  4.5/5 (based on 642 reviews)
Reviews.co.uk – not included
Smart Money People – 4.86/5 (based on 207 reviews)
Which? – not included
Pros
Low monthly cost and no fees if you upgrade from the free version.
New features are introduced regularly.
Clever, intuitive accounting and tax features.
Cons
Still a relatively new app – potentially less stability and reliability compared to a conventional bank.
Could be a bit basic for small businesses.
No desktop version yet.
Website: Coconut Business Banking