Cater Allen Private Bank is a bank specialising in private clients and professional advisers. Set up in Blackburn in 1816, Cater Allen is now part of the Santander Group. As well as personal and specialist banking services, Cater Allen provides business current accounts and savings accounts.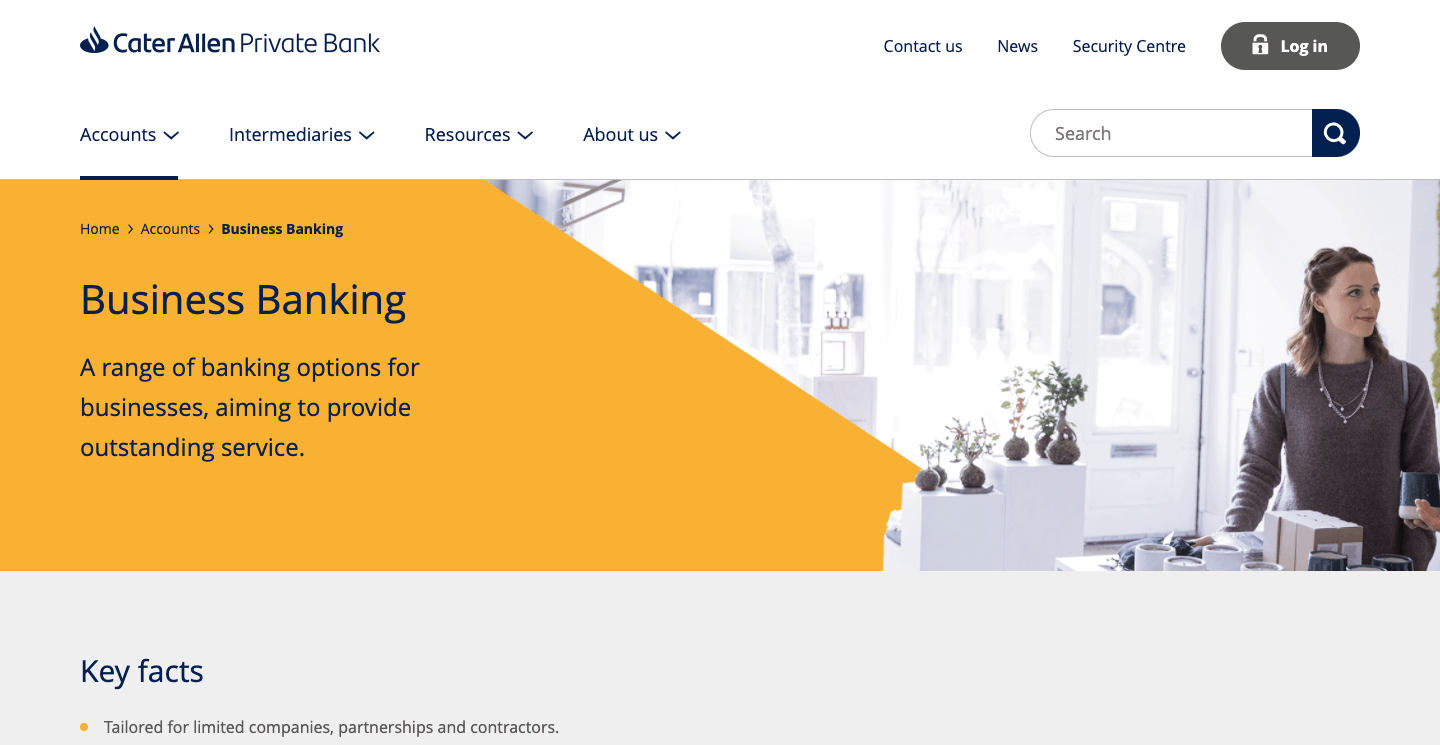 Cater Allen Private Bank Banking Services
Reserve Account
Businesses can open a current account with Cater Allen that allows them to bank in pounds, euros and US dollars, as well as manage money online, by phone or by post. You can complete 30 day-to-day transactions each calendar month with no transaction fees, there are also no annual or monthly account fees to pay. The minimum amount you need to open an account for your business is £5,000 (or the equivalent in euros or US dollars) and interest is paid on balances above £500,000. It's also possible to move money between pounds, euros and US dollar accounts with no conversion charges, as long as the accounts are under the same customer number.
The Reserve Account includes a contactless Visa Debit Card available in pounds, euros or US dollars and you can open an account in 3-5 days.
Reserve Account for Charities
The same account is available for charitable organisations with many of the same features and benefits. Accounts are available in pounds only so features involving currency don't apply. Charities need to apply through their accountant or financial adviser.
Asset 30 Account
A business savings account offering 0.25% AER p.a. on balances over £5,000. Customers can make an unlimited number of withdrawals without penalty with 30 days' notice, but you'll receive better rates of interest if you leave your money where it is. The minimum opening balance is £5,000 and an account can be opened in 3-5 days. The Asset 30 Account is for companies, sole traders, partnerships, and self-employed professionals operating through limited company structures.
Cater Allen Private Bank Reviews and Ratings
Cater Allen doesn't have many online reviews. Trustpilot reviews are negative, with 83% of customers rating them 1/5. The most common complaints focus on problematic online banking and poor customer service. Some customers say they have banked with them for a long time (20 years in some cases), and the service has gone downhill. Google reviews tell a very similar story.
Trustpilot – 1.7/5 (based on 93 reviews)
Google Reviews – 1.8/5 (based on 36 reviews)
Reviews.co.uk – no reviews
Smart Money People – no reviews

Pros
No monthly account fees.
Can convert between pounds, euros and US dollars with no conversion charges.
Savings account can be easy access or fixed, depending on how you want to use it.
Cons
Lots of unhappy customers on Trustpilot.