HSBC is a banking and finance provider that is an international provider and is renowned for operating across many countries. They have been operating in the UK for many years where they have a fairly extensive branch network supported by telephone and internet banking. They provide personal and business banking and financial products. The business products include bank accounts, overdrafts, credit cards, loans, mortgages and other financial products.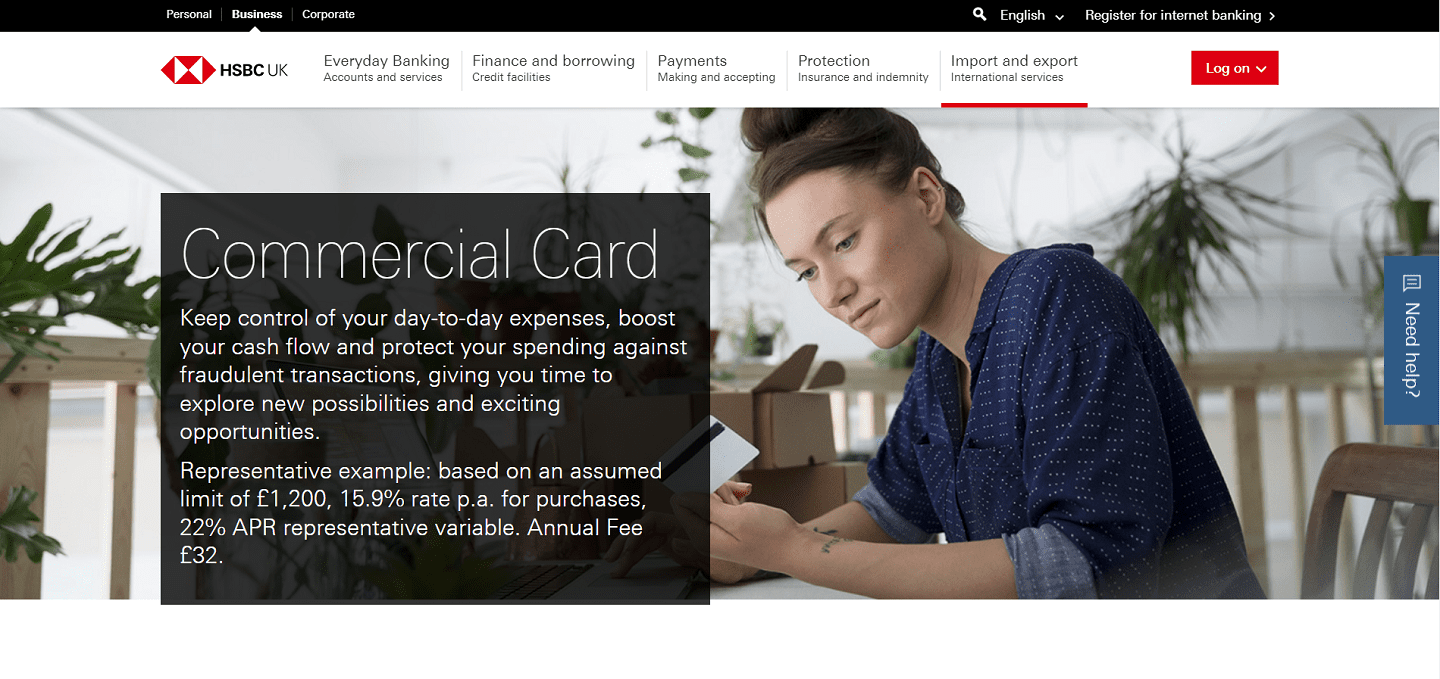 HSBC Credit Card Options
HSBC offers a single credit card option which is a commercial credit card. The card features include:
Annual fee of £32 which is free for the 1st year
Purchase rate of 15.9%
Up to 56 days' interest-free credit
Credit limits starting from £500
The limit depends on your status
Cash advances charged at 2.99% (minimum £3)
A non-Sterling transaction fee of 2.99%
Itemised statements
Manage the card through the banking app
Accepted at around 40 million locations around the world
Contactless technology
Secure card with fraud protection
HSBC Credit Card Eligibility
HSBC only offers their commercial credit card to their business current account customers. They have an online credit card eligibility checker on their website to see if you will be eligible for the commercial credit card.
HSBC Credit Card Rates
HSBC's commercial credit card has a representative APR of 22% variable with an assumed limit of £1,200. It also has an annual fee of £32 which is waived for the 1st year.
Other charges may occur including cash advances charged at 2.99% (minimum £3) and non-Sterling transaction fee at 2.99%.
HSBC Credit Card Calculator
HSBC doesn't have a credit card calculator.
HSBC Credit Card Reviews
Most of the leading customer review sites have reviews for HSBC which are predominantly from personal customers rather than business customers. The reviews overall are negative on HSBC.
The largest number of reviews appear on Trustpilot where reviewers predominantly rated HSBC as bad (89%). Many comments can be grouped as generally poor customer service finding them unreliable and unprofessional, long wait times over the phone or in branch due to a lack of staff, and problems with money transfers. There were some positive comments which included good loan rates, useful app, helpful branch staff and good data protection practices.
Reviews.co.uk and Review Centre are also scored similarly quite low and have feedback that reflects that above from Trustpilot. Smart Money People reviews were slightly higher but still negative towards HSBC and the comments still reflected those summarised above.
A Which? customer survey also ranked HSBC poorly as they came out as 2nd from the bottom with a score of 57%. Each customer element receives a score out of 5 and HSBC only receive 1 4 out of 5 score for telephone banking. Most scores were for 3 out of 5, this was for online banking, mobile app, customer service, complaints handling, communication and transparency of charges. They also receive 2 out of 5 for in-branch service and benefits.
Trustpilot – 1.3/5 (based on 5,753 reviews)
Google Reviews – no reviews
Reviews.co.uk – 1.4/5 (based on 517 reviews)
Review Centre – 1.6/5 (based on 195 reviews)
Smart Money People – 2.4/5 (based on 147 reviews)
Which? – 57% Which? Customer Score
How To Apply For A HSBC Credit Card?
HSBC's commercial credit card is only available to existing business current account customers and they can apply online through internet banking.
Pros
Simple card with straightforward charges
Free for the 1st year
Widely accepted in the UK and abroad
Cons
Only available to existing business current account customers
Rated poorly in customer reviews
Website: HSBC Credit Card