Co-operative Bank is an ethical bank that was founded in Manchester in 1872. They are a national bank with a small branch network in most major UK cities. They focus their business and its investments on ethical trades and businesses. They provide a range of business products which include bank accounts, loans, overdrafts, charge cards and credit cards.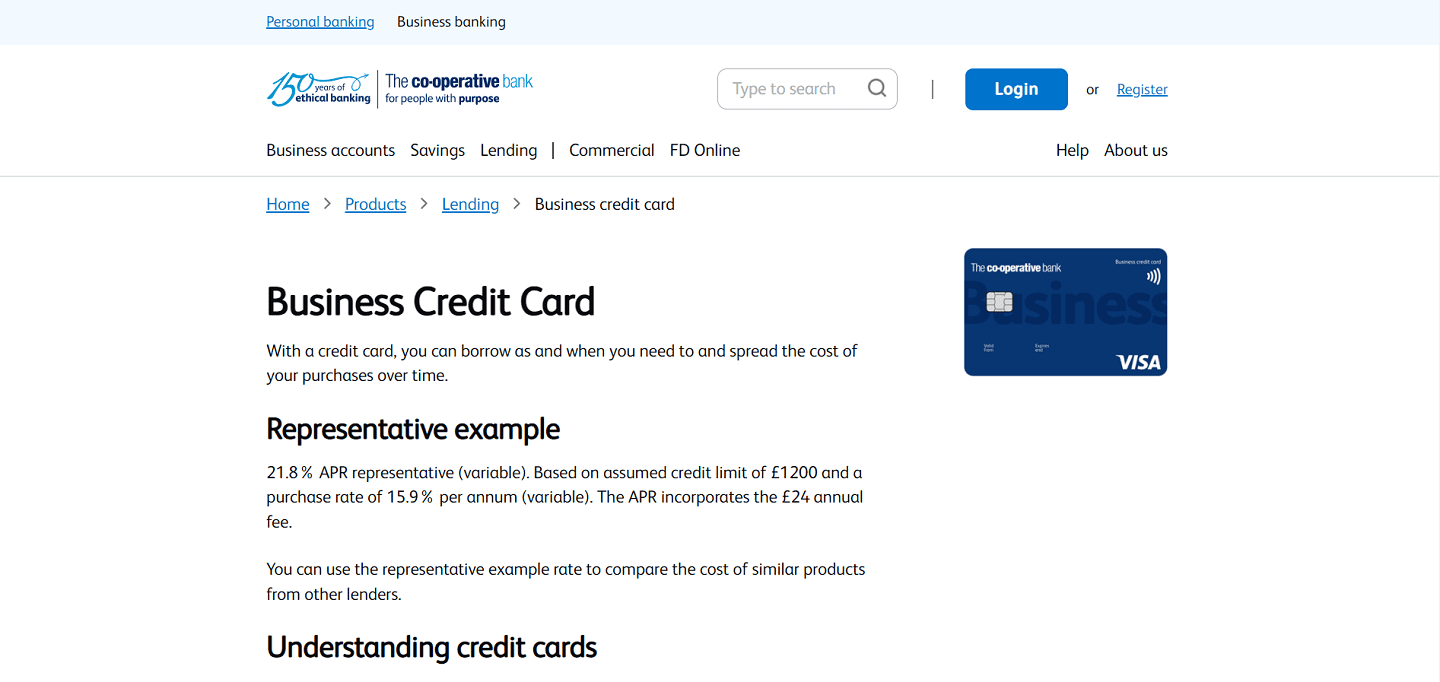 Co-operative Bank Credit Card Options
Co-operative Bank offers a single business credit card that is only available to its business current account customers. The credit card features include:
Interest-free credit period up to 56 days
£24 annual fee
9% interest per annum
Credit limits from £500 to £25,000
Can have multiple cardholders and can easily add/remove cardholders
Allows you to use Apple Pay, Google Pay and Samsung Pay
They contribute a £1 per month per account to their Customer Donation Fund
Can be used abroad with a currency conversion charge of 2.75% and cash withdrawal fee of 3% at a minimum of £3
Co-operative Bank Credit Card Eligibility
To be eligible for a Co-operative business credit card you must be over 18 and a UK resident with the authority to borrow on behalf of a business or charity as well as already hold a business current account with them.
Co-operative Bank Credit Card Rates
Co-operative Bank's business credit card has a £24 annual fee per card and a representative APR of 21.8% (variable) based on an assumed credit limit of £1,200 and a purchase rate of 15.9% (variable) per year.
Co-operative Bank Credit Card Calculator
Co-operative Bank doesn't provide a credit card calculator.
Co-operative Bank Credit Card Reviews
Co-operative Bank's customer reviews on leading review sites are mixed with some reviews being highly critical and some very positive reviews. Trustpilot reviews are largely negative with 76% of reviewers scoring them as bad. Reviewers negative comments include long phone wait times, problems with their security protocol, online banking issues and payments being blocked. Positive comments include supportive branch staff, great at detecting fraud, responsive, fair and ethical.
Review Centre reviews are similar to Trustpilot with the same score and feedback from reviewers, however, these reviews are specifically just for the business account, not all products like Trustpilot. Smart Money People reviews are more positive overall, however, the reviews for business accounts received 1.28/5 and credit cards received 3.27/5.
On a Which? banking poll Co-operative Bank was scored 70% with a 4/5 rating for customer service, online banking, telephone banking, complaints handling, communication, transparency of charges and benefits. They scored 3/5 for mobile app and 2/5 for service in-branch
Trustpilot – 1.4/5 (based on 2,148 reviews)
Google Reviews – no reviews
Reviews.co.uk – no reviews
Review Centre – 1.4/5 (based on 88 reviews on business bank account)
Smart Money People – 3.76/5 (based on 379 reviews)
Which? 70% Which? Customer Score
How To Apply For A Co-operative Bank Credit Card?
Existing customers can apply online on their website by completing the application form.
Pros
Offers a competitive interest rate
Interest-free period of up to 56 days
An ethical bank that donates £1 each month you have the credit card to their charity
Cons
Only available to existing customers
Overall there are more negative customer reviews
Website: Co-operative Bank Credit Card