Assetz Capital is a Manchester-based peer to peer business lender, turning investments into business finance so investors can get a higher return on their money. £1.4 billion has been lent to businesses so far in the form of commercial mortgages, secured SME loans, bridging finance, and property development finance.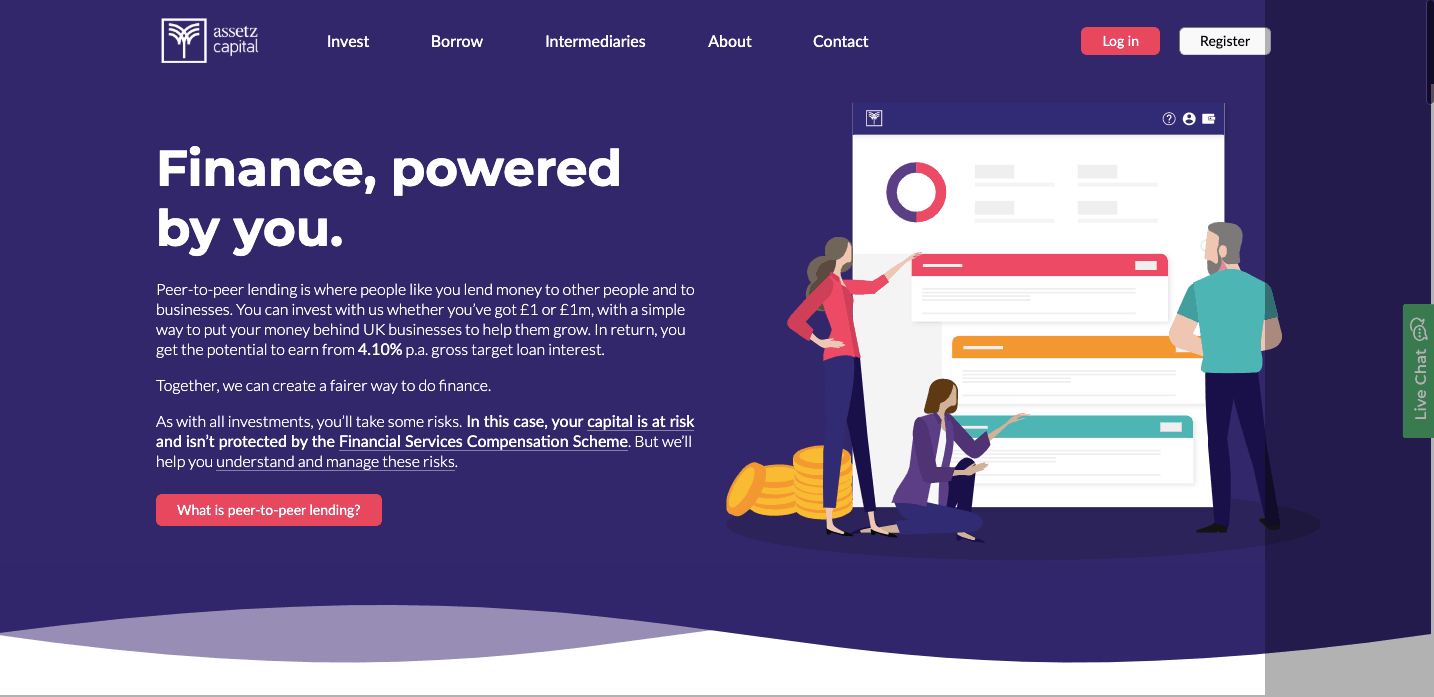 Assetz Capital Loans & Finance
Secured Business Loans
These loans are secured against your business' assets or property. If you default on payments, Assetz Capital can take this security instead of payment.
Commitment up to 5 years.
From 5.99% per annum.
£250k – £10m preferred debt.
Bridging Finance
Bridging finance 'bridge the gap' between securing funds for a property. Assetz Capital provide bridging loans for a range of businesses.
Up to 2 year.
2% arrangement fee.
From 0.65% per month.
£150k – £5m preferred debt.
Commercial Mortgages
Much like residential mortgages, commercial mortgages help businesses buy property.
Available for range of properties, including offices, industrial and mixed-use.
Commitment up to 5 years.
From 5.99% per annum.
£250k – £10m preferred debt.
Development Finance
This finance is for the construction, conversion or refurbishment of a commercial building. The short-term loan will fund the work and then repayment usually takes place when the building is sold.
Commitment up to 2 years.
From 6.99% per annum.
£500k – £10m preferred debt.
1% exit fee applies.
Assetz Capital Reviews and Ratings
The large majority of Assetz Capital reviews are provided by investors rather than borrowers. Their experience of the service could be quite different.
Both Trustpilot and Google reviews are very positive. Most investors comment on how easy it is to get a return on their money. Smart Money People reviewers are from investors too and with some more mixed.
Trustpilot –  4.3/5 (based on 1,189 reviews)
Google Reviews – 3.5/5 (based on 15 reviews)
Reviews.co.uk – no reviews
Smart Money People – 4.58/5 (based on 77 reviews)

Pros
Good range of products to choose from, including loans and mortgages.
Designed for businesses wishing to raise higher amounts.
Investors are happy, suggesting borrowers are successfully repaying their finance and continuing to grow.
Cons
Not many reviews are written by borrowers, so it's difficult to know what they think of the service.
Website: Assetz Capital Business Finance