Understand the rules and regulations surrounding worktime breaks in the UK. We cover employee entitlements, exceptions, compensatory rest breaks, and more.
The Rules and Regulations of Worktime Breaks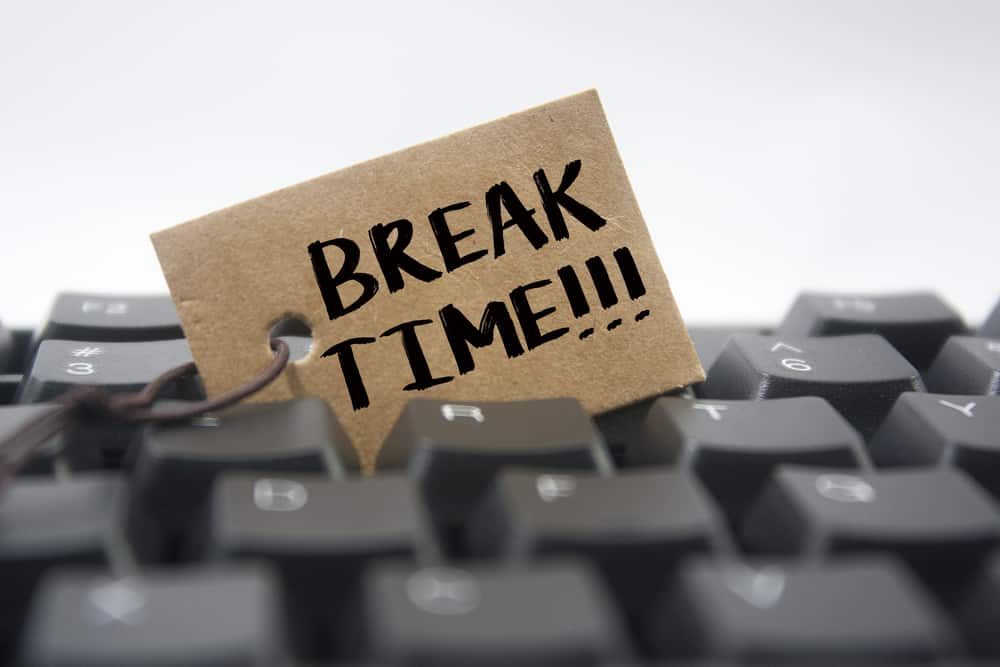 Understanding the rules and regulations for worktime breaks is essential for employers. It also benefits employees.
Most break-time rules in a workplace will be covered in an employment contract or HR document. However, having a good understanding of the rules can minimise the risk of mix-ups or contention.
The Working Time Regulations 1998 Act (WTR) is a UK law derived from the EU's Working Time Directive.
For more details on the WTR, visit The Working Time Regulations 1998 government legislation page.
The WTR states that employees are entitled to:
A maximum working week of 48 hours, including overtime
Compulsory 20-minute breaks after 6 hours of work
11-hour breaks every 24 hours
One day off per week
The maximum working week of 48 hours is taken as an average, typically over 17 weeks.
Some exceptions to the maximum weekly working hour and rest break rules are possible. This is in employment where regular working hours are not possible. These include:
Armed forces
Emergency services
Police
Security
Surveillance
Seafarer
Domestic servant
Employers are not obligated to pay employees during break times. This will be set out in contracts along with other company rules regarding breaks. Company rules must adhere to the Working Time Regulations 1998 Act.
Legally entitled work breaks of at least 20 minutes for those working more than six hours a day should be uninterrupted. If scheduled rest breaks at work are interrupted or delayed, the worker will be entitled to compensatory rest breaks.
What is a Compensatory Rest Break
A compensatory rest break at work is when a break is taken at a later time. Employees will typically take a tea or lunch break around the mid-point of their working day. Sometimes this is not possible. Instances, where this might be difficult, include:
Shift work
Security work
Work that requires cover
A compensatory break should be taken at a reasonable time. This should not be at the start or end of a shift.
Rest Breaks Before the Age of 18
Employees between school leaving age that haven't reached 18 usually can't work for more than 40 hours per week and 8 hours per day.
They are also entitled to weekly rest breaks of two days and 12 hours between working days.
Under 18's will be entitled to 30-minute rest breaks for every continuous 4 hours and 30 minutes worked.
Until the employee reaches the age of 18, their nightly working hours will be limited. They are not permitted to work between midnight and 4 am.
This usually extends from 10 pm to 6 am, however, there are exceptions. Some employees work earlier or later hours, such as:
Catering
Bakeries
Postal
Newspaper deliveries
Hospital
Agriculture
Young workers are also entitled to compensatory rests.
Rest Breaks for 18s and Over
Over 18s will be entitled to 11-hour rest breaks between working days. 1 rest day per week is also part of the Working Time Regulations 1998 Act for those over 18s. This is averaged over two weeks.
The minimum rest break workers are entitled to is 20 minutes for every 6 hours worked. It will be between you and your employer whether this is extended and if you are paid for rest breaks at work. This should be stated in your contract of employment.
FAQs
Can you opt out of working time regulations?
Employees can opt out of the maximum 48-hour working week regulation. The employee can then opt back in by giving the notice determined by the employer. This is between 7 days and 3 months.
Are employees legally entitled to toilet breaks?
Employees are not legally entitled to toilet breaks. However, not allowing this can affect morale and cause health issues.
The employer is obligated under the Health and Safety at Work Act 1974 to show a duty of care to employees. This can include making allowances for medical conditions and pregnancy.
Are employees legally entitled to smoke breaks?
Employees are not legally entitled to smoking breaks. Non-regulated breaks will be agreed upon in your contract of employment.
Conclusion
Taking rest breaks at work and ensuring daily rest and weekly rest periods are adhered to is a legal requirement. Employers must adhere to the Working Time Regulations 1998 Act which protects workers' rights.
Hiring an accountant is a great way to free up time for HR teams to concentrate on other work practices.
Sources
https://www.freshbooks.com/en-gb/hub
https://squareup.com/gb/en/glossary
https://www.sumup.com/en-gb/invoices/dictionary/
https://www.citizensadvice.org.uk/work/working-hours-and-rest-breaks/rest-breaks-at-work-overview/
https://www.davidsonmorris.com/rest-breaks-at-work/
https://www.rcn.org.uk/Get-Help/RCN-advice/working-time-rest-breaks-on-call-and-night-work
https://www.yourrights.org.uk/basic-employment-rights/rest-breaks-at-work/
https://www.papershift.com/en/blog/working-hours-break-laws-in-uk-every-owner-employee-should-be-aware-of
https://www.legislation.gov.uk/uksi/1998/1833/contents/made
https://www.gov.uk/maximum-weekly-working-hours
https://www.gov.uk/rest-breaks-work/exceptions
https://www.gov.uk/rest-breaks-work/taking-breaks
https://www.gov.uk/rest-breaks-work/compensatory-rest
https://www.gov.uk/rest-breaks-work/young-workers