United Trust Bank is a specialist lender offering property, asset, bridging loans, and tailor-made finance for short and medium-term periods. Founded in 1955 and based in London, United Trust Bank won Best Secured Loan Provider at the Moneyfacts Awards 2019. There are no UK branches, all applications are completed online or through a broker. As well as lending products, United Trust Bank also provides savings options for businesses.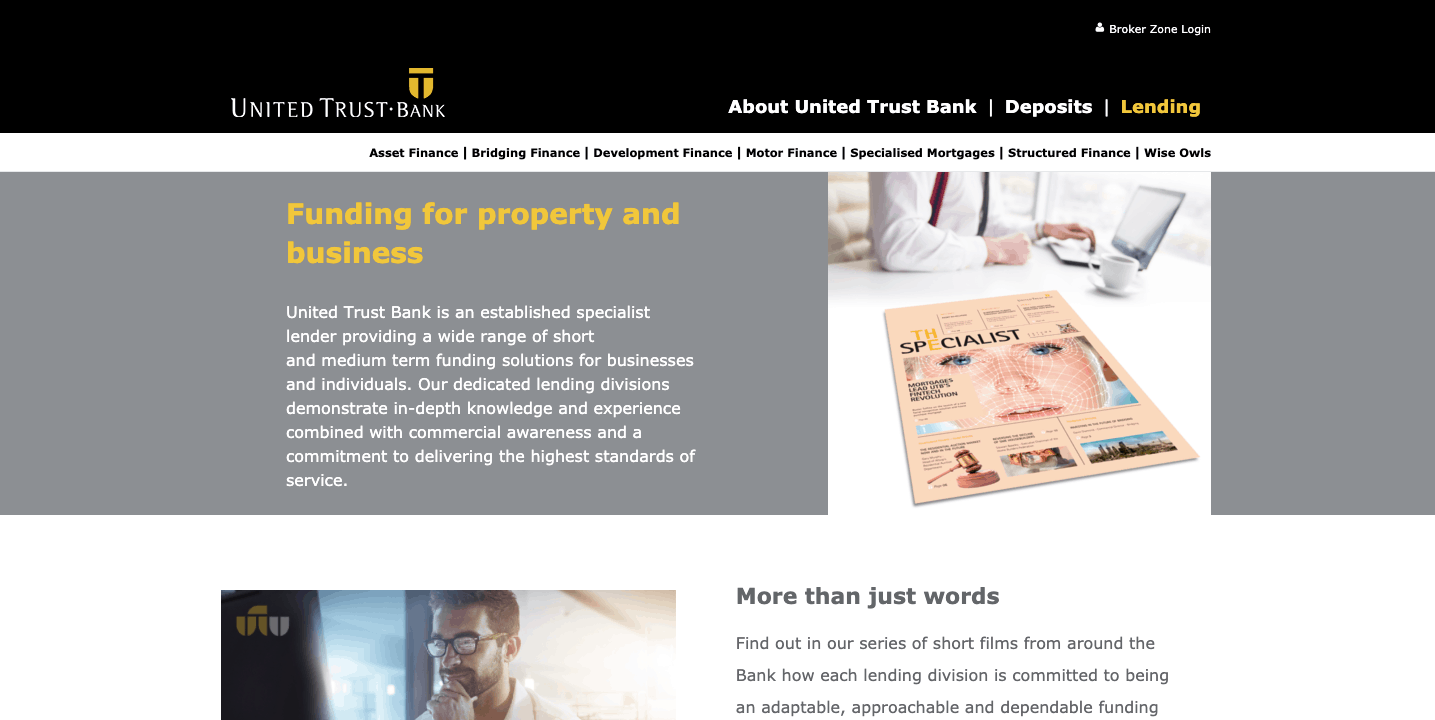 United Trust Bank Business Finance
Asset finance
Hire purchase and finance leases are available for a range of vehicles and equipment, including construction equipment, classic cars, media equipment, and much more. Most asset finance agreements from United Trust Bank are for £10,000 to £750,000, and repayment terms range from 1 to 5 years. Deposits vary depending on the asset and the agreement.
Bridging finance
Bridging loans to 'bridge the gap' between purchase and sale, or receiving the funds for an urgent project. Loans are available from £125,000 to £15 million. Interest is calculated daily and there are fees to consider. Both residential and mixed-use property can be used as security.
Development finance
Property development lending facilities range from £1 million to £30 million (up to 60% of GDV). Businesses can raise development finance for residential, commercial, and mixed-use developments, as well as conversions and refurbishment projects.
Structured finance
This is an unregulated loan from £1 million. It can be secured on a range of property types, as well as land and mixed property portfolios. Terms are up to 5 years and there will be valuation and legal fees to consider.
Specialised mortgages
A secured loan that can be used for home improvements, tuition fees, expanding a property portfolio, buying a car, and more.
United Trust Bank Reviews and Ratings
Online reviews for United Trust Bank are mixed across all review sites that have reviews which include Trustpilot, Google and Smart Money People. Positive reviews are largely about good customer service and efficient service. Negative reviews tend to be about poor customer service and the slowness of processing applications.
United Trust Bank won a few awards in 2019, including Development Lender of the Year at the Specialist Finance Introducer Awards, Best Secured Loan Provider at the Moneyfacts Awards, and Specialist Bank of the Year & Editor's Choice Award 2019 at the Bridging and Commercial Awards.
Trustpilot – 3.3/5 (based on 10 reviews)
Google Reviews – 3.1/5 (23 reviews)
Reviews.co.uk – no reviews
Smart Money People – 3.5/5 (based on 4 reviews)

Pros
Range of finance options for assets and property.
Some good reviews.
Cons
Predominantly high-level finance. Most products won't work for smaller businesses looking to raise smaller sums.
Some options are unregulated. Always check the small print.
Website: United Trust Bank