Ultimate Finance is a lender specialising in asset-based funding solutions. Operating for 20 years and based in five locations across the UK, Ultimate Finance has provided over £10 billion in funding to businesses so far. As well as providing invoice and asset finance, specific finance products for recruitment and construction businesses are available.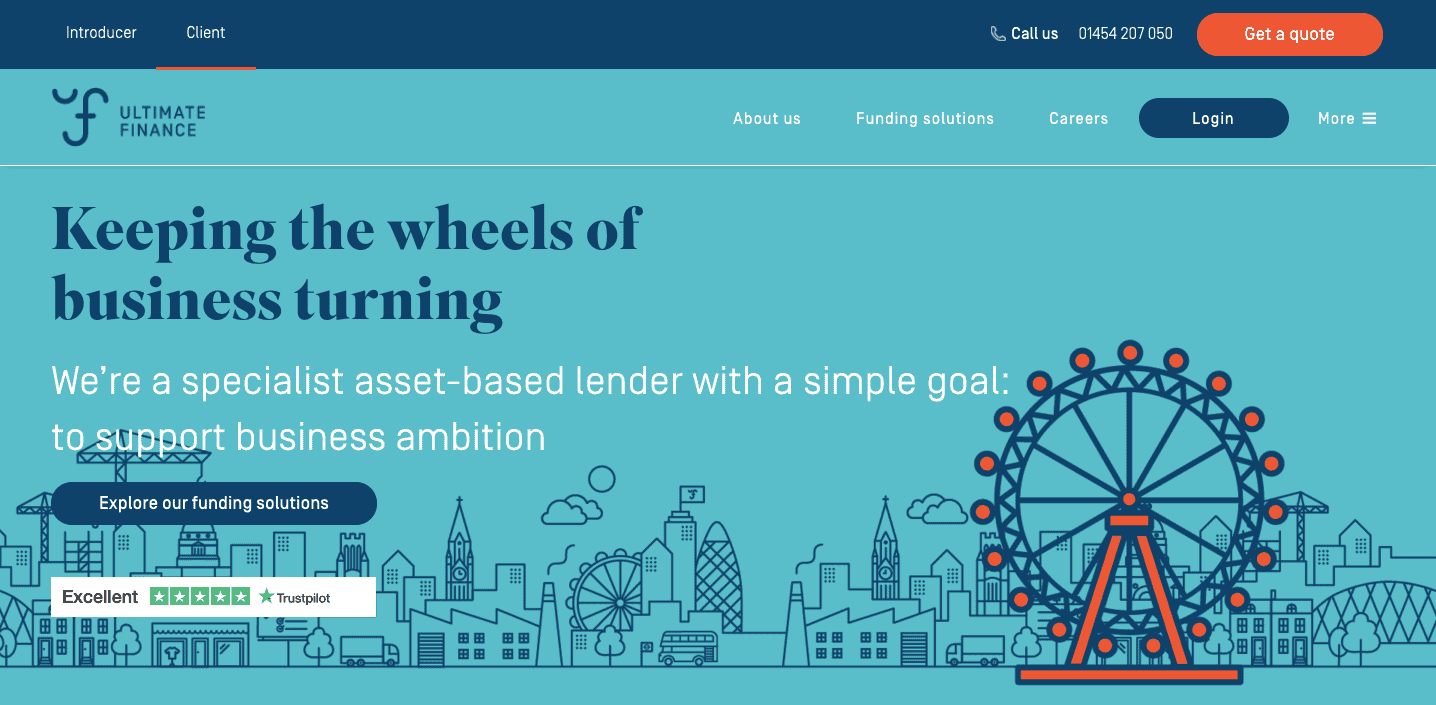 Ultimate Finance Business Finance
Invoice finance
Release cash tied up in unpaid invoices. Businesses can access up to 95% of their unpaid invoice values (£5 million maximum) and funds will be paid within 24 hours. This is a revolving working capital facility and some setup and servicing fees apply.
A separate back office and invoice finance facility are also available for recruitment firms.
Asset finance
Finance to fund the purchase of machinery, vehicles, and other assets in the form of hire purchase, lease or refinance. Up to £500,000 is available per asset (£1 million per client). Agreements range from 12 to 60 months.
Bridging finance
Short-term funding to 'bridge the gap' between a purchase and funding becoming available. Businesses can borrow £100,000 to £2.5 million, with a maximum of 75% loan-to-value (LTV). Repayment is over 1-18 months. There's a set-up fee of 2%.
Trade finance
A revolving line of credit is available from £25,000 to £1 million. Ultimate Finance will pay your domestic and overseas suppliers, giving you 120 days' credit. Your business pays Ultimate back when the sale is completed. Security is needed in the form of title to the goods, personal guarantee and debenture.
Construction finance
Construction businesses can release funds tied up in their contracts. A confidential working capital facility of up to £1.5 million is available and funding is available within 1 week. Some fees apply and security is required.
Recruitment finance
Specialist recruitment finance and back-office facility all in one providing funding up to £5 million based on 95% of the unpaid invoice value. The facility can be set up in a week and funds can be released in 24 hours of your first payroll. Set-up and service fees apply.
Structured finance
Finance secured against multiple assets are once, including invoices, machinery, and property. Funding from £350,000 to £5 million is available. Set up and valuation fees apply.
Ultimate Finance Reviews and Ratings
There are rave reviews on Trustpilot, with 96% of customers rating them 5/5. People think they're efficient, communicative, and very helpful with cash flow.
Ultimate Finance was accredited to offer financing through the Government-backed Coronavirus Business Interruption Loan Scheme (CBILS) in May 2020. The firm also lent a record £1.6 billion to small and medium businesses in 2019, breaking its 2018 record.
Trustpilot – 4.9/5 (based on 545 reviews)
Google Reviews – no reviews
Reviews.co.uk – no reviews
Smart Money People – no reviews

Pros
Offers a range of asset-based finance products for businesses in different sectors.
Excellent reviews on Trustpilot.
Cons
Asset-based finance only.
Website: Ultimate Finance Business Finance