Proplend is an alternative finance provider and a peer-to-peer lending platform. People who want a better return on their savings invest funds into the platform and lend it to commercial property businesses in the UK. Proplend is based in Richmond and was established in 2014. Loans are available to both businesses and private individuals that own commercial property.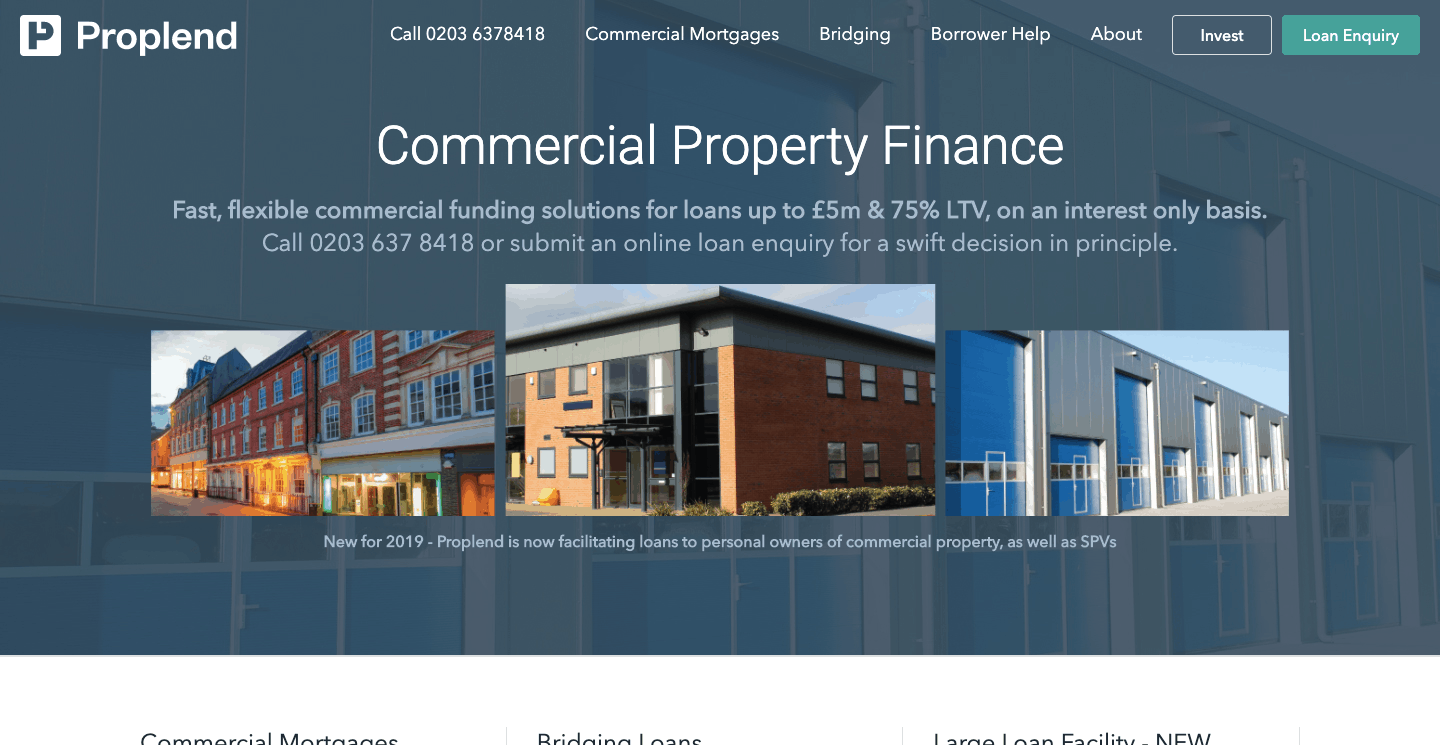 Proplend Business Finance
Commercial mortgages
Commercial mortgages are available up to 75% for loans from £250,000 over 5 years for purchasing or refinancing. Rates start at 5.5% per annum and repayment can be on an interest only basis. You can receive a decision in days and funds within weeks.
Bridging loans
Short term finance up to 18 months on an interest only basis. Borrow up to 75% LTV on loans up to £5 million. Decisions are fast and you'll get your funds in weeks.
Proplend Reviews and Ratings
Most Proplend reviews are written by investors.
Trustpilot reviews are very positive with 78% rating them 5/5. People are happy with Proplend's low bad debt rate, knowledgeable service, and high returns. There's just one Google reviewer – a borrower – who is very pleased with the efficiency of their finance. There's also just one review on Smart Money People which is neutral.
Proplend launched an 'appropriateness test' for new investors in November 2019 to meet Financial Conduct Authority rules introduced in December 2019. The 5-minute process will determine if potential investors are educated on the risks before they can invest their money.
Trustpilot – 4.7/5 (based on 81 reviews)
Google Reviews – 5/5 (based on 1 review)
Reviews.co.uk – no reviews
Smart Money People – 3/5 (based on 1 review)

Pros
Competitive mortgages and bridging loans
Fast decisions and funds within weeks.
Investors are happy according to the reviews
Cons
Lack of online reviews written by borrowers
Website: Proplend Business Finance