Octopus Property is a specialist property lender that works with landlords and property developers. Based in Holborn, London, Octopus has been lending to property developers and private landlords for 8 years, adding commercial finance to its repertoire in 2013. Finance products are available throughout the development process, from bridging and buying to renovation.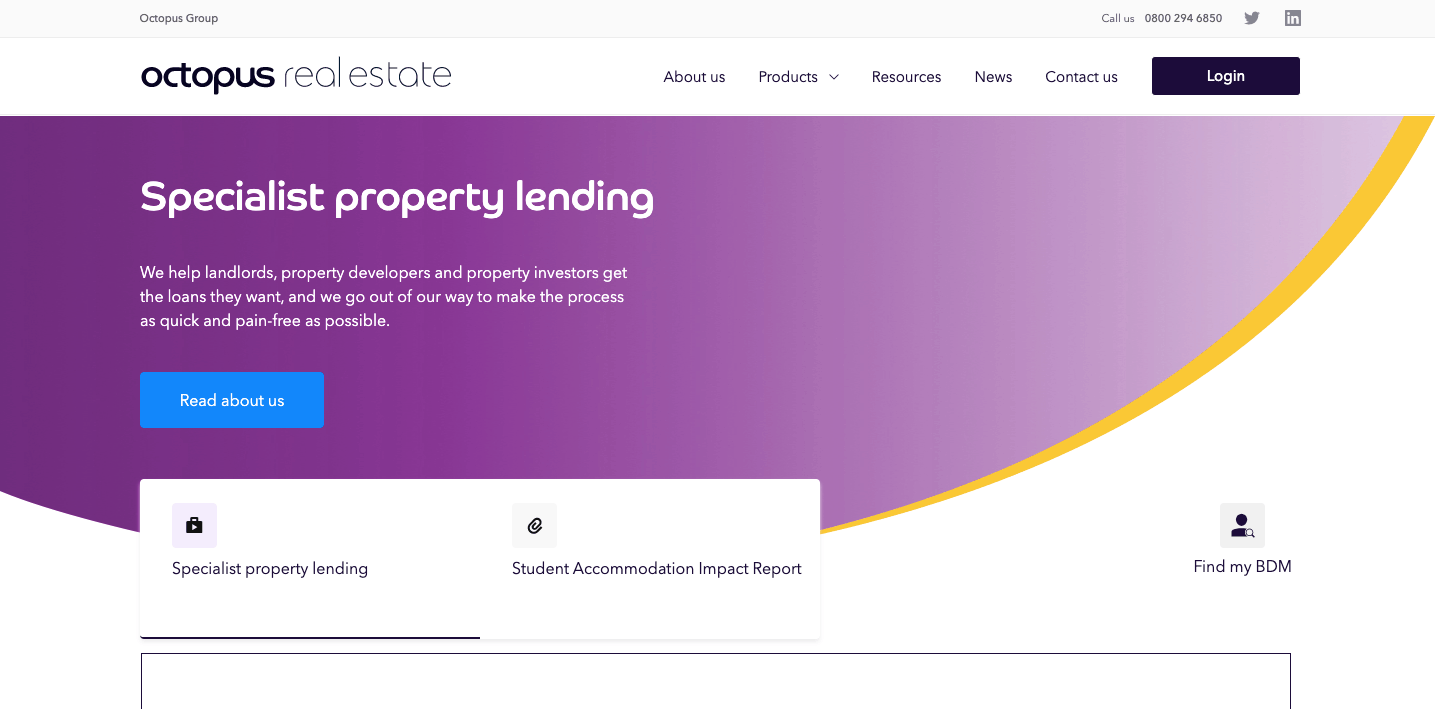 Octopus Property Business Loans & Finance
Residential Lending
Octopus residential loans are available to clients developing residential properties to live in or rent out. This includes short-term finance for auction purchases and bridging loans, as well as development finance to see projects through to the end.
Bridging loans – from 0.6% per month, 70% LTV, 1-24 months.
Regulated bridging loans – from 0.6% per month, 65% LTV, 1-24 months.
Refurbishment loans – from 0.8% per month, 90% LTC, 9-21 months.
Buy-to-let loans – enquire for details.
Commercial Lending
Loan and finance products are also available to property developers funding commercial property developments, including office buildings and hotels. Octopus has been lending to commercial developers since 2013 and work with a team of chartered surveyors.
Commercial bridging loans – from 0.75% per month, 70% LTV, 1-24 months.
Auction loans – from 0.83% per month, 50% net LTV, 6 months.
Development Lending
Finance for developments of all sizes, from individual houses to flats and multiple student properties.
Light development – from 7.0% per month, 75% initial LTV, 65% max LTGDV.
Senior development – from 6.25% per month, 80% max LTC, 65% max LTGDV, £3 million minimum loan size.
Stretched senior loans – from 8.5% per month, 85% max LTC, 70% max LTGDV, £3 million minimum loan size.
Octopus Property Reviews and Ratings
There aren't many Trustpilot reviews but the majority are very positive. Happy customers think they're competent, efficient, and experienced. One critic found them difficult to deal with and thought their time was wasted.
There are no live reviews on Smart Money People, Google, or Reviews.co.uk.
Octopus Property has won a range of awards including Best Development Finance Provider at the Business Moneyfacts Awards 2016-2018 and Bridging Lender of the Year 2018 at the B&C Awards.
Octopus Property has provided loans for a range of high profile developments, including a £10 million loan for a retail-to-residential scheme in Harlow, Essex in 2019.
Trustpilot –  4.3/5 (based on 8 reviews)
Google Reviews – no reviews
Reviews.co.uk – no reviews
Smart Money People – no reviews

Pros
Range of property loans available for small and large developments.
Residential and commercial property finance available.
Reviews are positive.
Cons
Limited number of public reviews.
Lack of information on site. You'll need to enquire for more details.
Website: Octopus Property Business Finance