Please note: Masthaven Bank announced its intention to withdraw from the UK banking market in February 2022. As a result, we have been returning depositors' funds with the majority having been repaid between January and March 2023. Masthaven Bank has established an independent Trust arrangement, managed by a professional Trustee, Zedra Trust Company (UK) Ltd, which will enable the small number of depositors (or, in some cases, the Personal Representatives of their estate) it was not able to repay to obtain amounts equivalent to their deposits.
Masthaven has been lending to personal customers since 2004, and launched business savings options in 2018 after gaining a banking licence two years earlier. Competitive savings accounts are available to "the UK's underserved SMEs", but borrowing is currently only available to individual customers.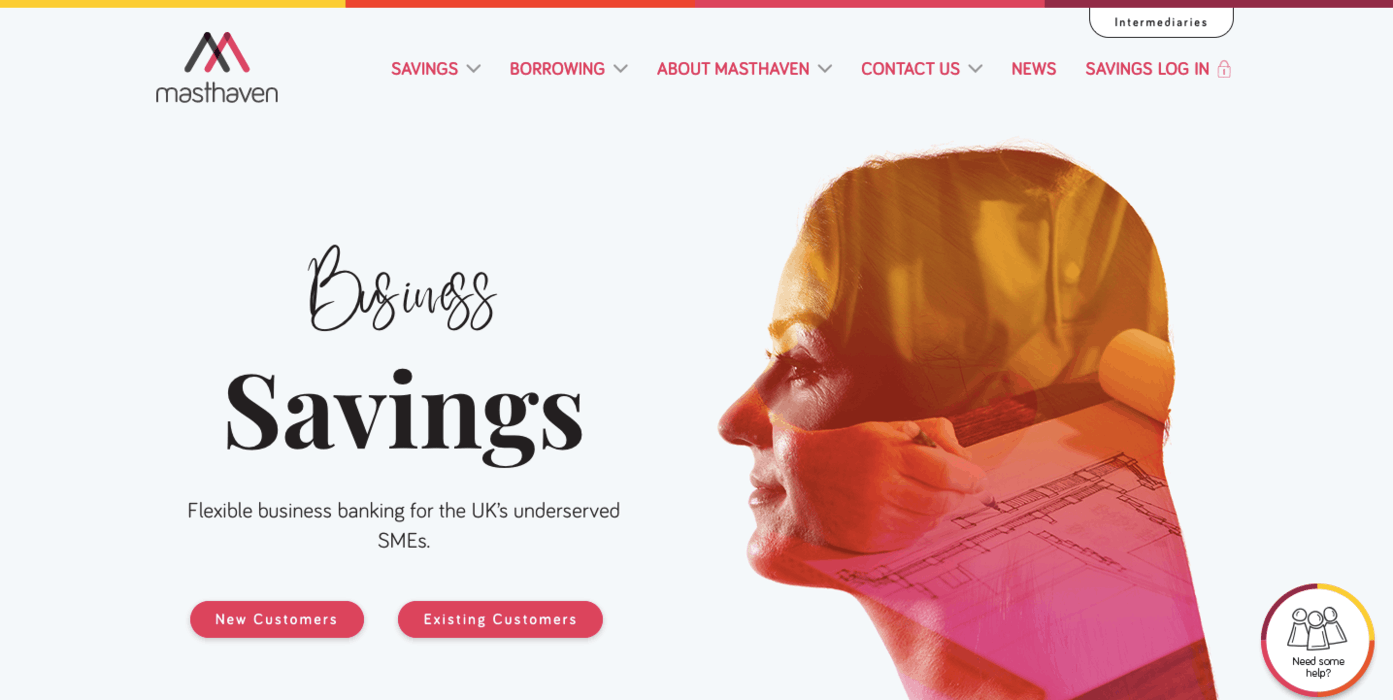 Masthaven Business Banking Services
Current Accounts
Not available.
Savings account
Accounts are available for UK-based Sole Traders and Limited Companies. You can save £5,000 – £500,000 with Masthaven. The longer you save, the higher the return you'll get on your money. A business can open up to 4 accounts with a combined value of £500,000.00.
Fixed terms range from 6 months to 2 years, and you'll earn from 0.75% to 0.85% AER. Interest is calculated daily and paid annually. You can't withdraw until the saving term ends.
Overdrafts
Not available.
Business finance and loans
Borrowing is only available for personal customers. Currently not available to businesses.
Masthaven Reviews and Ratings
Trustpilot reviews are very mixed with some customers very critical and some very positive, but mostly individual not business customers. The critical reviewers had problems with Masthaven's solicitors and borrowing products, finding it hard to complete their planned purchases.
Reviews on Feefo are almost entirely positive. Customers think they're fast, easy to deal with and have good communication, but the application process could be a bit simpler.
There is only 1 review on Reviews.co.uk which is negative and none on Smart Money People. Masthaven isn't included in the Which? list of 'Best & Worst Banks'.
Masthaven won CFI's Most Innovative Digital Retail Bank UK 2018 and Savings Account Provider of the Year at the MoneyAge Awards 2019.
In April 2019, Masthaven secured an investment of £60 million from Värde Partners. The bank is planning to use the funds to "bring more capacity to the UK market" and innovate lending and savings products. This recent investment could open up more options for businesses, but nothing is guaranteed.
Trustpilot –  2.8/5 (based on 18 reviews)
Feefo – 4.5/5 (based on 703 reviews)
Reviews.co.uk – 1/5 (based on 1 review)
Smart Money People – no reviews
Which? – not included
Pros
Competitive interest rates.
Choose your own savings period.
Very positive reviews on Feefo.
Cons
Reviews vary a lot depending on where you look.
Borrowing not available to businesses.
Website: Masthaven Business Banking