Bank of Scotland Business Credit Card User Reviews
Review Summary
0.0 out of 5 stars (based on 0 reviews)
Recent Reviews
There are no reviews yet. Be the first one to write one.
Submit a Review
Bank of Scotland is one of the oldest banks in the UK and since 2009 it has been part of the Lloyds Bank Group but has maintained its own identity. They provide a wide range of banking and financial products to both businesses and individuals. They offer a range of business products which include bank accounts, debit cards, credit cards, loans, overdrafts, invoice finance and asset finance.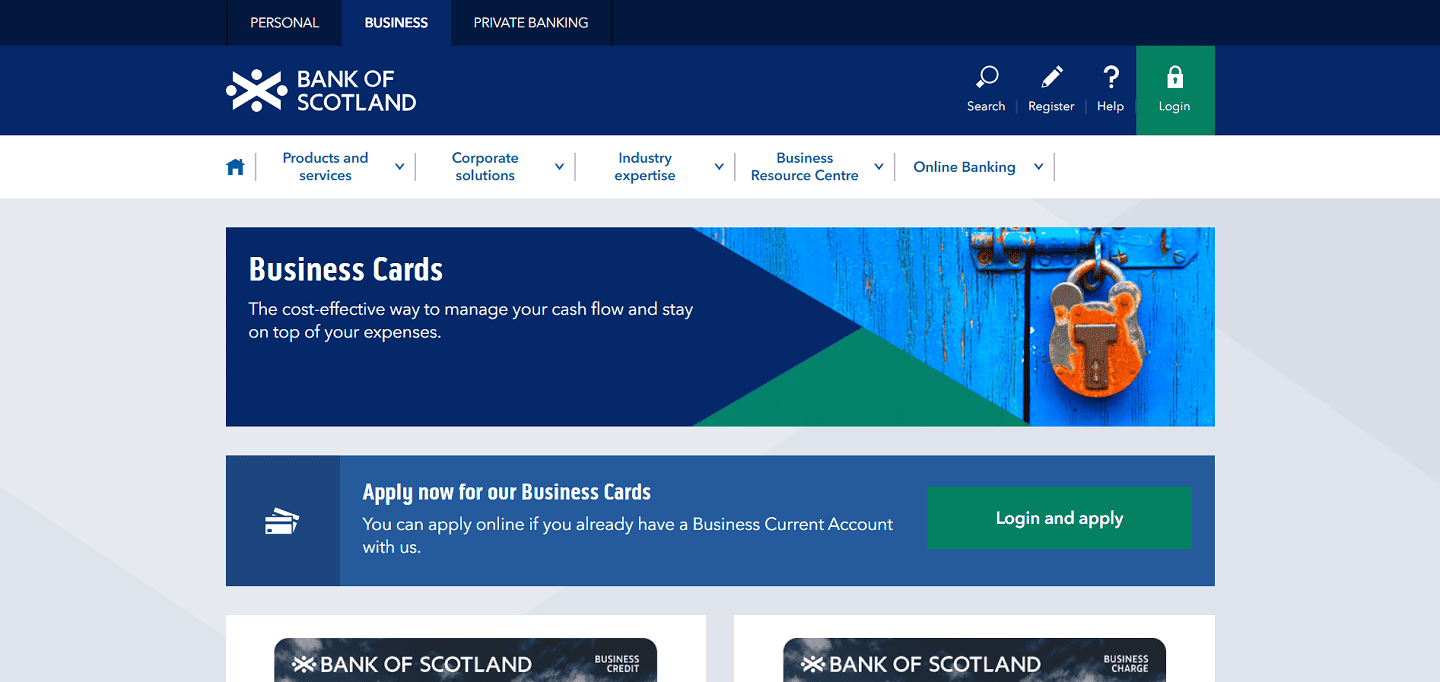 Bank of Scotland Credit Card Options
Bank of Scotland offers a Business Credit Card and Business Charge Card that offer:
Up to 45 days interest-free credit
Contactless Mastercard
Online account management
Allowance to withdraw up to £500 cash per day
Contactless transactions up to £100
Offers merchant rebates with Business Savings by Mastercard
Includes Buyers Protection Insurance
Business Credit Card
Bank of Scotland's business credit card provides flexible repayment options with borrowing up to £10,000. You can request up to 20 cards for your employees and set individual card limits.
Business Charge Card
Their business charge card provides short-term funding from £1,000 with the benefit of no interest charges if you pay off the balance each month. You can request as many cardholders as you want and set individual spending limits.
Bank of Scotland Credit Card Eligibility
There is no eligibility criteria available on the Bank of Scotland's website.
Bank of Scotland Credit Card Rates
Business Credit Card charges are:
Typical APR of 22.4% (variable)
30% p.a. (variable) for cash withdrawals and other transactions
£32 annual fee per card
Business Charge Card charges are:
APR will be agreed when you apply
£32 annual fee per card
5% cash withdrawal fee with a minimum fee of £2.50
A non-Sterling transaction fee of 2.95%
Bank of Scotland Credit Card Calculator
Bank of Scotland doesn't offer a credit card calculator.
Bank of Scotland Credit Card Reviews
There are reviews on the Bank of Scotland on most review sites although the volumes are not that high, and they cover the broad spectrum of products that the bank offers including personal products so they may not accurately reflect the experiences of business customers.
Trustpilot reviews are critical of the Bank of Scotland and give them an overall low rating with 78% of reviewers rating them as bad. Many of the negative comments relate to the experience they have had with customer service and using their account management systems.
Similarly, the other 3 review sites, Reviews.co.uk, Review Centre and Smart Money People, also score them as fairly low with many negative comments. Some of the positive comments received through these sites include good customer service, ease and convenience of managing their accounts.
Which? survey of banks lists the Bank of Scotland in 16th place with a customer score of 64%. Customers rated several elements of the bank's services which gave them 4/5 for customer service, communication, compliant handling and online banking, and 3/5 for transparency of charges, service in-branch, mobile app and benefits.
Trustpilot – 1.7/5 (based on 375 reviews)
Google Reviews – no reviews
Reviews.co.uk – 3.0/5 (based on 30 reviews)
Review Centre – 1.4/5 (based on 159 reviews)
Smart Money People – 2.88/5 (based on 8 reviews)
Which? – 64% Which? Customer Score
How To Apply For A Bank of Scotland Credit Card?
If you are an existing Bank of Scotland customer you can either apply online through internet banking or call them on 0345 300 0268. New customers can contact them on 0345 606 0286.
Pros
Offers a choice of credit card and charge card
Can order multiple cards for employees with individual limits
Available to new and existing customers
Cons
No eligibility criteria is available
Poorly rated on customer review sites
Website: Bank of Scotland Credit Cards