Bunq is a Dutch-owned mobile bank, designed to make accounting and money management easier for small businesses. The online bank was founded in 2015, has a headquarters in Amsterdam, and launched to UK customers in October 2019. There are no branches, everything can be managed on the Bunq app. The Bunq current account includes accounting features, invoicing, and foreign currency transactions.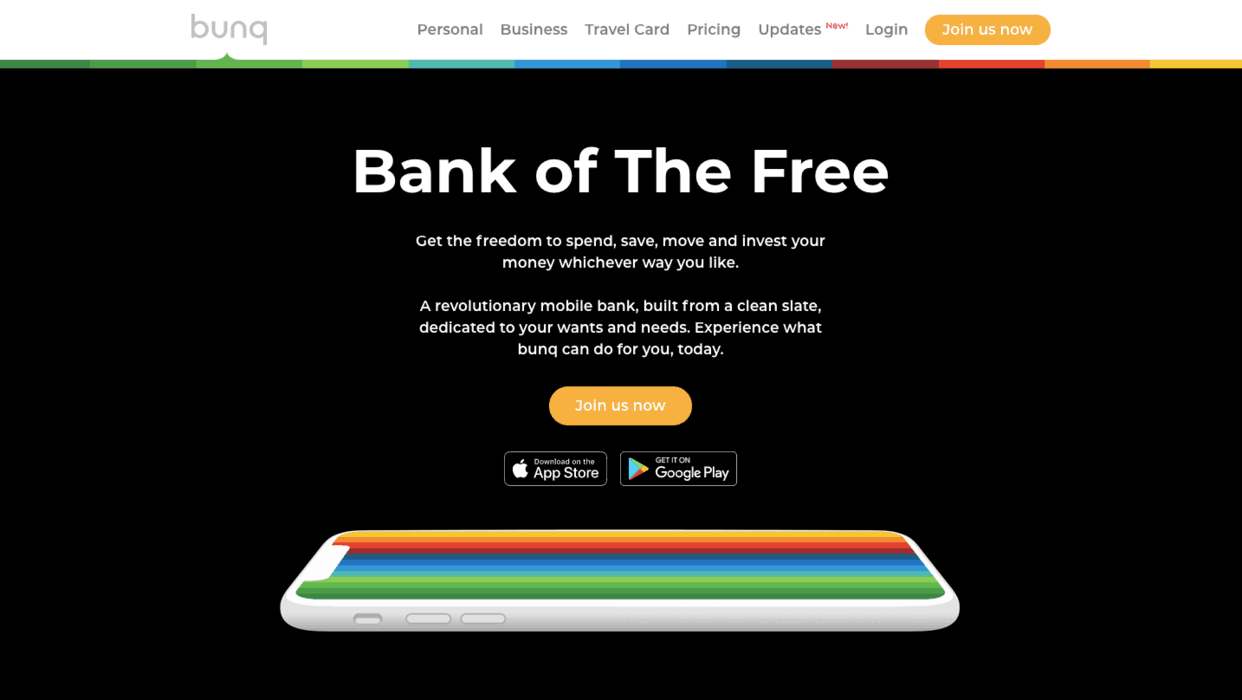 Bunq Business Banking Services
Current Accounts
Your Bunq business current account is managed entirely through the app, where you'll see all your transactions, receipts, and payments in one place. Whenever cash leaves or enters your account, you'll get an app notification. The app also syncs with many cloud accounting tools, so all bookkeeping and VAT calculations can be done automatically. It's easy to grant employees and other company directors access to the account so they can see relevant data too.
As well as 3 free contactless Mastercard, businesses can access a free Bunq travelcard, which includes a saving of 3% on every non-Euro transaction. A Bunq business account costs from €4.99 a month, plus account fees for everyday transactions too.
According to Bunq's website, balances up to €100,000.00 are protected by the Dutch Deposit Guarantee Scheme.
Savings account
Not available.
Overdrafts
Not available.
Business finance and loans
Not available.
Bunq Reviews and Ratings
Trustpilot reviews are very mixed, with a range of responses and opinions. The positive reviewers saw Bunq as intuitive, futuristic, and easy to use abroad. Critics comment on Bunq closing their accounts or blocking access to their money, and they're unhappy about hidden fees too.
There are no live reviews on Smart Money People or Reviews.co.uk. Bunq isn't included in the Which? list of 'Best & Worst Banks'.
The Dutch online bank launched in 22 more European countries, including the UK, in October 2019. The app is now available in 30 countries.
According to Bunq founder Ali Niknam, the Bunq travel card is a way for "British and European consumers to reap the travel benefits of a credit card" without taking out any credit.
Compared to other European challenger banks, "Bunq achieved the highest income per customer at US$19.72″, ranking 3rd in a list of 8 digital banks. The research was conducted by an Amsterdam-based fintech consultancy.
Trustpilot –  3.3/5 (based on 2,736 reviews)
Reviews.co.uk – 1/5 (based on 1 review)
Smart Money People – no reviews
Which? – not included
Pros
Manage everything online and in one place.
Includes bookkeeping and accounting features.
Some very good reviews.
Cons
Still new to the UK, which could put traditionalists off.
Extra charges for everyday banking features.
Bunq syncs with a lot of accounting tools, but yours might not be on the list.
Website: Bunq Business Banking