Start Up Loans is a government-backed personal loan scheme available to people starting businesses who would usually struggle to access business finance. The loan is designed for complete beginners and includes 12-months of free mentoring, fixed interest rates, and no fees. They have supported over 80,000 business ideas with £600 million in loans. Start Up Loans are provided by the Start Up Loans Company, set up in 2012, which is a subsidiary of the British Business Bank. The loans are assessed and given by Delivery Partners in England, Wales, Scotland, and Northern Ireland.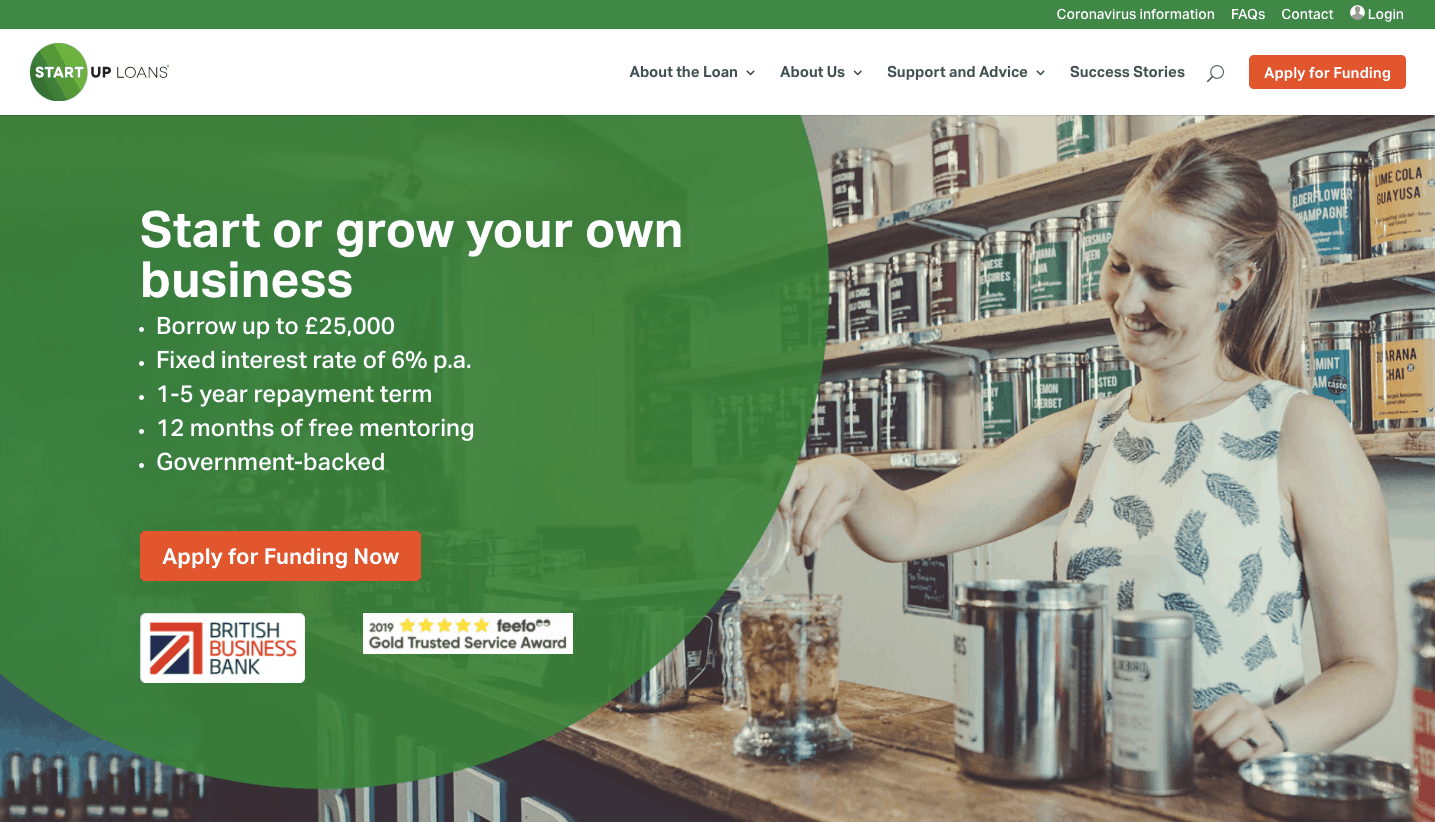 Start Up Loans Business Finance
Business loans
The Start Up Loan is for new business owners to set up or grow a business in its early stages. People starting a new UK business can raise £500 to £25,000 with a fixed interest rate of 6% per annum repaid over 1-5 years. The average loan amount is currently £7,200. A Start Up Loan is an unsecured personal loan rather than a business loan, so the individual company owner/s will be liable for repayment. The finance includes 12 months of free mentoring and business planning and cash flow templates to help you get started.
To be eligible your business must be brand new or within its first 24 months of trading. Each company director can raise up to £25,000 each meaning the maximum a single business can raise is £100,000.
Start Up Loans Reviews and Ratings
Most online reviews are on Feefo where Start Up Loans get a pretty good rating. Borrowers think the service is fast and professional and the business advisors they were paired with genuinely helped them get started with their business.
Trustpilot reviews are fairly critical and tell a different story. 64% of reviewers rate Start Up Loans 1/5, claiming their experience was full of paperwork and delays. There are still some happy customers though, who echo the positive reviewers on Feefo.
There are no reviews on Google, Reviews.co.uk or Smart Money People.
The Startup Loans Company has reportedly "lent more than £100m to small businesses in London" since it was set up in 2012. Nationally, the scheme has facilitated 70,000 startup loans.
Trustpilot – 2.5/5 (based on 140 reviews)
Feefo – 4.9/5 (based on 154 reviews)
Google Reviews – no reviews
Reviews.co.uk – no reviews
Smart Money People – no reviews

Pros
Government-backed and designed specifically for new business owners.
Simple, transparent repayment terms and no fees.
Excellent reviews, particularly on Feefo.
Cons
Just one loan product available.
Not available to business owners that have been trading for over 2 years.
Website: Start Up Loans Business Finance