FOLK2FOLK is a peer-to-peer lending platform that matches local businesses looking for loans with investors. Based in Cornwall, Devon, the Midlands, and Rutland, FOLK2FOLK has been working with businesses and investors since 2013. Most of the businesses their investors lend to are in agriculture, construction, hospitality, tourism, and renovation. Interest rates are competitively low compared to many other business finance providers.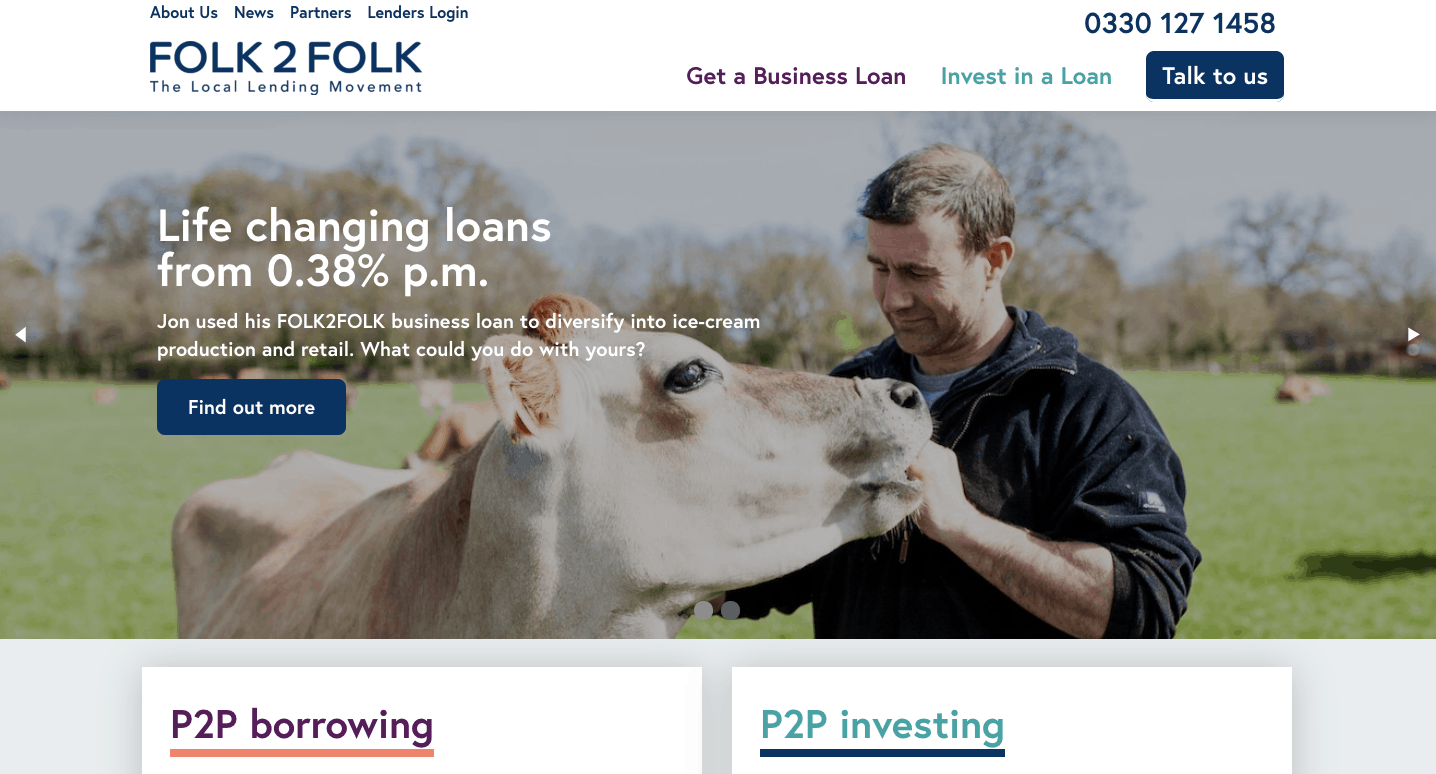 FOLK2FOLK Business Finance Loans & Funding
Business Loans
Businesses can borrow from £100,000 and repay over 6 months to 5 years. The loan is secured on your property and interest rates range from 0.54% per month. As well as monthly repayments, an initial arrangement fee and some third party fees will apply.
You need to own property or land and pass credit checks to qualify for finance. Applications are done over the phone and you should receive a decision in 24-72 hours. FOLK2FOLK will also need to check the property you're providing as security. Because of this, approval could take slightly longer than it would from many other online finance providers.
FOLK2FOLK Business Finance Reviews and Ratings
FOLK2FOLK doesn't have a presence on Trustpilot, Google Reviews, or Reviews.co.uk.
There are just a handful of reviews on Smart Money People and these are several years old. All three reviews are written by people investing in the platform, not borrowing. Two out of three have had a good experience, while one is concerned about high fees.
In May 2019, Folk2Folk reported trading losses of over £500,000. This was an improvement on losses the year before, but the peer-to-peer lender is still reportedly reliant on parent company Folk Group Limited to keep them going.
Trustpilot – no reviews
Google Reviews – no reviews
Reviews.co.uk – no reviews
Smart Money People – 3.3/5 (based on 3 reviews)

Pros
Designed for businesses with a rural or agricultural focus.
Low-interest rates.
Both short and long term finance are available.
Cons
Only accessible for businesses that already own property.
Very few online reviews.
Website: FOLK2FOLK