West One Loans is a specialist property and mortgage lender for businesses, focusing particularly on bridging loans and property development finance. Set up in 2007 and based in Borehamwood, this lender is a leading provider of specialist property finance with products for businesses, developers, and landlords. West One Loans lend directly to customers and work with intermediaries and introducers too.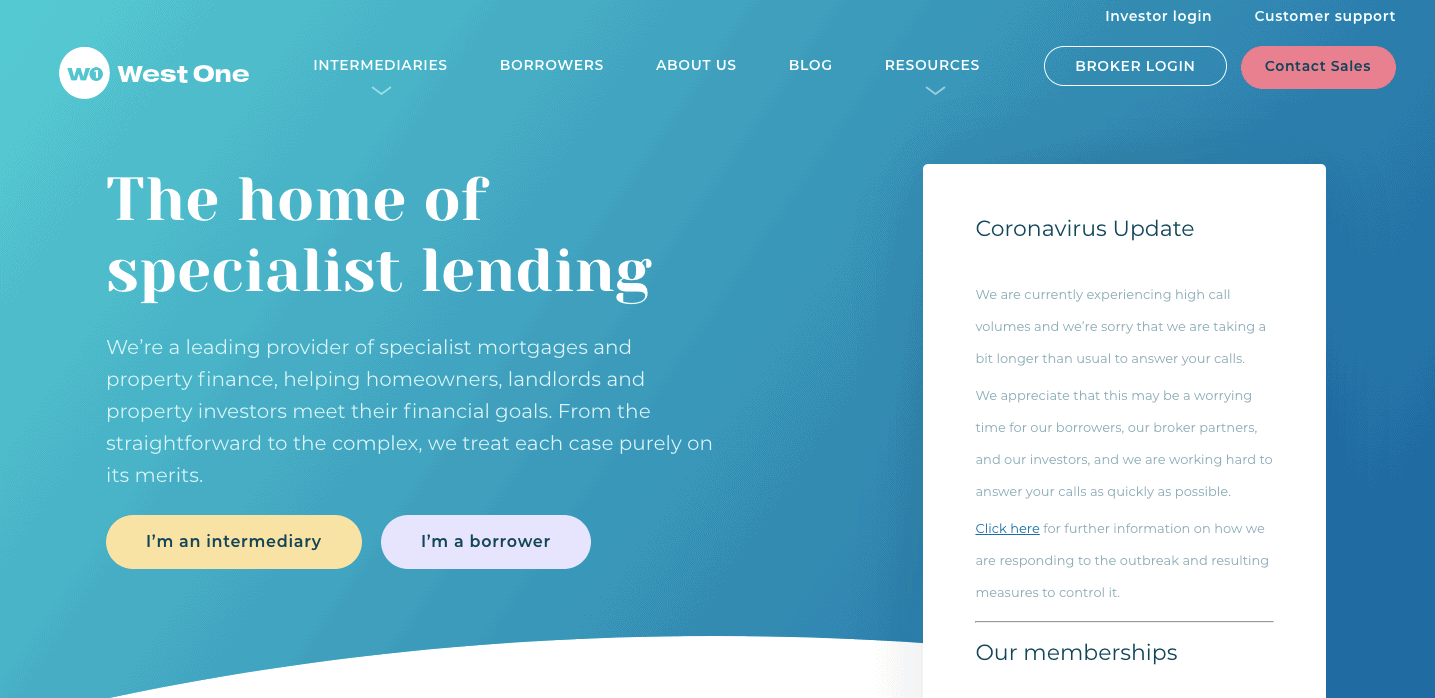 West One Loans Business Finance
Bridging finance
Short-term interest-only finance for buying, renovating, or refinancing property. There are bridging loans available for residential properties as well as commercial and business properties. Finance is available across England, Scotland and Wales. Adverse credit will be considered on a case-by-case basis.
Buy-to-let mortgages
Mortgages for landlords to fund the purchase or development of a property that will be rented out. The rental income is then used to repay the mortgage.
Development finance
Finance for experienced property developers. Loans of £1 million to £15 million are available at an initial loan-to-value up to 70%, and this can cover 100% of the building costs. To be eligible, developers must have successfully completed at least two similar projects previously.
Second charge mortgage
A secured loan on top of an existing mortgage – both mortgages are repaid at the same time. This is available for both residential and buy-to-let properties.
West One Loans Reviews and Ratings
Feefo and Google Reviews are positive. The large majority of reviewers think the borrowing process is smooth, service is professional, and advisors are communicative. A few critical voices say the opposite, claiming service is painfully slow and unreliable. Smart Money People reviews are also positive.
There are no other live reviews on Trustpilot or Reviews.co.uk.
West One Loans won Secured Loan Lender of the Year Award at the Crystal Ball Awards 2020. West One also completed a number of large property development finance deals in recent months, including a £14.3 million bridging loan for an Essex-based property developer with a portfolio worth £22 million.
Trustpilot – no reviews
Feefo – 4.9/5 (based on 44 reviews)
Google Reviews – 3.8/5 (based on 13 reviews)
Reviews.co.uk – no reviews
Smart Money People – 4/5 (based on 2 reviews)

Pros
Specialised finance that can suit your business' specific needs.
Quite a lot of positive reviews online.
Cons
Most products are for more experienced property businesses only.
Website: West One Loans Business Finance