Funding Circle is a peer-to-peer investment platform offering unsecured loans to UK businesses. 118,000 businesses have raised £13.1 billion through Funding Circle so far. Individuals invest their money in the Funding Circle platform to receive a higher return than they'd find with a conventional savings account. Their money is then lent to British businesses with plans to grow.
The government-backed British Business Bank is currently lending £150 million to British businesses through Funding Circle.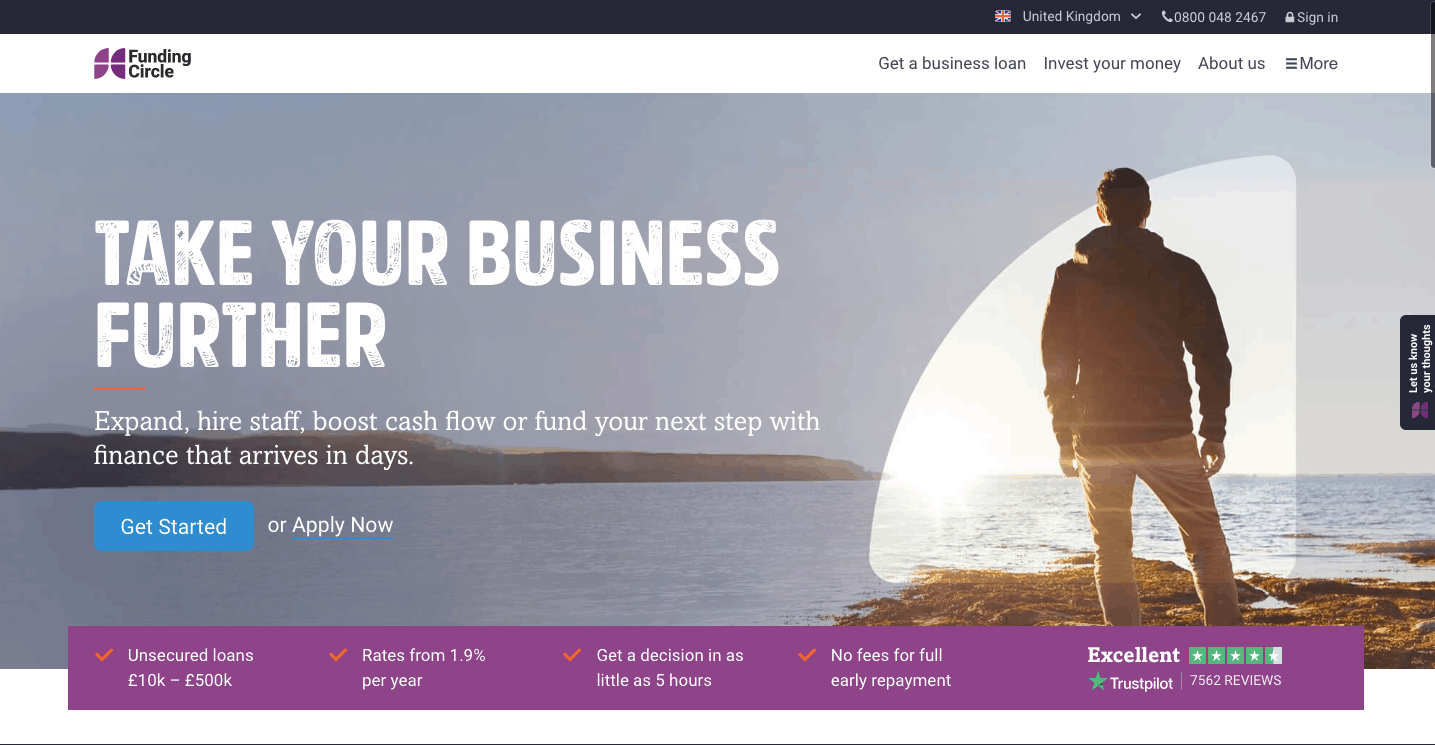 Funding Circle Loans & Finance
Business Loans
Unsecured loans of £10,000 to £500,000 are available, with interest rates starting at 2.9% per year. Repayment terms range from 2 to 6 years. Funding is available to improve cash flow, refurbish, buy new equipment, and cover one-off costs and purchases.
The online process is reportedly fast and simple. You can check if your business qualifies in 30 seconds and the online application takes 10 minutes. Funding Circle will provide a decision in 24 hours and the cash will be released to your business in a few days.
Funding Circle Reviews and Ratings
Funding Circle's online reviews are written by both investors and borrowers.
There are thousands of reviews on Trustpilot, with 82% rating them 'Excellent'. Investors and businesses praise their simple and straightforward processes, helpful account managers, and speed. Borrowers think the process is significantly faster than borrowing from traditional banks.
Smart Money People reviews are much more mixed and written primarily by investors. A couple of customers think they receive high returns, while others are less impressed by the process.
Trustpilot –  4.6/5 (based on 10,986 reviews)
Google Reviews – no reviews
Reviews.co.uk – no reviews
Smart Money People – 2.93/5 (based on 14 reviews)

Pros
Offers a range of repayment periods to suit most businesses.
A big name in peer-to-peer with investment from the British Business Bank.
Brilliant reviews on Trustpilot.
Cons
Repayment rates could be much higher for some borrowers.
Website: Funding Circle Business Finance